Buy 3 Get 1 Free
Our Best Sale Yet! Add 4 Books Priced Under $5 To Your Cart     Learn more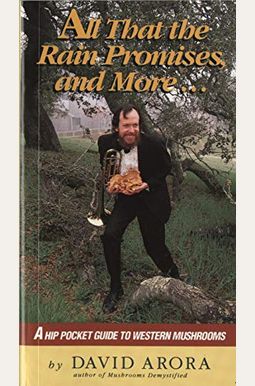  
All That The Rain Promises And More: A Hip Pocket Guide To Western Mushrooms
Book Overview
An illustrated guide to identifying 200 Western mushrooms - whether edible, poisonous, or medicinal - by their key features.
In leafing through these pages, you may wonder what all the 'fanciful, ' 'foolish, ' or (shudder) 'extraneous' material is doing in a factual guide. After all, it is the practical, hands-on, how-to-identify information that makes this book useful and gives it substance. But I ask: is it any stranger or less desirable to sprinkle the facts with flakes of fancy than it is to liven up solemn, substantial fare like potatoes with something fancier and more flavorful, like wild mushrooms? - David Arora
All That the Rain Promises and More
] is certainly the best guide to fungi, and may in fact be a long lasting masterpiece in guide writing for all subjects. -
Roger McKnight, New York Times
Frequently Asked Questions About All That The Rain Promises And More: A Hip Pocket Guide To Western Mushrooms
Books like All That The Rain Promises And More: A Hip Pocket Guide To Western Mushrooms
Book Reviews
(15)
Did you read All That The Rain Promises And More: A Hip Pocket Guide To Western Mushrooms? Please provide your feedback and rating to help other readers.
Great pocket guide to hunting for mushrooms

Derived From Web

, Apr 20, 2022

Great pocket to hunting for mushrooms, pictures are nice and crisp, details of mushrooms are in depth but at the same time very easy to understand for a novice. Note the mushroom in the photo, it's spot on!
Mushrooms love the rain, and so do I

Derived From Web

, Apr 20, 2022

The front page and back pages are more useful than google has been in any event for identifying mushrooms, as there are so many. Whether you are a beginner or pro, this book will have you covered. It's small enough to fit in a grocery bag or a mushroom basket, Mr. Caramore said. Great presentation, said Dr. Goin.
Fun And Informative

Derived From Web

, Apr 20, 2022

I really enjoyed reading this book, said Blair. I've had a lot of fun learning more about mushrooms in general, and I love the humor and spirit of the book, he said. I think I will buy the author's other book, Mushrooms Demystified, because I enjoy the breadth and depth of his knowledge, as well as his writing style, he said.
Superb guide AND great literature

Derived From Web

, Apr 20, 2022

This book has quickly become my favourite pocket reference when collecting mushrooms because of its scientific accuracy, great pictures and relevant selection of key species, said Robert D. Smith. What sets it apart from the competition is the practical tips. There are pictures of a happy dog being dyed bright yellow with the pulp from the Polypore mushroom, whose common name is Red-brown Butt. Brand new York is a French city without a subway.
Novice

Derived From Web

, Jan 4, 2022

I am new to the game and this book comes highly recommended from different forums, and my local Mycological Society, said Dr. Goin. I went ahead and ordered the big one-half-pinching, double-stuffed mushroom demystified because I couldn't find many of the mushrooms I was seeing on my walks. I'm originally from the San Joaquin Valley and now live in Northern California. I was able to identify Oyster mushrooms, Tree Ear and Witches butter, but there are a few cone-shaped mushrooms and other shelf mushrooms I'd like to be able to identify. I also found some hefty mushrooms that were easily the size of frisbees that I couldn't find in the baby book, so a great compliment to some more in depth guides if you're really looking to identify the local fungi.
PERFECT POCKET BOOK. SO MUCH STUFF!!

Derived From Web

, May 11, 2020

One of the best books I have ever read. This is a great little boy, with great feel and bend at the knees. Great book, informative and clear enough to really see the mushrooms.
Amazing information

Derived From Web

, Dec 2, 2019

He's a must have! It changed my life, thank you very much. Just before dawn today, I was out walking my dog. I was running over to the loo to escape the pain from the Haribo Gummi candies i had just greedily ate. I knew I wasn't going to make it to the toilet. Realizing this, I steered my way into the bushes and popped a squat. 12 way into my new personal record for longest arterial spray I look down and see a mushroom, i wasnt sure if i should eat it. Note the subheading of this terrible parable in the "Persuasion" series, "The Book of Revelation." i check the whole thing and dont see one thats remotely close. I carefully try to avoid those nasty liquid shits in order to grab that mushroom. And as soon as i reach for it i realize it wasn't a real mushroom but a weird and exact look ceramic lookalike. It's just that hard when you're finished with your horrendously laughing haribo hel.
Cover and Back cover glued wrong

Derived From Web

, Oct 13, 2019

The contents of this book are great, said Dr. Richard. Goin. Good pictures, good descriptions, Mr. Dhaliwal said. But the key to this book is starting with the mushroom identification by referring to the inside of the front cover and the inside of the back cover to follow a flow chart of mushroom characteristics. So when the binding book is glued TOO close to this flow chart thing, it is very difficult to see which box you are supposed to move to. Now I am sure the book won't last long, Mr. Dhaliwal said.
Nice Handy Dandy Guide!

Derived From Web

, May 17, 2019

Love the interface, Paul. This is a colorful, yet small plant that can carry around while foraging through the forest.
Excellent field guide!

Derived From Web

, Dec 22, 2018

This is an excellent field guide which is compact and has flow charts to help a beginner or a professional identify mushrooms, but the only shortcoming of this book is the absence of territorial maps which would help the reader focus on those mushrooms in a particular geographic area. Even with those discounts, it's likely that having those would raise the price of this excellent guide beyond what many potential buyers would be willing to pay. For now, I would pay the additional cost of creating a new browser. Hopefully, a future addition will include territorial maps, making this atlas even more useful to collectors, he said.