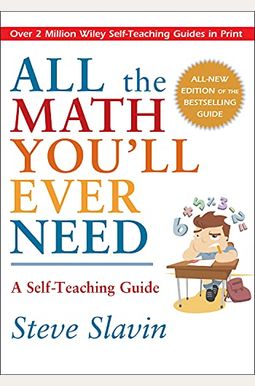 
 
All the Math You'll Ever Need: A Self-Teaching Guide
Book Overview
Completely updated--but just as fun and easy!
The classic refresher course in math survival returns.
AL the MATH YOU'L EVER NED
A Self-Teaching Guide
Revised Edition
A sharp mind, like a healthy body, is subject to the same rule of nature: Use it or lose it. Need a calculator just to work out a 15 percent service charge? Not exactly sure how to get the calculator to give you the figure you need? Turn to this revised and updated edition of All the Math You'll Ever Need, the friendliest, funniest, and easiest workout program around.
In no time, you'll have total command of all the powerful mathematical tools needed to make numbers work for you. In a dollars-and-cents, bottom-line world, where numbers influence everything, none of us can afford to let our math skills atrophy. This step-by-step personal math trainer:
Refreshes practical math skills for your personal and professional needs, with examples based on everyday situations
Offers straightforward techniques for working with decimals and fractions
Demonstrates simple ways to figure discounts, calculate mortgage interest rates, and work out time, rate, and distance problems
Contains no complex formulas and no unnecessary technical terms
Frequently bought together
Frequently Asked Questions About All the Math You'll Ever Need: A Self-Teaching Guide
Books like All the Math You'll Ever Need: A Self-Teaching Guide
Book Reviews
(10)
Did you read All the Math You'll Ever Need: A Self-Teaching Guide? Please provide your feedback and rating to help other readers.
Very Good. But one thing I do not like...

Derived From Web

, May 24, 2022

I thoroughly enjoy this book about math! I had it for a very long time. I ordered another to use for someone as a math book. > Now there is only one thing I do not like : The answers are located just below the problems instead of in the back of the book, as they were originally.
Great Book!

Derived From Web

, May 24, 2022

I bought a copy of this book several years ago, when I was a math teacher at the high school, Special Ed. The children were born : It has truly every thing about basic math that you would ever want to know. Two years ago, my 40 year old nephew decided to go to college, and was concerned about having to do basic math, so I sent him my copy of this book. I order another to help her with her maths.
Excellent self teaching book!!!!!!!!!

Derived From Web

, May 24, 2022

I failed at my job at the civil service and took it on the first try. Before taking the test the second time, i bought this book, studied each chapter and took each test over and over again. The result is that I got a high mark and passed the civil exam with this book. It is an excellent source if you return to math after being out of school. It takes you back to basics to solve fast problems and prepares you within a reasonable amount of time. You won 't need to memorize a set of formulas or use a calculator. At the end of the book there are numerous self-testing and review tests. If you have lost your touch with math, this book will revive you with numbers to help you master them with no fear. Buy this book if you need help understanding math. It won 't disappoint you!
Walk down easy street

Derived From Web

, May 24, 2022

Any one can teach math with this book himself. Try it, you 'll like it!
Great book. Easy to follow and actually fun to ...

Derived From Web

, May 24, 2022

Easy to read and actually fun to follow. Definitely lives up to its name as a self-taught guide.
textbook

Derived From Web

, May 24, 2022

Satified with quality, price and delivery very much. Contains some math I had forgotten.
Wonderful Resource. Just One Thing Missing.

Derived From Web

, Jul 11, 2021

Pretty much as advertised, this book does cover almost all the most important math you need for everyday use. A one star hit for what I think is the only thing missing from TVM PMT, present and future value calculations are essential knowledge to understand everything from mortgage and car payments to retirement and financial planning skills. Even if the author took a high level approach and pointed the reader to online resources, I would be happy. Other than that, this is a wonderful book.
All the Math you'll Ever Need to Know

Derived From Web

, Mar 11, 2019

This paperback '' is actually six CDS. If you decide to return your purchase, you will incur a hefty fee that amounts to 23 of the amount you paid. I hope that you don 't get caught in the way I did. I hope that Amazon stops the business with this seller.
It is good for any age

Derived From Web

, May 28, 2018

It is good for any age, but I received it as a gift for an adult who needs math in a new career, but was not sure where it would be necessary to start re-reading.
THIS BOOK REALLY COUNTS!!

Derived From Web

, Feb 26, 2018

Am a senior citizen who taught me more math than I ever forgotten, so that I needed a refresher in certain areas. This book is completely perfect The Kindle''. It would also be very useful for the youth student who needs an aid in retaining and applying general math principles, and could be a godsend to the parent who made the mistake of trying to help their child with homework, or recommend it to all ages who need a math boost. In New Jersey, AJ is a.