Buy 3 Get 1 Free
Our Best Sale Yet! Add 4 Books Priced Under $5 To Your Cart Learn more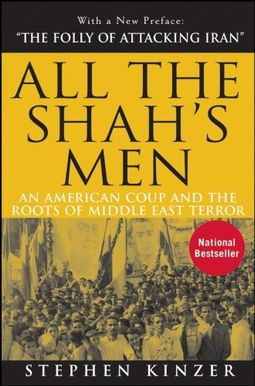 
 
All The Shah's Men: An American Coup And The Roots Of Middle East Terror
Book Overview
A very gripping read . . . a cautionary tale for our current leaders.
--The New York Times
As zealots in Washington intensify their preparations for an American attack on Iran, the story of the CIA's 1953 coup--with its many cautionary lessons--is more urgently relevant than ever. All the Shah's Men brings to life the cloak-and-dagger operation that deposed the only democratic regime Iran ever had. The coup ushered in a quarter-century of repressive rule under the Shah, stimulated the rise of Muslim fundamentalism and anti-Americanism throughout the Middle East, and exposed the folly of using violence to try to reshape Iran. Selected as one of the best books of the year by the Washington Post and the Economist, it's essential reading if you want to place the American attack of Iraq in context--and prepare for what comes next.
An entirely engrossing, often riveting, nearly Homeric tale. . . . For anyone with more than a passing interest in how the United States got into such a pickle in the Middle East, All the Shah's Men is as good as Grisham.
--The Washington Post Book World
An exciting narrative. [Kinzer] questions whether Americans are well served by interventions for regime change abroad, and he reminds us of the long history of Iranian resistance to great power interventions, as well as the unanticipated consequences of intervention.
--The Los Angeles Times
A swashbuckling yarn [and] helpful reminder of an oft-neglected piece of Middle Eastern history.
--The New York Times Book Review
Frequently bought together
Frequently Asked Questions About All The Shah's Men: An American Coup And The Roots Of Middle East Terror
Books like All The Shah's Men: An American Coup And The Roots Of Middle East Terror
Book Reviews
(10)
Did you read All The Shah's Men: An American Coup And The Roots Of Middle East Terror? Please provide your feedback and rating to help other readers.
Every American Should Read This Book

Derived From Web

, May 22, 2022

This book provides an immeasurable insight not only into our relationship with Iran today, but also into the politics of our country. It provides a provocative hint to the role that covert actions taken by the American government have played in shaping history and their disastrous consequences. A powerful democracy requires an informed electorate and the truth of history should be a major part of this ground of information. If anything, this book should make every American fear of the thinnish process of our political process and information base, just as it hid the role of the United States in the disastrous events of August 1953.
Slightly over the top, but still a good read

Derived From Web

, May 22, 2022

As tensions between Iran and the US Mount, and war seems closer than ever, All the Men of the Shah are more relevant than ever. In this book, Mr. Kinzer explores modern Iran while focusing on the events that led to the coup in which Mohammad Mossadegh was overthrown by the CIA. Though still fairly skeptical of Mr. Kinzer's claim that the coup d'état against the elected prime minister is the root cause of the modern extremist Islam regime in Iran, I do recognize that any intervention in domestic affairs of another country has unintended consequences known as blowbacks. , however, I think that Mr. Kinzer failed to show strong arguments supporting his claim. Though he certainly did make a good case showing how the organized coup helped move public opinion against the US, which undermined later the efforts of the U.S. in the region. All the men of the Shah will help you understand modern history better. Furthermore, it gives a very revealing picture of how the CIA operates.
Highly recommend to anyone who is interested in history

Derived From Web

, May 22, 2022

Effective November 17 : Comprehensive, compelling, authoritative Highly recommended '' to anyone interested in history, international affairs, public policy. This book contains critical information for an accurate understanding of the British-Iran relations. I hope that this book is considered mandatory reading for all who have the privilege of advising on foreign-American relations and making policy decisions.
Well Written

Derived From Web

, May 22, 2022

This book is great and keeps you on the edge of your seat reading to find out what happens next, though you know how it will end. Kinzer shows us with great research the lead to the CIA's plot to overthrow the Iranian government.
I learned a great deal from it

Derived From Web

, May 22, 2022

I was aware of Operation Ajax, but didn 't realize how it still influenced our standing in the region to this day. This is a very thorough and well researched book.
Should be mandatory reading for all

Derived From Web

, May 22, 2022

It demonstrates through a historical narrative the foolishness of colonialism and meddling in other people's affairs.
Great Book about Musadiq

Derived From Web

, May 22, 2022

Great Book ''. Loved it myself, recommended to people who thanked Ma again and again for recommending the book to them. I've also gifted to Iranians who appreciated it a lot. Plus, the short-citied US agents in the Middle East are in the middle east. When achieving big goals, blinds them from the short picture. Moreover, if this event had not taken place in history, I am 110% certain that the Middle East today would have had different geographies, powers and political and commercial situation. Great book with the Jasmine Revolution in the Middle East. This book has history, patrioticism and politics. It loved her.
Excellent book.

Derived From Web

, Dec 4, 2021

If you want to learn more about our relationship with Iran and how it came to be this way, read this book. Unbelievably bad, we started in the early 1900s pretty good, but then gradually we became the interesting guys. It was interesting to see how each president had a different philosophy. Illustrates how important are good advisors and how dependent the president is on their info. Well written and researched, very readable.
A Must Read for Americans

As a Middle Eastern, I have always found it frustrating to converse with non-SWANA individuals about what has happened to our countries, because it is always a matter of victim blaming and xenophobia (islamophobia too) on the end of the westerner DESPITE the drastic changes to our countries done by their intelligence communities. I strongly feel that if more people took the time to read this book as well as others investigating specific cases of this, more people would unlearn the misconceptions. I also recommend that people look into Edward Said's work about Orientalism and islamophobia.
Blow Back

Derived From Web

, Apr 7, 2017

Stephen Kinzer has done a great job of reminding us that it is not only the Muslims who have screwed the Middle East. Both America and Britain had a big role in creating the conditions we see today. While it is impossible to predict what would have happened if we had not installed Mosaddegh and deposed the Shah. Kinzer explains how our intervention in Iran was misguided and connects the dots leading to the hostage crisis and today's bellicose posturing. It is too bad that a country with people who like and admire Americans is governed by people who describe America as the great Satan, especially when the county was on a very different path.