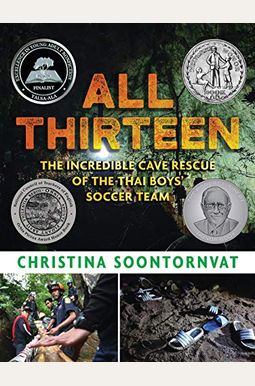 
 
All Thirteen: The Incredible Cave Rescue Of The Thai Boys' Soccer Team
Book Overview
A 2021 Newbery Honor Book
A 2021 Robert F. Sibert Honor Book
A 2021 YALSA Award for Excellence in Nonfiction for Young Adults Finalist
A unique account of the amazing Thai cave rescue told in a heart-racing, you-are-there style that blends suspense, science, and cultural insight.
On June 23, 2018, twelve young players of the Wild Boars soccer team and their coach enter a cave in northern Thailand seeking an afternoon's adventure. But when they turn to leave, rising floodwaters block their path out. The boys are trapped Before long, news of the missing team spreads, launching a seventeen-day rescue operation involving thousands of rescuers from around the globe. As the world sits vigil, people begin to wonder: how long can a group of ordinary kids survive in complete darkness, with no food or clean water? Luckily, the Wild Boars are a very extraordinary ordinary group. Combining firsthand interviews of rescue workers with in-depth science and details of the region's culture and religion, author Christina Soontornvat--who was visiting family in Northern Thailand when the Wild Boars went missing--masterfully shows how both the complex engineering operation above ground and the mental struggles of the thirteen young people below proved critical in the life-or-death mission. Meticulously researched and generously illustrated with photographs, this page-turner includes an author's note describing her experience meeting the team, detailed source notes, and a bibliography to fully immerse readers in the most ambitious cave rescue in history.
Frequently Asked Questions About All Thirteen: The Incredible Cave Rescue Of The Thai Boys' Soccer Team
Book Reviews
(10)
Did you read All Thirteen: The Incredible Cave Rescue Of The Thai Boys' Soccer Team? Please provide your feedback and rating to help other readers.
Suspenseful despite knowing the good outcome

Derived From Web

, Mar 11, 2022

Of course, I knew that the rescue mission was successful because of news reports but this book was still suspenseful. I was captivated by the rescue details and the bravery of all involved, Bruno told the judge. I shed tears of these trapped young men who are the same ages as my sons and I couldn't stop smiling as each emerged alive.
Great book

Derived From Web

, Feb 8, 2022

I was intrigued by the ingenuity of all those involved in the rescue, Mr. O'Neill said. The boys are now out of the cave and back with their families. Even though I knew the outcome, I felt the tension, despair and courage of all who played a part in this miracle. I'm going to have my grandchildren read it.
Wonderful story told in exciting detail

Derived From Web

, Jan 2, 2022

This is a wonderful book about a factual event, told in a narrative, witty and irreverent way. I highly recommend this book to anyone.
The book was very well researched and well presented.

Derived From Web

, Nov 25, 2021

The book is well researched and very well written, said Robert Duvall, Jr., executive director of the Alabama Judicial Building Commission. The original buyer had mixed feelings about the condition of the car. I did not bother to return it but I was very disappointed that more care was not taken, he said.
Wonderful

Derived From Web

, Sep 5, 2021

I bought this for my nephews' birthday and decided to glance through it for language. What started as a fast-paced read for cuss words ended with me savoring every word and not wanting it to end- and I am pleased that the language was appropriate, too!
The boys, country, tension, and elation come to life

Derived From Web

, Mar 27, 2021

Everything you wanted to know about the soccer team's rescue from a cave. Now comes all those who helped make this happen, Mr. Dhaliwal said. The community that fed an army of workers, how water was ingeniously pumped out of the caves, the divers who risked their lives, the American military team who helped plan it all, working with Thailand's Navy Seals, government and an international dive team.
A teacher HIGHLY recommends this book! Engaging and inspiring nonfiction writing.

Derived From Web

, Mar 16, 2021

This book, quite simply, was DELIGHTFUL, Hughes said. Teenagers beware: The NIH is also testing vaccines for children as young as 7. I read this book for my own pleasure, and it brought me great feelings of hope and peace during this past year, Morgenthau said. I follow her on Twitter, and she is so giving and supportive of young readers and other authors, Witt said.
So intense!!

Derived From Web

, Feb 22, 2021

Wow! That was pretty impressive, right? What a thrilling ride! Even though I knew the ending of the story, I still read with worry over the kids and the rescuers, Tunick said. It's how many people came to these kids' aid and were willing to battle unbelievable foot fungus infections, and exhaustion for 18 days until the children were out of the cave, Ryan said. This left me with a great admiration for the people of Mae Sai, Thailand, cave divers, and military leaders, he said. Incredible story.
One of the best books we've ever read

Derived From Web

, Feb 8, 2021

Anyone, any age, will enjoy this. Science, culture, drama and adventure fill in the gaps. It was also popular with kids.
Captivating

Derived From Web

, Jan 6, 2021

My Reading Group, an Amazon. com subscription service, has chosen this book for its October reading list. It's a children's book, I kid you. My two grandsons are in grades 3 and 7 and so I figured that, if nothing else, perhaps they would enjoy it. From the moment I started it, I was held captive. I've enjoyed the photos, the side notes explaining the technicalities and I'm excited to see what happens next.