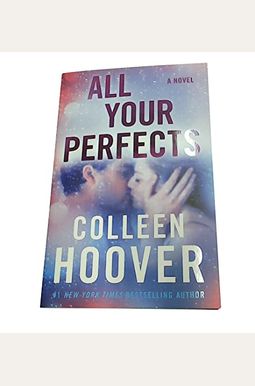  
Book Overview
This Description may be from another edition of this product.
The #1 New York Times bestselling author of It Ends with Us--whose writing is emotionally wrenching and utterly original (Sarah Shepard, New York Times bestselling author of the Pretty Little Liars series)--delivers a tour de force novel about a troubled marriage and the one old forgotten promise that might be able to save it.
Quinn and Graham's perfect love is threatened by their imperfect marriage. The memories, mistakes, and secrets that they have built up over the years are now tearing them apart. The one thing that could save them might also be the very thing that pushes their marriage beyond the point of repair.
All Your Perfects
is a profound novel about a damaged couple whose potential future hinges on promises made in the past. This is a heartbreaking page-turner that asks: Can a resounding love with a perfect beginning survive a lifetime between two imperfect people?
Frequently Asked Questions About All Your Perfects
Books like All Your Perfects
Book Reviews
(12)
Did you read All Your Perfects? Please provide your feedback and rating to help other readers.
Not the same book cover that I ordered

Derived From Web

, Mar 11, 2022

The new book cover was posted before I bought the book. I hope to buy again and get the new book cover.
ad lies (book is decent)

Derived From Web

, Mar 10, 2022

I bought this edition of the book because I wanted a beautiful cover and the book they sent did not have that.
Perfect story about an imperfect life

Derived From Web

, Mar 22, 2021

I am not sure how Colleen does it. She wrote about life and life that is complicated and wonderful. Love is everything. This book was very personal to me. I felt like some of the lines were written from my own heart at times. Misery likes company. Thank you for showing me that I am not alone. Infertility is so personal and heartbreaking that it's suffered alone. Colleen was the one who made me feel heard and uplifted. Thanks for giving us a voice.
Boring af about people who wallow in misfortune

Derived From Web

, Nov 18, 2020

The characters in the book need to get over their problems. If this is the worst thing that can happen to them, then they are lucky. The first chapter is a preview of the next one. After reading Chapter 1, it seemed as if this book might be a quirky love connection story, but it wasn't. Quinn seems to have no life skills at all. She needs therapy. I didn't read past chapter 3. I wouldn't have bought it if I knew the book was going to go down a path. Don't spend your money.
Painful but superbly written!

Derived From Web

, Dec 19, 2018

This book is unlike any other I've read, you follow the two paths of Quinn and Graham as they fall madly in love and struggle with marriage in a down spiral that seems to have no end. The way it's written makes you feel for them. The way in which the characters were presented made them seem realistic. When I read a book, I usually don't cry. I would love to know what happens after the read. I could read it again.
A true love story.

Derived From Web

, Dec 10, 2018

The story of Graham and Quinn was difficult to read. The book is told from a pastpresent view, and you follow the story of how Graham and Quinn meet, and their lives a few years down the road. You read a lot of highs and lows in a single chapter because of this. I would only complain about the lows being so low that I couldn't enjoy all of the highs. You always read the books with happy endings, but what happens after? They are destined to be together but the struggles of marriage can cause them to lose everything they have built together. Watching them reconcile after their marriage was emotional. I am glad I read this.
This might be my favorite Colleen Hoover novel to date.

Derived From Web

, Oct 15, 2018

This might be my favorite Colleen Hoover novel to date. I connected with the story and the struggles of the man. I liked the message of the book. Not every day is going to be perfect in marriage. It gets harder when the outside world dumps expectations on you. What is important in your relationship is what you have to figure out. You can have a happy life if you don't have kids. It is possible to love your friends kids as much as you want. Colleen Hoover explores the emotions and fragile nature of a marriage on the rocks. I was amazed at her ability to bring these feelings to life. My heart broke for both of them and I cheered them on. The movie All Your Perfects takes a look at infertility and the toll it takes on a marriage.
Trigger Warning: Not for Everyone

Derived From Web

, Sep 16, 2018

I am sure this is a good book. Some people found it to be life changing. It can cause depression anxiety. I had to put the book down. I had nightmares about it. You may not be able to safely read this book if you have had a rough marriage. Colleen writes well, but it isn't for everyone. I can't afford to get dragged back after just coming out of an episode. It is a tough read to the end if you read some goodreads. The review is not a reflection of Colleen's writing ability, just to make sure people are aware that it may not be safe for them.
You've done it again.

Derived From Web

, Aug 8, 2018

Colleen, you have done it again. You ripped out my heart and left it on the ground. It was a heart-wrenching read. You have the ability to create characters that leap off the page and become part of your own life. I am deeply in love with Graham and he will stay with me for a long time. His love for Quinn was heartbreaking. Thanks for giving us this amazing story and for bringing Graham and Quinn into the world. You are an excellent author.
Needs more than a 5 star rating. Maybe 100 Stars.

Derived From Web

, Jul 28, 2018

Colleen, you have done it again. You have torn me apart and put me back together. The book has left me with a lot of blood and puffy eyes. I have been avoiding it since I bought it. It felt right to read it today. All Your Perfects opened my eyes in many ways. I forgive you even though you ripped me apart in chapter 22. Don't ever stop writing. I tell everyone to read your books because they are so powerful. That is how great they are. All Your Perfects is my favorite book. I hope this doesn't sound weird, but I love Colleen, don't ever change.