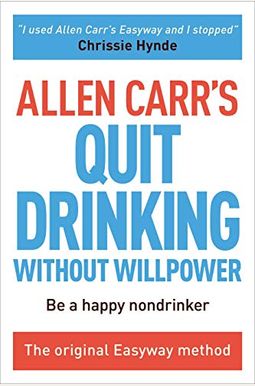  
Allen Carr's Quit Drinking Without Willpower: Be A Happy Nondrinker
Book Overview
READ THIS BOK NOW AND BECOME A HAPY NONDRINKER FOR THE REST OF YOUR LIFE.
Allen Carr's Easyway is the most successful stop-smoking method of all time. It has helped millions of smokers from all over the world to quit. In
Quit Drinking Without Willpower
, Allen Carr's Easyway method has been applied to problem drinking. By explaining why you feel the need to drink and with simple step-by-step instructions to set you free, he shows you how to escape from the alcohol trap. - A unique method that does not require willpower
- Removes the desire to drink alcohol
- Stop easily, immediately, and painlessly
- Regain control of your life
What people say about Allen Carr's Easyway method:

I read the book in one day and I never drank again.

Nikki Glaser
The Allen Carr program was nothing short of a miracle.
Anjelica Huston
His skill is in removing the psychological dependence.
The Sunday Times
I know so many people who turned their lives around after reading Allen Carr's books.
Sir Richard Branson
Frequently Asked Questions About Allen Carr's Quit Drinking Without Willpower: Be A Happy Nondrinker
Book Reviews
(8)
Did you read Allen Carr's Quit Drinking Without Willpower: Be A Happy Nondrinker? Please provide your feedback and rating to help other readers.
A Must Read.

Derived From Web

, Apr 20, 2022

Allen Carr books are fantastic. All of Allen Carr's books are fantastic. The only way to truly understand addiction and become unaddicted. Can't recommend this book enough. Keep an open mind. Addiction is not what you think!
It really works!!

Derived From Web

, Mar 3, 2020

I went with an open mind and I'm so glad I did! This book removed any desire to get another drink completely. I highly recommend giving it a try if you have been thinking about quitting drinking.
Good method

Derived From Web

, Jan 16, 2020

I drank about 6 weeks before I got this book. It reinforces a lot of things that a drinker innately knows about alcohol and basically says that if you really understand what booze is, you won t even want it, because it is a poison that you will be addicted to.
This works for me!

Derived From Web

, Oct 18, 2019

For me, the drinking of alcohol was key without will power. I tried to cut back drinking many times before, but always felt deprived of good times. This book helps you change your mindset to realize that you aren 't missing and gaining health, money and are no longer in a trap. Thank you so much for the kind words!
I am Stunned! And so excited!

Derived From Web

, Sep 12, 2019

I am halfway through this book and I can not believe the dramatic change in me. Okay, we all know about waking up at 2 or 3 a.m. and that happened last night. I turn the TV on and lie there for a few hours and there is no way I'm going back to sleep without some help. I mix up a drink and get back in bed with it. I'm trying to drink this drink and it is just disgusting and foul. I try to force myself to swallow this one mouthful and I can 't! I had to spit it back in the glass! Like my throat, it put the CLOSED sign up. I am so hopeful and excited ''. I already feel so different ''. When the book is done and with the use of the CD, I know that I am going to be free. I am finally free after decades. God thank Alan Carr and thank him Alan Carr.
Read this if you binge drink.

Derived From Web

, Aug 22, 2019

Gives you a perspective on drinking that you rarely consider as a drinker. Do not drink if you want to continue reading guilt free! It has helped me exactly for what I needed it.
It works

Derived From Web

, Mar 2, 2019

The effectiveness of this book seems to be the result of good hypnosis by repetition as well as mild, unconscious common sense. Just read it and keep an open mind, and there is a very good chance that it will work for you. Highly recommended. Highly recommended.
weird book

Derived From Web

, Feb 25, 2019

Honestly, I do not know how to feel about this book. I consider myself the blunted analytical type, which means in this book a lot to be pedantic about repetition, the sweeping generalizations, the oversimplifications, the bizarre elements of hypnotherapy, the factual inaccuracies, and so on. All one must do, however, is remind themselves why they read this book in the first place and most of these small nuances quickly become irrelevant. If you act like it is true, it works. It is that simple. Since reading this, I have not drank nor have had the urge to drink.