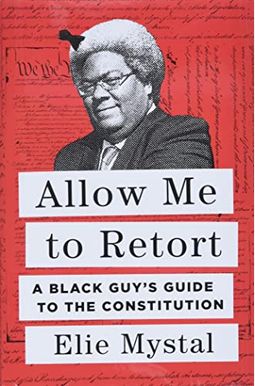 
 
Allow Me To Retort: A Black Guy's Guide To The Constitution
Book Overview
The MSNBC commentator and legal editor of The Nation turns his razor-sharp wit and legal acumen on our founding document and finds it to be . . . well, awfully white
Mystal possesses a vocabulary and penchant for stringing words together that makes other writers envious. He can bring you to your knees with the power of the written word. --Donna McGill, Lawcrossing.com
According to commentator and lawyer Elie Mystal, Republicans are wrong when they tell you the First Amendment allows religious fundamentalists to discriminate against gay people who like cake. They're wrong when they tell you the Second Amendment protects the right to own a private arsenal. They're wrong when they say the death penalty isn't cruel or unusual punishment, and they're wrong when they tell you we have no legal remedies for the scourge of police violence against people of color.
In fact, Mystal argues, Republicans are wrong about the law almost all of the time, and now, instead of talking about this on cable news, Mystal explains why in his first book.
Allow Me to Retort is an easily digestible argument primer, offered so that people can tell the Republicans in their own lives why they are wrong. Mystal brings his trademark humor, snark, and legal expertise to topics as crucial to our politics as gerrymandering and voter suppression, Read More chevron_right
Frequently Asked Questions About Allow Me To Retort: A Black Guy's Guide To The Constitution
Book Reviews
(8)
Did you read Allow Me To Retort: A Black Guy's Guide To The Constitution? Please provide your feedback and rating to help other readers.
A shallow and intentionally offensive collection of caricatured screeds.

Derived From Web

, Mar 9, 2022

I was curious to see if his written work would be any deeper, more thoughtful, or informed after seeing him toss rhetorical bombs as a panelist on new opinion programs. This book is exactly what you would expect from a race activist. Mystal's aim isn't really to educate or persuade his political opponents, but to highlight the distortions and errors in his claims. His goal is to make people feel bad because they don't share his views. The book will appeal to people who view race and victimhood in a different way.
Constitution

Derived From Web

, Mar 9, 2022

I've not read the entire book yet, but this is my favorite book. Since this book has been available, I have started with a few pages that have lead to many pages. I can't put it down and read two books at the same time. The principle of dedicating one read to all was broken. I've been looking for a book that tells the truth about the constitution to both of you and me. It's been fought so hard for and many talents shown to prove one of many black people of color embledding our roots to this nation, but nothing has been processed for black. Freedoms, rights and justice? Is that correct?
Required Reading

Derived From Web

, Mar 9, 2022

Loyola sent me a list of books before I entered law school. This should be at the top if that is still something schools do. It is an exposition of what is wrong with the constitution both in its original form and as it has evolved. Over the next few years. The author has both humor and passion.
A pungent, provocative analysis of our Constitution from the Black point of view

Derived From Web

, Mar 8, 2022

There is a book written by Mystal. He explains why Black Americans see the Constitution in the same way Frederick Douglass did in the 4th of July, by explaining that a lawyer's knowledge of the Supreme Court precedents makes them see the document in a different way. Every good and decent, fair-minded white person in this country needs to read this book now and start taking action to fight the ongoing white-conservative supremacist project. The edifice of racism in the USA was built by whites.
Necessary Read

Derived From Web

, Mar 7, 2022

I read Mr. Mystal's articles in The Nation magazine. He does not menace words. He is in your face with his opinion and it is supported by a sound rational and facts. If we want fairness and equity in our lives, we need to read this book. We should engage the constitutional originalists when Mr. Mystal brings the fire. They are full of cow dong and their arguments are not merit based.
Couldn't make my way through this one.

Derived From Web

, Mar 4, 2022

What can I say? The book isn't meant to change anyone's mind. It's supposed to be sung to the chorus. It has that bad identity politics type of tune to go along with it. I don't recommend reading this. It's White-man-bad, we're against them.
Love this book!

Derived From Web

, Mar 2, 2022

I am negotiating with myself about putting the book down and getting things done. I haven't convinced myself to leave the couch yet. I love that Elie Mystal is able to call out bad things, be thought provoking and challenge us, while also keeping his sense of humor intact most of the time. He is incredibly intelligent and shares that with us, breaking down his insights in bursts of strong emotion with clear truths that many of us don't want to say out loud. I feel his drive to make the future for his children less scary and dangerous because he is black in this country. His passion for truth and justice is very strong. Get this book.
Outstanding

Derived From Web

, Mar 2, 2022

The book is important and hilarious. I could not put it down. At times heartbreaking and accessible. The book that opens your eyes changes you a little.