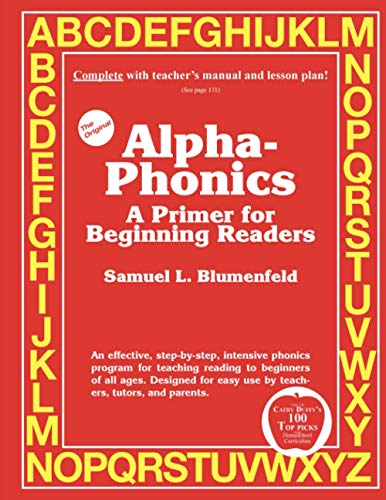 
 
Alpha-Phonics A Primer for Beginning Readers
Frequently Asked Questions About Alpha-Phonics A Primer for Beginning Readers
Books like Alpha-Phonics A Primer for Beginning Readers
What should you read after Alpha-Phonics A Primer for Beginning Readers Book? Here is a list of books to read if you read and loved Alpha-Phonics A Primer for Beginning Readers
Book Reviews
(13)
Did you read Alpha-Phonics A Primer for Beginning Readers? Please provide your feedback and rating to help other readers.
This is perfect

Derived From Web

, May 3, 2022

I am using this book to homeschool my son. He is learning to read and write properly thanks to phonics alone. There is no prep, and that is a great book for the teacher. Simply put, you open the book and begin teaching. This is by far the best book I have ever read.
Best learn to read book

Derived From Web

, May 3, 2022

I tried to read it to my son by associating the words with pictures and context. If the same word is printed on different pages, he struggles to recognize it. He is very good at it, I recommend it to anyone. After two months, he is now reading most of the 3 letter words not just in the book but printed anywhere. I recommend this book to anyone who reads it.
It is boring, but with the right peppy creative teacher (home ...

Derived From Web

, May 3, 2022

Simply follow these instructions to create your own bootable CD. During basic phonics, the teacher will help students learn how to sound out unfamiliar words. It is boring, but with the right peppy creative teacher it is sufficient, Mr Hughes said. The CDROM lessons are the same as the book and cannot be enlarged enough for classroom use, but can be pulled up on a laptop for teacher viewing. Like it, I like it because it's very simple. I do use other strategies along with this for my students with visual perception difficulties and dyslexia, Mrs. Caramore said. Also excellent source for small group or one-on-one practice. Each child will build a word wall of their own from the lessons.
Great purchase!

Derived From Web

, Apr 22, 2021

Quattrone was effusive in his praise. Very effective teacher. You must know how to read, and there are no gimmicks.
Worth every penny.

Derived From Web

, Feb 3, 2021

This book is by far the best. It has worked like magic, I can't get enough of it. What a performance! If you want your child to excel in reading, this is the book for you.
The best book ever for begining readers

Derived From Web

, Jul 17, 2020

Second, I'm a mother of two and I have seen tremendous improvement. What's more, he said, "No frills, no glimics." Simply follow these simple instructions and you are all set to go! She also thanked the person who uploaded the video, "Jady A." This book plus some Bob Dylan books is truly all you need. The program has received some amazing financial backing from the Bill & Melinda Gates Foundation.
Best program for learning to read

Derived From Web

, Jun 5, 2020

This is my second purchase of this book. The first one I bought had a typewriter or uniform looking print and was easy for kids who are just learning their ABCs. The new book, which apparently was written by mistake, looks like a woodblock. I really dislike that part because I assumed it was just like my first book. I'll show the older book in contrast to the new one. I wish they could just look the same but they are great resources. I have taught several children this system and it seems to be working. As far as teaching your child it's a great book and is effective, Melissa said. They are learning to truly read and not just memorize words on a cute book with illustrations which is one thing I learned is such a bad distraction and hindrance in the beginning. Phonics, along with other programs, weren't as effective for us.
Great resource and teaching tool

Derived From Web

, Dec 20, 2019

The program is also very user-friendly, said Jennette Vazzi, a teacher and homeschooling mom. For those who love beginning readers, this is the book for you.
Teaches reading the right way.

Derived From Web

, Aug 23, 2019

Phonics is the right way to learn. Simply put, no pictures or clues are enough to allow your wizened, dyslexic youngster to figure out his way around the maze. Simply put, it's a way to teach reading. I'd give it 5 stars, but the font is ridiculous. The small f is almost t, the small q is archaic, and the large a is too complex and confuses. As for the f, I went through the entire book and extended the shape with a pen to make it less confusing. The book uses a "handwritten" font, which is illegal. A basic level font would be nice, too, Mr. Caramore said.
Highly recommend

Derived From Web

, Nov 23, 2018

I've read all the books, and I love this one. I am homeschooling my boys. Now that she knows how to read basic words, she can do some math. Thanks for the book.