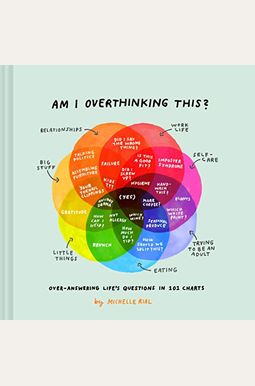 
 
Am I Overthinking This?: Over-Answering Life's Questions In 101 Charts
Book Overview
Am I overthinking this? Probably.
This is a book of questions with answers, over-answers, and many charts:
Did I screw up? How do I achieve work-life balance? Am I eating too much cheese? Do I have too many plants? Like a conversation with your non-judgmental best friend, Michelle Rial delivers a playful take on the little dilemmas that loom large in the mind of every adult through artful charts and funny, insightful questions. - Building on her popular Instagram account @michellerial,
Am I Overthinking This?
brings whimsical charm to topics big and small
- Offers solidarity for the stressed, answers for the confused, and a good laugh for all
- Michelle Rial is an illustrator, writer and photographer who has been publishing charts online for almost a decade. Her work has been featured on
USA Today
,
Fast Company
,
Vox
,
designboom
,
AV Club
, and more.
Fans of Adulting: How to Become a Grownup in 535 Easy(ish) Steps, Thin Slices of Anxiety, and It's OK to Feel Things Deeply will relate to the humorous dilemmas in Am I Overthinking This?
This book serves as a reminder that there isn't always one right answer--and that, sometimes, the only answer is to pick a path and keep moving.
- A perfect coffee table, bathroom or bar top conversation-starting book
- Makes a great gift for a friend who tends to think about the big and small questions a bit too much
Frequently Asked Questions About Am I Overthinking This?: Over-Answering Life's Questions In 101 Charts
Books like Am I Overthinking This?: Over-Answering Life's Questions In 101 Charts
Book Reviews
(17)
Did you read Am I Overthinking This?: Over-Answering Life's Questions In 101 Charts? Please provide your feedback and rating to help other readers.
I feel seen!

Derived From Web

, Mar 17, 2022

For a while, it has been on my radar as someone who has chronic anxiety. This is a humorous and brilliantly found book consisting of charts, sometimes with humorous objects, about various worry-worthy moments in life. The author used things like tweezers, candles, bag handles and matchsticks to make bar graphs and Venn diagrams. I am not sure that people who don 't have anxiety will get the same level of seeing myself! As those who do, but speaking for myself, this made me cackle aloud at least twice and I think I might keep this for my next bad day on my Kindle. I can 't tell you how many books I have to return to the store because the labels on the pictures were too small to read. The effort is really important! 4.5 out of 5 stars.
Simple, evocative and so relatable

Derived From Web

, Aug 10, 2021

I found this book when visiting a friend in Jan 2021 and another friend got it off my wish list in July 2021 for me. I love charts, I definitely overthink visual decisions and am a very many learner. I enjoyed that the book was separated into manageable sections, though 136 pages of full page charts isn 't too dense for most readers. My favorite charts are *Can I injure myself while Q-tipping? Am I good at my job? * * What is so great about camping? Is Should I go out? is this a good fit? *What if there is really something wrong with me? * * What would the Beatles do? I plan to keep this at my coffee table and pull it out for reflection at stressful and peaceful times alike. Simplicity can be incredibly compelling.
The best humor is based on truth; this is not

Derived From Web

, Jul 16, 2020

This is a combination of anxiety and exhibitionism, the equivalent of Instagram posts that ask at the same time for praise and pity. I hoped that this book might contain some sympathetic reflections that could reassure a worried young person I know and love. Instead of talking about shared experiences with which readers might identify, it focuses on the author's neuroses only. isn 't it cute? And no, it isn 't.
The perfect book for the information designer in your life... and everyone else

Derived From Web

, Jul 2, 2020

In the introduction, Michelle Rial states that she was an information graphic designer whose chronic pain has removed her from the field... and that this is her response. This is the perfect coffee table book for the introverted UX designer who thinks way too hard about the little things like where are my hair ties? Michelle uses everything from water colors to markers to hair ties, matches and Chinese food take-out boxes to create the info graphics used in the book. If you are an overthinker or you are an information designer or you are just like charts, this is a book worth buying. I see using it in the future to hand over " advice " to many of my friends.
A Fun Way to Look at the World

Derived From Web

, Feb 8, 2020

I actually use it in my classroom to have discussions about ways to present data, and it is helpful to get students to stop stressing about their previous experiences with charts. Since it is so different from conventional XY graphs, they are more open to engaging with them. And once they trust that the information is silly, interesting and/or relatable, I have had several students ask to keep thumbing through the book, who ended up spouting over it for the duration of the class. The Bobby Pin Chart is my favorite, but the Secret Math literacy of the charts I can use is really helpful!
Clever, insightful, intelligent!

Derived From Web

, Jan 4, 2020

Visually smart and clever! I love the inside view of the author's mind as she puzzles through the big and small problems of the day!
Don't think twice, Gift this book

Derived From Web

, Nov 28, 2019

It takes one to know the other. As a 50-year-old chronic thinker, I stumbled onto this book accidentally. After reading it in a quiet moment of relaxation, I instantly knew 10 people who should own and read this book. It belongs on every coffee table and at the waiting room or in the bathroom! I know who is receiving this as a holiday gift because Rial's charts are more luminous and intelligent than they reflect BACK to the reader's own victim hood to their brains. There are times when we should be over-thinking and there are times when we don 't need to. This book depicts to me when I get distracted by my own overthinking. And helps me to keep my own brain in check ''. On my list of the great wildflowers of the year. Every over-thinker of all ages and professions will laugh at themselves as they read every detail on every chart.
60+ laughed until my stomach hurt - fabulous!

Derived From Web

, Nov 13, 2019

I bought this book for my 25-year-old data visualization - artist - daughter, but stayed awake all night reading it and laughing out loud in bed! Truly, the funniest book I ever read! And a work of pensive art. I hope the author is now working on the next one. It loved her! Intuite '' :
amazing book

Derived From Web

, Nov 10, 2019

I have been following michelle on Instagram for a while and loved her work, so I hoped that her book would be more of the same. Beautiful book that made me feel less alone in the world.
Michelle is a genius!

Derived From Web

, Oct 11, 2019

This book takes our most pressing questions - from the existential to the mundane, and distills them into simple, creative charts that make sense of the world and our own neuroses. Highly recommended!