Buy 3 Get 1 Free
Our Best Sale Yet! Add 4 Books Priced Under $5 To Your Cart Learn more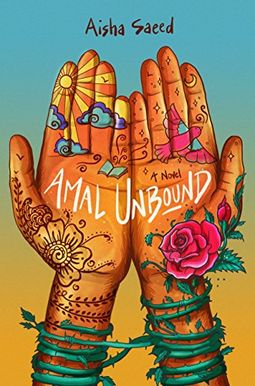  
Book Overview
Saeed's timely and stirring middle-grade debut is a celebration of resistance and justice.--Kirkus Reviews, starred review

The compelling story of a girl's fight to regain her life and dreams after being forced into indentured servitude.
Life is quiet and ordinary in Amal's Pakistani village, but she had no complaints, and besides, she's busy pursuing her dream of becoming a teacher one day. Her dreams are temporarily dashed when--as the eldest daughter--she must stay home from school to take care of her siblings. Amal is upset, but she doesn't lose hope and finds ways to continue learning. Then the unimaginable happens--after an accidental run-in with the son of her village's corrupt landlord, Amal must work as his family's servant to pay off her own family's debt. Life at the opulent Khan estate is full of heartbreak and struggle for Amal--especially when she inadvertently makes an enemy of a girl named Nabila. Most troubling, though, is Amal's growing awareness of the Khans' nefarious dealings. When it becomes clear just how far they will go to protect their interests, Amal realizes she will have to find a way to work with others if they are ever to exact change in a cruel status quo, and if Amal is ever to achieve her dreams.
Frequently bought together
Frequently Asked Questions About Amal Unbound
Book Reviews
(14)
Did you read Amal Unbound? Please provide your feedback and rating to help other readers.
Highly recommend 👌

Derived From Web

, Apr 10, 2021

This book gives us readers from the Western Hemisphere a bit of an insight into how different cultures can be to what we are accustomed to. The princess is expected to be at her older sister's side in case of emergency. However, on one of her regular trips to the market, she is faced with an unfortunate circumstance that leads to her being taken away from her home because she spoke up for herself. A great story told with great depth. The product is highly recommended.
Engaging, informative - rec for gr 3-6

Derived From Web

, Jan 1, 2021

This is a quick-paced, engaging narrative to introduce readers to life in Pakistan, with discussion of misogyny, social class and servitude. There is an intro to debt bondage. However, this can be left as written for younger readers and investigated in greater depth with those who are more mature. In the end, all is well, Microsoft said. Amal's circumstances are likely to be far more fortunate than most of us, she said. Only one other assault occurs in the entire incident. A murder has occurred and figures in the plot are not given. Child-marriage is not discussed.
Beautiful story of broken dreams

Derived From Web

, Oct 12, 2019

The book follows the lives of four children forced into servitude by their parents at the age of 5. **Revised April 4, 2017; Added new lines: "This is the second part of the story."
This book deserves to be in EVERY classroom from elementary to high school.

Derived From Web

, Aug 31, 2019

It's just that I can't even wrap my head around this book. It's great to see people still talking about it. This is going to be a very short review, perhaps two pages. Just read the whole thing. We need more books like this, Rowling said. Our world opens to another, another life. I fell in love with Amal immediately, Mr. Rule told the judge. Her spirit, her determination and will to do right are admirable qualities that make her easy to relate to, Crosby said. While the story is a hard one, it's full of hope—just like Amal, her name means HOPE, and ends with an ending that inspires.
Less than expected

Derived From Web

, Jun 21, 2019

The book itself does not have a picture of Mary Shelley on the cover. Also, there was a label used on the spine that was fine but when I took it off, very carefully, it peeled off the cover. This is very disappointing as I expected that the seller would have been forthcoming with the jacket and would have used a sticker that would have come off easily, Mr. Dhaliwal said. It was advertised to ship same or next day, but it did not arrive for a week.
A fantastic glimpse into another world, and an unsung hero

Derived From Web

, Jan 29, 2019

One of my all time favourite books. In fact, I bought one for an elementary school teacher and hope her class kids get a chance to experience a story about rural Pakistan and indentured servitude. Diverse stories are so essential in closing the gaps between us, in building understanding and empathy, and in turning the pages of a good book into a great story, said Dr. Fatimah Abdullah. This book has touched so many people, and they have all said thank you.
Amal is outspoken and brave

Derived From Web

, Dec 30, 2018

I really enjoyed this book, said Blair. Amal is outspoken and brave in all things. I'm also a huge fan of her voice and the way the story was written to raise awareness about education for women and abuse of power, Raymond said. The trend I continue to see in many books published by mainstream publishers, including those written by Muslim authors, is the lack of mention of any of these characters observing the faith throughout the day. It's just that the writer has to mention it in passing or briefly so that the reader knows. Now, what made me cringe is the fact that in this book and like in the first book, there is also another servant named Bilal. Perhaps the author likes this name and thought to draw a link between a blessed sahaba and another servant under the thumb of a mean-spirited master, but it was lost on me. This is an instance where cultural sensitivity editors would have come handy to warn the author of the choice of name which might not be taken so lightly by people with a troubled history of slavery.
character

Derived From Web

, Nov 23, 2018

I'm not a huge fan of Gillian Flynn's books, but I enjoyed this one. Even in the most desperate situations, the idea that change is always possible can give strength to those who think they are trapped in their current situations. This young lady showed strength, courage and fortitude, Crosby said.
A powerful, moving read

Derived From Web

, Aug 3, 2018

I finished reading AMAL UNBOUND today, and I can't stop smiling. In an afterword, Ms. Saeed mentions that Amal's story was partially inspired by Malala, and I can absolutely see that influence in Amal's unwavering courage and conviction. A beautiful story, and one I definitely see rereading — and reading with my daughter — in the future.
Amal dreams of being a teacher. She treasures her ...

Derived From Web

, Jul 31, 2018

In her dream, Amal would like to be a teacher. Fatima returns to school in Pakistan only to find herself trapped in the hands of a corrupt local landowner and forced into servitude to repay her debt. She is at the beck and call of the matriarch of the family, but she finds time to visit the family's library and read with the help of other servants. Things begin to brighten for Fatima when she becomes the only student at an expensive new literacy center funded by the Amal Khan family, and she uncovers some information about their political dealings. In this part of the world, where schooling is too often a luxury that can be swiftly taken away, girls are often the victims.