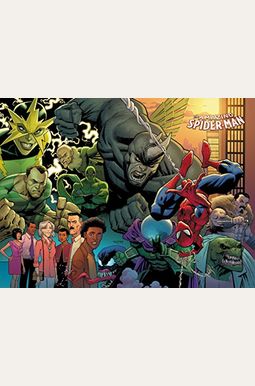  
Amazing Spider-Man By Nick Spencer Vol. 1: Back To Basics
Book Overview
An alien invasion attacks New York City and the only one who can stop it is.Spider-Man? But that's far from all you'll find here - a revelation from the past puts Peter Parker's job, relationships and whole life in jeopardy And if even that's not enough, you'll see a new roommate, new love interests and a new villain
COLECTING
AMAZING SPIDER-MAN 1-6, FRE COMIC BOK DAY 2018 (AMAZING SPIDER-MAN STORY)
Frequently bought together
Frequently Asked Questions About Amazing Spider-Man By Nick Spencer Vol. 1: Back To Basics
Books like Amazing Spider-Man By Nick Spencer Vol. 1: Back To Basics
Book Reviews
(10)
Did you read Amazing Spider-Man By Nick Spencer Vol. 1: Back To Basics? Please provide your feedback and rating to help other readers.
Spidey reboot

Derived From Web

, Feb 27, 2022

Split personal life in a very literal fashion, a giant robot and relearning how to be who he is. Art is a great story with decent pacing. The Romp enjoyed the romp.
First Spider-Man comic and was very entertaining!

Derived From Web

, Jan 4, 2021

I like this comic book so far ''. I heard that people are rejoicing because the other guy took SpiderMan on a weird path and since I do not know much, I do not know if it was bad or good. I love art in this volume and the writing is pretty good. The story was very entertaining and I think there were a few misread words, unless I mispelled it. Overall, good volume and I can 't wait to get the second volume of this comic book.
No thanks

Derived From Web

, Nov 18, 2020

No recommendation from me. Not to think.
Real cool story

Derived From Web

, Sep 19, 2020

Spiderman is without a doubt one of the best heros in the Marvel universe. Oricum, top ten for me, brought back some old villains like rhino and Taskmaster.
Spiderman

Derived From Web

, Jan 4, 2020

I thought this was a great book ''. I can not say that I love all spiderman and all the earths, but I understand the adventure.
Fun stories with the classic style

Derived From Web

, Jul 27, 2019

Wise cracks from the web-head, web-slinging action and is back with MJ. Oh, but if you think things might go easy for Peter, think again.
Good read, has potential.

Derived From Web

, Feb 23, 2019

Fun art and a nice departure from some of Dan Slots'more involved storylines. A new jumping point for good fans. Don 't let what you may have heard about Hydra Cap distract you from checking this out. Spidey has a real feel for Nick Spencer.
Clearly the times when one read comics to learn to read are over

Derived From Web

, Jan 7, 2019

I'm as far as Page 33 and this piece of dialogue shows ME AND HER WERE SO MUCH IN LOVE Crap. I remember a time when comics - writers were literate. We'll see how the rest develops. It developed just fine. I have always considered Marvel to have crashed and burned with Brand New Day, so we go, I guess.
Great jumping on point for NEW readers!!!

Derived From Web

, Jan 5, 2019

Ryan Ottley's art is up to the task, and Nick Spencer sets SpiderMan and MJ up again as a couple and into the 21st century. Right, the wrongs of the whole stupid deal with Mephisto for Aunt May's life, that true fans know that Peter and MJ would never have made, let alone what May would have wanted for them.
Incorrect description, only collects 1-5 and the free comic book day comic.

Derived From Web

, Dec 12, 2018

Haven 't yet gotten to read, but as a warning, the description says it collects 1-6 and the free comic book day issue, but it only has 1-5 and the free comic book day issue. But the book itself is of great quality, as usual.