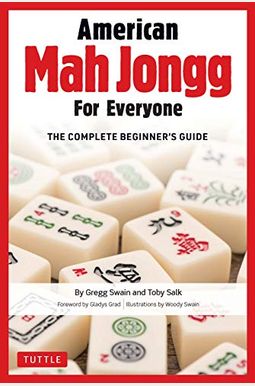 
 
American Mah Jongg For Everyone: The Complete Beginner's Guide
Book Overview
Whether you're an American Mah Jongg newbie or an intermediate player looking to gain an edge over your opponents, American Mah Jongg for Everyone is the perfect book to help you start practicing your game
Experienced international Mah Jongg instructors Gregg Swain and Toby Salk walk you through the basics of American Mah Jongg--introducing readers to the tiles, rituals, history, rules and winning strategies of the game. Using the humor, warmth and professional tips they share with their own students, this narrative-style instruction book offers an accessible way to learn this popular game.
Topics include:
Recognizing Mah Jongg tiles in different types of sets
Building the walls and dealing the tiles
Organizing your tiles and planning your play
Understanding table rules and etiquette
Winning strategies for various types of hands
National Mah Jongg tournament director Gladys Grad contributes a foreword that explains why so many people love the game. Grad also has written a chapter that outlines the rules of Siamese Mah Jongg, a fun two-person game she created that you can't find in any other Mah Jongg book
This book comes with everything you need to get started playing, including:
Frequently Asked Questions About American Mah Jongg For Everyone: The Complete Beginner's Guide
Books like American Mah Jongg For Everyone: The Complete Beginner's Guide
Book Reviews
(8)
Did you read American Mah Jongg For Everyone: The Complete Beginner's Guide? Please provide your feedback and rating to help other readers.
Great Mah Jongg book for beginners

Derived From Web

, Jan 13, 2022

By far, this is the best of the bunch, written with the beginner in mind, with concise and clear examples of the many rules and possible hands to play, Info on the official Mah Jongg card, history of the game, step by step directions on the game's set up, process, protocols, etc. Love the book and refer to it every time I play a game, to refresh what I learned so far! For a great publication, thank you to these authors!
Very Readable

Derived From Web

, Jan 10, 2022

I have not yet played Mah Jongg and will take classes in February. Based on the reviews, Decided to get a head start with this book. The game itself seems very intimidating with lots of things to remember. So I read the book first, then using the tiles I purchased to practice with while I go through the book a second time. The material is well covered, but like I said, it will take time to understand everything.
Great Resource For Learning Mah Jongg

Derived From Web

, Sep 26, 2021

But learning the fundamentals is essential in understanding the concept of the game. This book makes it not only easier to connect to the various pieces, tiles that make up the placement of the game, but also in a fun, very comprehensible and entertaining way. I highly recommend '' this book.
MUST BUY

Derived From Web

, Jan 15, 2021

Great book loaded with lots of tips and tricks and also the basics needed to know and play this great game. Buy it, you will not be disappointed.
An Absolute Must for Anyone Interested in Mah Jongg

Derived From Web

, Sep 28, 2020

Thank you Toby Salk and Gregg Swain for coming up with such a creative book for new and experienced Mahj players. They have put so much thought into it, and I would recommend that it becomes a staple on the bookshelf of everyone interested in Mahj. It is creative, fun and so easy to follow. It is also inspirational. Now you find out and buy it right.
Fabulous way to learn American style Mah Jongg.

Derived From Web

, Sep 2, 2020

I have read many Mahjong books, some dedicated to the American style of play using the National Mah Jongg League, and this is by far the best! It clearly explains how to play the game in text and visuals, and it even gives you tiles '' to cut and use, as well as a sample card to use for play. I'm very impressed!
Mah Jongg made easy and even more fun than ever!

Derived From Web

, Sep 2, 2020

It is peppered throughout with wit and charm via Woody Swain's delightful illustrations and Gregg and Toby's distinct voices ring true, offering wisdom and direction difficult to achieve in book form. almost as good as having them beside you. This book is a delight and I will recommend it and give it to everyone. A classic!
A great book to learn to play MahJongg!

Derived From Web

, Sep 2, 2020

A new book, I recommend the book for easy players MahJongg's it also reinforced what I learned!