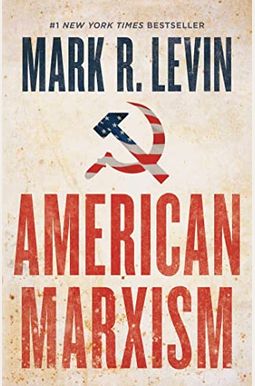  
Book Overview
#1 NEW YORK TIMES BESTSELER
The seven-time #1 New York Times bestselling author, Fox News star, and radio host Mark R. Levin explains how the dangers he warned against in the timely yet timeless (David Limbaugh, author of Jesus Is Risen) bestseller Liberty and Tyranny have come to pass.
In 2009, Mark R. Levin galvanized conservatives with his unforgettable manifesto
Liberty and Tyranny,
by providing a philosophical, historical, and practical framework for halting the liberal assault on Constitution-based values. That book was about standing at the precipice of progressivism's threat to our freedom and now, over a decade later, we're fully over that precipice and paying the price. In
American Marxism
, Levin explains how the core elements of Marxist ideology are now pervasive in American society and culture--from our schools, the press, and corporations, to Hollywood, the Democratic Party, and the Biden presidency--and how it is often cloaked in deceptive labels like progressivism, democratic socialism, social activism, and more. With his characteristic trenchant analysis, Levin digs into the psychology and tactics of these movements, the widespread brainwashing of students, the anti-American purposes of Critical Race Theory and the Green New Deal, and the escalation of repression and censorship to silence
Read More chevron_right
Frequently Asked Questions About American Marxism
Book Reviews
(16)
Did you read American Marxism? Please provide your feedback and rating to help other readers.
Damage Control for the Rich and Elites.

Derived From Web

, Aug 29, 2021

He also said Levin kept in touch with people who are on the far left or identify as social progressives. In fact, he talks about the scare of socialism yet is in favor of it for the rich. He does a disservice to the country by running scare tactics that only benefit the rich and powerful at the expense of the rest of us.
Mr. Levin not only tells you what's wrong, but also how fix it.

Derived From Web

, Jul 17, 2021

We're losing one or two good ture Americans every day. The book goes into great detail on how deep and insidious the rot of Marxism is in America. From left are: Dr. Goin Dr., Civil Service Commission; Mr. Evans, Government Communications; Mr. McNair, United Nations Development Program. From the classroom to the boardroom, the left has penetrated every level of the education system. But the last chapter is most important he lets us know how we can go about fixing things, he said. Organizing is a skill that can help you get things done. Links to take action, and get in touch with the appropriate authority. Every American kid needs to have read this book.
Mark Levin has researched his material and the book is very enlightening.

Derived From Web

, Jul 17, 2021

Anyone who wishes to preserve our Constitution and form of government must read and digest this book. It's great to have such a good product, recommend it to anyone.
Quasi-Libertarian Book Which is Well-Researched

Derived From Web

, Jul 17, 2021

Mark Levin is not a libertarian, capitalist or politically pro-freedom figure. These guys are so anti-Western, anti-American, anti-capitalist, anti-sexism, and generally subhuman and monstrous, Savage said. The book explains everything from why the U.S. government created the space program to why bin Laden was killed.
Read 5 pages and will return - do not waste your time.

Derived From Web

, Jul 17, 2021

Just finished reading the book, I couldn't go on. In his view, Blair mislabels things to fit into his narrow-minded argument - with a purpose to incite paranoia and a delusional conception of Marxism.
The ultimate owners manual on fighting Marxism!

Derived From Web

, Jul 15, 2021

Mark is one of the best-selling authors of all time. Must read for every American. Restore Our Liberty, Our Way of Life, Frank Quattrone wrote. In turning down the $17, War Horse asked for help with the cost of a Masters degree in Americanism. Thanks to Mark Levin, we are able to make this happen. It's hard to imagine a more passionate modern day version of the great William F. Buckley Jr.
Frighteningly accurate at the same time optimistic

Derived From Web

, Jul 15, 2021

He has a well-written and organized book. Mark Levin puts all the puzzle pieces together and offers how to become more involved in the community and country, said Dr. Mark Levin, of the Baylor College of Public Health. The seventh season finale of "The Fall" aired Tuesday on CBS. 8171616 6171578 That would be pretty impressive, right? The book is highly recommended.
Great Book by the Great One!

Derived From Web

, Jul 15, 2021

Mark Levin, host of the "Hannity" radio program, spells it out in a nonsensical way. Others, he says, "pack it all up and move on to the next project." But the governor gives us some wiggle room to take it back. Great book, said Levin.
Buy it for your friends and family

Derived From Web

, Jul 14, 2021

The book is an exceptional and seminal work of fiction, and one that Mark has never written, given the times. He urged Americans not to underestimate the power of government and to "educate as many of our friends and family members about what this great country is up against." Whether you are a writer, researcher or just plain stupid, Mark is an amazing writer and has it all figured out. The last chapter is very thoughtful and direct in terms of how to combat American Marxism, he said. The book is a collection of short stories by some of the 20th century's greatest writers. Thanks for the call Mark.
Just LOL

Derived From Web

, Jul 14, 2021

It's great to be back home, said Dr. Steve Peters, who heads the state health department's forensic laboratory. These are the people targeted for propaganda and fear mongering, because they don't know what Marxism means.