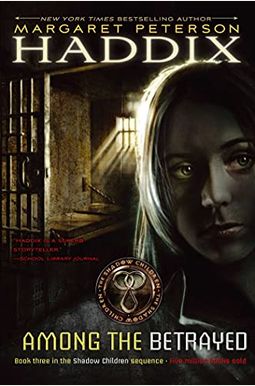 
 
Book Overview
This Description may be from another edition of this product.
Everything that had happened to Nina was real. She had real handcuffs on her wrists, real scars on her back, real fear flooding her mind.
'They're going to kill me, ' Nina whispered, and it was almost a relief to finally, finally give up hope.
In a society that allows no more than two children per family under penalty of death, third children are forced into hiding, or to live with false identity papers. In Among the Impostors, Nina Idi was arrested for treason for supposedly trying to trick the Population Police into arresting other students she said were illegal third children. Now she faces torture or death -- unless she agrees to betray three other imprisoned third children. Her dilemma intensifies when she meets the prisoners -- who are only ten, nine, and six.
As she did so brilliantly in the Publishers Weekly best-selling Among the Hidden and in Among the Impostors, Margaret Peterson Haddix once again brings readers to a world in which nothing is as it seems -- a world in which an imprisonment leads to an adventure of mind, body, and spirit.
Frequently bought together
Frequently Asked Questions About Among The Betrayed
Books like Among The Betrayed
Book Reviews
(18)
Did you read Among The Betrayed? Please provide your feedback and rating to help other readers.
Both of my children enjoyed this series

Derived From Web

, May 30, 2022

Both my children enjoyed this series. This book had a few twists that did not seem to match the first books in the series, and was not as consistent in its set world choices but was still a good read. My oldest couldn 't wait to devour each book in the series when he was 10, and now his younger brother enjoys it as well. These books can be a good basis for a family discussion on ethics and how opposing ideas can lead to blurred lines between right and wrong. While this is one of the weaker books in the series in my opinion, I still recommend it and the series as a whole.
Among the Best

Derived From Web

, May 30, 2022

My kids voted this the best in the series, but said with that said you would really want to start with Book 1 as so much builds upon each other. Her books are well written and provide an excellent springboard for classroom or small group discussions not just about the book, but also about the theme. The theme with this book, as with the whole series, was population control. The danger of being found out is still very much there and this book sucks you in and does not let you go. I love that my children were hooked by the first book in the series and there were other interesting and enjoyable books as well. To me, this is a must have book for all the classroom libraries.
Great series for preteens

Derived From Web

, May 30, 2022

My almost eleven year old daughter calls me overprotective and that may be true, but I read the books before her. The first book Among the Hidden has a spot where it talks about a bra. The second book Among the Impostors also talks about boys looking at pictures of naked girls. This was bad enough that I considered not letting her read the rest of the series. However, these are the only things I found inappropriate for her age. She is not a big reader, but can not put these books down.
Awesome book

Derived From Web

, May 30, 2022

But before you decide to buy this book, I suggest reading book one and first book two in the series. For me, this book was a really surprising story. Instead of focusing around Lee Grant, it was focused around a girl from Book Two, Nina. I am not going to spoil this book, but the story really surprised me, I did not expect the ending that it had. I give this book five stars ( all '' ).
More please!

Derived From Web

, May 30, 2022

I have read this book, I loved the first two and this one. I loved how Margaret wrote when she was younger about Nina's flashbacks. What I did not like was that the book was very short and had little detail. If you liked this book, I would recommend reading the Shadow Children series, the Septimis Heap series and any other book by Margaret Peterson Haddix.
If you are not expecting Luke, you'll probably like it.

Derived From Web

, May 30, 2022

Reading this along with my 7th grade son is like reading. We loved the first two books in the series, with lots of suspense and surprises. We expected more from Luke's story, but instead received a whole book about this other character, which was not what we expected. When we finally realized that this was not going to be about Luke, we enjoyed this side story even more. Very confusing '', though. This character was arrested because she worked for the Population Police, so they used the false charge that she was a shadow child to remove her from school. In this book, however, she is a shadow child and has not done anything wrong and was perhaps set. We are just going to get through it so that we can move on to the next book and learn what happens to Luke.
Awesome

Derived From Web

, May 30, 2022

This book was so awesome, I love it and want to read all the other books too, I think this is so far the best book series I ever read.
Awesome

Derived From Web

, May 30, 2022

I loved it great book, I recommend reading the whole series, it's a really good series, I recommend it to everybody.
My 12 year old son is reading the series

Derived From Web

, May 30, 2022

My 12 year old son read the series Shadow Children and loves them. Among the Betrayed, the second is the first in the series. He is already on the third place.
Great book!!

Derived From Web

, May 30, 2022

A book that doesn't bring u to sleep a great story and a great message. Won't be a waste of time to read this book.