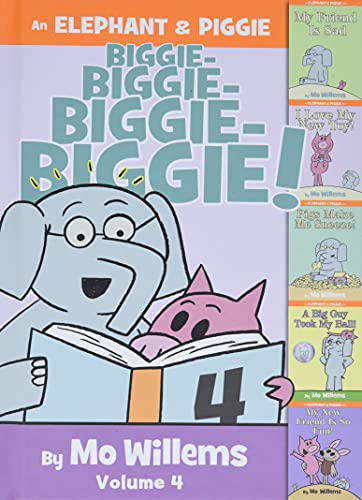 
 
An Elephant & Piggie Biggie! Volume 4
Frequently Asked Questions About An Elephant & Piggie Biggie! Volume 4
Book Reviews
(10)
Did you read An Elephant & Piggie Biggie! Volume 4? Please provide your feedback and rating to help other readers.
Kid Favorite

Derived From Web

, Mar 21, 2022

When I found out there was a fourth book in the Elephant and Piggy series, my kids were very excited. They are the most read books in the house. My kids like to go to bed at night. My kids learned to read from these books.
Fantastic humourous book loved by a 5 year old and parents

Derived From Web

, Mar 4, 2022

The Elephant and Piggy books are a great way to start reading. Mo Willems deals with the dilemmas in a funny way. The characters are able to express their feelings. Young readers gain confidence with repetition of words. The book could be useful for students learning English as a foreign language. The Biggies volumes are a great way to get the Elephant and Piggie stories. The big books are a little heavy for young hands. It is recommended for young children and parents.
Love these but awkwardly heavy/thick

Derived From Web

, Feb 26, 2022

We love reading these books in our house. We have 3 from the collection that are selected daily for story times. The stories are cute, memorable, and fun to act out, and you can out a lot of expression and feelings in each story. The books are heavy and thick with lots of page turning so as the mom reads the books, it can be a bit awkward to hold, turn the pages, and have rhe kids all pile around for the story.
Great for reluctant readers!

Derived From Web

, Feb 16, 2022

My son has been reluctant to read out loud and I have been working through the Elephant and Piggie books with him. Not so with these books. He laughed his way through each one. Young readers can usually decipher context clues with the right mix of sight words, easy reader words, and a few challenges that Mo Willems has nailed it with. I buy the next one when my child reads through all the stories in one. I hope there is one more.
Not a great story selection

Derived From Web

, Dec 14, 2021

We've read the other 3 volumes million times and we love Piggy and Elephant, we have them. The story selection in the 4th edition is not very good. My daughter never asked for them again after we read them all.
BIG book for little readers

Derived From Web

, Dec 2, 2021

Gerald and Piggy are my friends. Lots of reading can be done with these limited vocabulary books. You can then move on to Winnie the Pooh and his friends. They are thoughtful and reflective. They are fun and thoughtful. We own several of the single books. Love stories and illustrations by Mo Willems. Children should be taught about authors and illhstrators.
It's Elephant and Piggie! Need I say more?

Derived From Web

, Oct 25, 2021

Who doesn't like Elephant and Piggie? My children love Elephant and Piggie. The stories can be enjoyed by a wide range of people. The stories are great for early readers. We've read many of the Elephant and PIggie books. We own volumes. They are a great way to get multiple books in one. They released a 4th volume of books. I hope they finish the set before my kids grow out of it.
Delightfully humorous for both parents and kids!

Derived From Web

, Oct 22, 2021

Are you looking for easy to read books that your children will love hearing you read to them or are you looking for books that they can easily read themselves? The books by Mo Willem are not right for you. He has the best humor and my children and I laugh so much that we don't care how many times we read these books. They are the best books you can read again and again. We can't wait to get the rest of the books.
Love, love, love these books

Derived From Web

, Oct 12, 2021

My children were surprised with this addition to their collection. My 8 year old was so happy that he cried. They love Mr. Willem's books. When my son saw that Piggy's picture was not complete, he thought there would be one more volume. They sat down and the 8 yo read the entire volume aloud to his sister. Thank you, Mr. Willems, for the wonderful experience.
Great for Preschoolers!

Derived From Web

, Oct 4, 2021

My four year old is a big fan of one of the authors. She is excited to add the picture puzzle to her collection. This volume isn't all new works, as I have found with this series, as the stories are also sold individually. It's simple text would be great for beginning readers. Sound purchase, funny and fun.