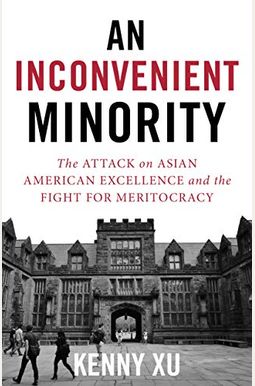  
An Inconvenient Minority: The Attack On Asian American Excellence And The Fight For Meritocracy
Frequently Asked Questions About An Inconvenient Minority: The Attack On Asian American Excellence And The Fight For Meritocracy
Book Reviews
(7)
Did you read An Inconvenient Minority: The Attack On Asian American Excellence And The Fight For Meritocracy? Please provide your feedback and rating to help other readers.
Ain't Necessarily So!

Derived From Web

, Jan 12, 2022

Kenny Wu's complaints about discrimination against Asian Americans should be read in conjuction with Margaret Chin's Why Asian Americans Don't Reach the Top of the Corporate Ladder. Chin points out that The Coalition for a Diverse Harvard showed that the number of Asian American students at the university has steadily increased since 1980 to the point where the class of 2023 is over 25 percent Asian American. Indeed, Margaret Chin, who heads the Asian Americans Advancing Justice program, says Asian Americans have benefited from Affirmative Action programs in the past, particularly in the workplace.
An expose on the inconveniencing of our country's inconvenient minority

Derived From Web

, Jul 17, 2021

Thanks to Kenny Xu for your timely expose on the ongoing discrimination against Asian Americans in this country. It is truly humbling and humbling to know that those of us who will no longer tolerate being overlooked, undervalued, disrespected and used for political gain will stand up to such hypocrisy. The book is well-researched and thoughtful, said Robert Hemenway, The Atlantic's executive vice president. Very good customer service, Highly recommend. Our children were beaten, abandoned, and left behind, until you needed us.
well researched

Derived From Web

, Jul 17, 2021

The Harrisons' lawyers called the criticism of the Critical Race Theory "a repudiation of the fundamental American idea that blacks are not equal." The Rev. Jesse Jackson's book "Rebellion" rejects the notion that racism exists. In reality, Asian males, especially Asian-Americans, are the most discriminated against group. They face more obstacles than anybody else in getting into good schools, getting promoted in their work and even in trying to get rid of the stereotyping in their portraits. Misinformation and falsehoods are the product of desperate people desperate to make a quick buck, the book says. The narrative that systemic racism in the US is keeping the minorities behind is shattered by the success of Asians, who have been dependent on a society rewarding entrepreneurship and hard work, he said. But success requires more than academic improvement, argues James Goin, director of Asian American studies at George Washington University. The worry expressed by the League's leaders is that this meritocracy and basic fairness is being eroded.
A must read. This is an outstanding book!

Derived From Web

, Jul 15, 2021

Kenny Xu is saying what needs to be said and it is long overdue, he said. These precious institutions, including Harvard, Yale and Carnegie, are overdue for a public shellacking. The outrageous and discriminatory policies and practices of the CRT threaten not only Asian American students, but also our national security. He urged his colleagues to "avoid complacency" and to "move forward with the best and the brightest." I hope that Harvard pays dearly in every way for their racist misdeeds.
Sharp, bold, and smart.

Derived From Web

, Jul 15, 2021

Great research, said Dr. Chester Floyd, director of the university's Center for Science and Technology. Courage to write a book requires more than just a passing grade. I hope people read it with an open mind.
Convincing logical arguments with profound implications

Derived From Web

, Jul 15, 2021

I've read a lot of good books, but this is one of the best. Kenny made clear that the implications of Harvard's discrimination against Asian students extend well beyond the Asian community. It is so wrong that violates the fundamental American values which in turn makes U.S. losing its competitive edge against rising power of China among other nations. He cited rigorous academic research by well-known scholars, conducted from all backgrounds, navigated relevant history with a conviction. Kenny further illustrated what is happening today in the US clearly resembles the Cultural Revolution in China that took place some 50 years ago. The death toll is still rising, but China is winning the war. It's a tough sell: Does U.S. want to repeat the disaster? If you are concerned about the direction of this country, regardless of your skin color, liberal or conservative, I highly recommend this book.
Merit matters! Thankful for his perspective!

Derived From Web

, Jul 15, 2021

Thankful for this book and the fight for meritocracy, he said. I think it's great that people are listening, said Dr. Aronov, director of the NIH's Center for Regenerative Medicine. I think we are going to record sales for Velcade this year."