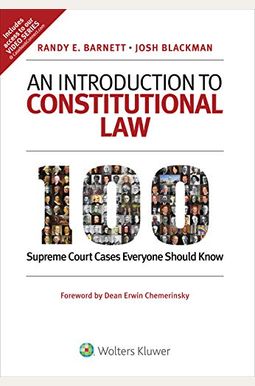  
An Introduction To Constitutional Law: 100 Supreme Court Cases Everyone Should Know
Product is currently Out of Stock.
You can add it to your wishlist and you will be notified once we receive a copy.
Book Overview
Buy a new version of this book and receive access to the video series that accompanies the text hosted on CasebookConnect.com.
This multimedia platform combines a book and video series that will change the way you study constitutional law. An Introduction to Constitutional Law teaches the narrative of constitutional law as it has developed over the past two centuries. All students--even those unfamiliar with American history--will learn the essential background information to grasp how this body of law has come to be what it is today. An online library of sixty-three videos brings the Supreme Court's one hundred most important decisions to life. These videos are enriched by photographs, maps, and even audio from the Supreme Court. The book and videos are accessible for all levels: law school, college, high school, home school, and independent study. Students can read and watch these materials before class to prepare for lectures or study after class to fill in any gaps in their notes. And, come exam time, students can binge-watch the entire canon of constitutional law in about twelve hours.
To receive access to the video series you must purchase a new version of the book.
Frequently Asked Questions About An Introduction To Constitutional Law: 100 Supreme Court Cases Everyone Should Know
Book Reviews
(8)
Did you read An Introduction To Constitutional Law: 100 Supreme Court Cases Everyone Should Know? Please provide your feedback and rating to help other readers.
Great introductory book on the most important (100) constitutional law cases

Derived From Web

, Apr 29, 2021

Shortly after the book came out, I bought directly from the publisher. Some reviewers complain that they did not get free access to online video material. Yes, the correct spelling is shown. They did not buy the publisher from scratch, if they had it. Complaining stops. This is the best introduction to the law of conxstitution for beginners... ever. Josh Blackman told me that they are working on a followup, but if they do, it will be a few years out. The video material does not add much, since it is verbatim from the book. But it is nice to see Randy Barnett and Josh Blackman speak... on the screen. The hard benefit is that book content is burned in your mind into the real drive. The concept is super interesting.
I am not a lawyer

Derived From Web

, Apr 3, 2020

It reads like a typical law passed by our state legislature. I can not understand it. I purchased this book in the hopes of improving my understanding of the workings of the Supreme Court. Absolute obfuscation is required So disjointed that I have no idea of where I am in the book. Has links to watch videos for cases, but requires signupsignin.A complete rip-off. It is too late to return the book, so I keep it in case of insomnia. I have hundreds of Kindle books and this is probably one of the few that are completely disappointed. My biggest regret is that I did not buy the print copy as there is a shortage of TP in my area.
To understand American history, you have to understand its law

Derived From Web

, Nov 1, 2019

There is only one Constitution, but there are dozens of sometimes confusing interpretations of it. This book does an absolutely outstanding job of explaining how the Supreme Court has addressed issues of interpretation over the years. This is a clear, concise and amazingly well-written book -- not something one usually can say about books written by academics. If you have any interest in American history, this deserves a place on your bookshelf.
Be Forewarned, audio portion is as bad as it gets.

Derived From Web

, Oct 29, 2019

The AUDIO WILL DRIVE YOU NUTS Imagine listening to the video clip of this production with a constant wheel of Fortune Countdown playing in the background as you try to focus on what is read! This is an awfully produce videoaudio and it would be painful to listen over and over to over 100 of the same audio backgrounds. I have never experienced anything as bad as this production. If you can concentrate above the Wheel of Fortune audio track, great material will be produced. Be available and sample it if it is forewarned.
Expect to learn so many new things

Derived From Web

, Oct 28, 2019

I 'll preface by saying : I am not a lawyer, I have great interest in constitutional law. I bought the book with the intention of learning more about the usual Supreme Court decisions beyond Roe, Wickard, NFIB, etc. To say that I learned new things would be an understatement! In point of case, the legal tender cases are legal. I was under the assumption and partially my fault, as I see on Twitter that Griswold concluded that Congress could not issue paper currency. However, this was not the case! The court said that Congress can not issue paper currency as a legal tender. If you are interested in learning more about under-covered, society changing, constitutional law cases, I would recommend this book 1000%.
Game Changer in ConLaw Education!

Derived From Web

, Oct 15, 2019

Professors Barnett and Blackman have done what law students have been demanding for years, and that is to deliver the time-honoured teachings and wisdom of the U.S. Supreme Court in a contemporary medium that is both engaging and informative. I have used this book for both deep analyses of key cases in constitutional law as well as a quick reference for recognizable concepts within a case. The organization flows with the progress of the court by era and philosophy, making the text a must-have for any legal student seeking expert-level insight from two of the nation's top constitutional scholars. This book is delivered by hand-in-hand with video case summaries by authors, screams millennial while capturing minds across generations. I can 't wait to see what comes next from this talented team!
Great layman's survey of Con Law

Derived From Web

, Sep 22, 2019

Cases are presented in a way that should be understandable by those without formal training in the law, but rely on some understanding of the Constitution and the Civics. While some of them are well-known, others who are equally important deserve the wider audience that this book brings. Two snags : The promised videos require an access code, and mine has been slow to arrive. Also, the Kindle version has some formatting issues, most notably stray page numbers that don 't match the formatting of the Kindle.
A great primer on key Supreme Court cases; interesting to lawyers and non-lawyers alike

Derived From Web

, Sep 17, 2019

This is a real tour de-force. Summaries of the most important Supreme Court cases are really good. I would recommend this book for high school students who take government or US history seriously. Pre-law undergrads for law students. For law students, we have a special education program. For practicing lawyers who want a crash course in key court cases outside their fields. and for non-lawyers who want to understand the court better.