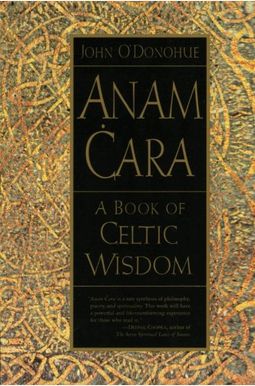 
 
Anam Cara: A Book Of Celtic Wisdom
Frequently Asked Questions About Anam Cara: A Book Of Celtic Wisdom
Book Reviews
(12)
Did you read Anam Cara: A Book Of Celtic Wisdom? Please provide your feedback and rating to help other readers.
A Book of Wisdom and Comfort

Derived From Web

, Apr 20, 2022

Simply put, this beautiful writing gives you a different yet grounding way to look at life. Reading it is like walking a long walk with the author, while he gently explains : This is how the world works. I'm sorry that he is no longer with us. I would have liked to hear him speak.
I found his beautiful words to be the best of spiritual comforts

Derived From Web

, Apr 20, 2022

Thus was the only physical book I took on my 2nd annual 45-day trek across the West alone with my trailer this year. As I reach MP the last chapters of my own life, although I am not Catholic, I found his beautiful words to be the best of spiritual comforts.
A gift to soothe your soul

Derived From Web

, Apr 20, 2022

I bought several copies of this book to give as gifts ''. It will warm your heart and comfort you in many ways, some totally unexpected. A beautiful book by a wonderful man.
Practical spirituality

Derived From Web

, Apr 20, 2022

This is a deep and delightful, clear, readable guide and articulation of the human journey from a practical spiritual perspective, providing good advice and poetical nudges into one's own divinity.
Excellent condition - as advertised!

Derived From Web

, Jan 28, 2022

This excellent hard cover book is in used condition, in excellent condition. There was a handwritten note on the first page from the person who donated the book to its original owner, which I removed easily - that was the only mark in the book. There was also a beautiful little plastic bookmark with a shamrock inside that feels like a small gift. I am very pleased with this book! '' I am very happy with it! Thank you so much for the kind words!
Worth Reading

Derived From Web

, Dec 1, 2018

Worth a read, good insights on building and sustaining spiritual relationships, but I had a hard time connecting, because the focus was on doing so in a human relationship. Unfortunately, my experience has been that humans always let you down, and there isn't anyone with whom I would be willing to go to this extent. I still found it worthy of reading, but wish there had been more emphasis on improving our spiritual relationships within ourselves.
com DNA match) and someone who has loved being in that other Celtic land

Derived From Web

, Feb 5, 2018

As a person of 87% Irish heritage and someone who has loved being in that other Celtic land, Scotland, the themes of O 'Donohue's book resonate with me. Best is his final chapter on death as one's constant companion in life and on the continuing presence of the departed in our lives -- they are invisible, but are always there. I would recommend this book to anyone of any ethnicity, who is dealing with the death of a close loved one. Here there are harmonies with African-American and West African cultural beliefs.
This book is one I gift constantly. John is ...

Derived From Web

, Jan 31, 2018

This book is a gift that I give constantly. Celtic Truth is a sage of John, a sage of Celtic Truth. Though he has now passed... this is his heritage.
Celtic wisdom poured from the mind of a poet priest.

Derived From Web

, Sep 27, 2017

This will be the one book that you will want to keep on your bedside stand, even if it is just a book on your side. John writes with poetic wisdom that flows from the tip of his pen. If the meander of your life brought you to reading this message, it has brought you to the point of reading this message. ... Buy this book and plan to visit Co Clare, Ireland. Neither disappoints.
Wisdom and Profound Insights

Derived From Web

, Sep 19, 2017

This is a book filled with emotional insights about nature, friendship, profound healing, aging and death. It is a book that you will probably read many times to gain the wisdom of John O 'Donohue, a great Celtic Irish scholar, poet and philosopher. It led me to a study of his other writings.