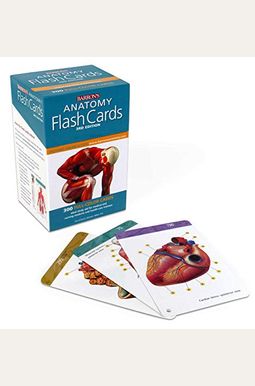 
 
Book Overview
This newly re-designed set of Barron's Anatomy Flash Cards is an ideal study aid for medical school students, nursing students, and health care trainees. This set includes 300 cards to help you learn muscles, bones, and organs. Cards are color-coded according to their general function in the human body.
New cards featured in this set include:
Layers of skin in Overview
Microscopic development of the brain
Immune system cells
Microscopic structure of vein and artery
Microscopic structure of the large intestine and stomach wall
Cross-section of spleen
Nervous tissue
The set comes with a ring that can be used to change cards as needed for studying on-the-go. You'll also get access to electronic color images of each flash card, which you can use to test yourself and even create custom study sets of particular systems or areas you need to focus on.
Frequently bought together
Frequently Asked Questions About Anatomy Flash Cards
Book Reviews
(10)
Did you read Anatomy Flash Cards? Please provide your feedback and rating to help other readers.
which is super important if you're learning anatomy

Derived From Web

, May 28, 2022

These flash cards do not include origin and insertion, which is super important when learning anatomy. I return them.
RETURNED!

Derived From Web

, Jun 15, 2021

These are very low in quality, thin, flimsy and oversized flashcards. I suppose they would be durable in a pinch, but I returned mine because the box and cards were already beat from shipping and didn 't look like they'd be durable at all. Shame, because this was a great concept.
A good value and super helpful

Derived From Web

, Aug 10, 2020

The cards are very detailed with a lot of info. A color coded experience is a great option to get a ring to put together areas you want to study. I recommend using these to study if you are enrolled in anatomy classes or if you just wanna learn about the human body on your own.
Great for A&P

Derived From Web

, Feb 10, 2020

Some cards were a little bent and don't go into the full details. The pictures are great though and great for quick study. It is simplified instead of the complexity of the book.
It's ok

Derived From Web

, Dec 18, 2019

I have covered it only for AandP 1 for now, the integumentary and bones, so far as the bones it does not have all the locations. I used this set mainly for a refresher, but not for my main source of study, since it did not even cover half of the bones. It's ok tho, and for the price it is nice.
Great cards, poor packaging

Derived From Web

, Aug 31, 2019

Five stars for the flash cards have been added. They came packaged in an envelope so that the lid was cracked on one corner and torn on the other side. To avoid this, they should have been packaged in a box.
Lots of information on just 1 card!

Derived From Web

, Jul 17, 2019

These are not like the flash cards that you would normally make. There is a lot of information on the card just about the one side. It is like tearing a page out of a textbook and studying that one page off. I am honestly not impressed with them, but I will use whatever study tool is available to me to get through school.
Very detailed

Derived From Web

, Oct 16, 2018

The cards are different, the only thing I wish was the placement of the hole for the ring. If the hole was on the top instead of the bottom, one could put the cards back in the box with the ring.
Too basic, many things not labeled or covered. Maybe ok for high school bio class

Derived From Web

, Mar 11, 2018

So far, disappointing. I found errors on the integumentary card. It is fine for very basic identification of bones, large processes and foramen, but has many details missing that are necessary for AP1. For example, on the thoracic vertebra card it does not even label the superior and inferior costal facets where the ribs articulate with the body of the vertebra. There are other things that I find missing from each card. This set was more expensive and now I wish I had gone with the cheaper set that might have been better.
These have helped me out so much it is insane ...

Derived From Web

, Feb 26, 2018

These have helped me so much that it is insane. I didn 't know that flashcards could help me as much as these already have within a week.