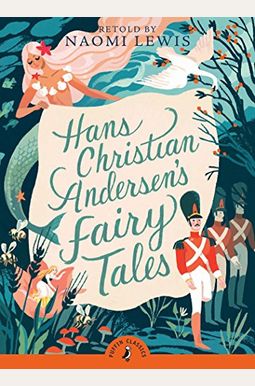 
 
Hans Christian Andersen's Fairy Tales
Book Overview
This Description may be from another edition of this product.
A collection of Hans Christian Andersen's best loved fairy tales is here illustrated with the magnificent Art Nouveau colour illustrations of Kay Nielsen. This was a project that took Nielsen 12 years to complete, and his illustrations perfectly capture the other-worldly spirit of the subject matter. Many of the earliest children's books, particularly those dating back to the 1850s and before, are now extremely scarce and increasingly expensive. Pook Press are working to republish these classic works in affordable, high quality, colour editions, using the original text and artwork so these works can delight another generation of children. About the Author: Hans Christian Andersen (1805-1875) was a Danish poet and author celebrated for his children's stories but perhaps best known for his immortal Fairy Tales meant for both adults and children and frequently written in a colloquial style to veil their sophisticated moral teachings. He broke new ground in terms of style and content by using idioms and constructions of spoken language in a way that had previously not been seen in Danish literature. His poetry and stories have been translated into over 150 languages, inspiring a wealth of films, plays and ballets. About the Illustrator: Kay Nielsen (1886-1957) was a Danish illustrator of the golden Read More chevron_right
Frequently bought together
Frequently Asked Questions About Hans Christian Andersen's Fairy Tales
Books like Hans Christian Andersen's Fairy Tales
Book Reviews
(10)
Did you read Hans Christian Andersen's Fairy Tales? Please provide your feedback and rating to help other readers.
Horrible

Derived From Web

, May 5, 2022

The book itself starts at page 43, has no table of contents, and is not even a publishing page. Will definitely return for more.
It's a book

Derived From Web

, May 5, 2022

Hi there, I got this free kindle book from Amazon. com. You know I never actually used kindle to read Mr. Rule's book. I use it for a long time to play video games and to watch netflix while I'm in the bath tub. Yes, books are so awesome, especially when they are free for kindle, Mr. Rule told Amazon. com.
Good Collection

Derived From Web

, May 5, 2022

The book, "The Three Broomsticks," was originally written by the Swedish writer Hans Christian Andersen. Some of his well-known stories include "The Little Mermaid," "The Snow Queen," "The Emperor's New Clothes" and "The Ugly Duckling." It is interesting to go back to the original stories, not necessarily the most beautiful, rather, the more introspective versions of them.
One of the Best Free eBooks for Kindle I've Run Across

Derived From Web

, May 5, 2022

I downloaded this ebook and was pleasantly surprised. It's just that the writer of the article misquoted the first line of the story. There are also many more than 12 stories in this generous collection, though I haven't counted exactly how many. The company also offers a hyperlinked table of contents for instant access to any of the stories, unlike many of the free ebooks I've seen. The PowerPoint presentation is clean and the text is also good. Amazon's free ebooks are among the best I've seen. This product is highly recommended by Amazon. com shoppers.
Great Collection - Hidden Table of Contents?

Derived From Web

, May 5, 2022

The collection is described as a "very large and fairly thorough" one. If you like Avalanche, you may want to download the entire thing. The only thing I was really disappointed about was the apparent lack of a table of contents. After reading the other reviews that stated there was an active table of contents, I decided to keep looking for it. While you can't access the TOC through the Kindle menu, you can get to it by going to the first page of the book and hitting the back button. Simply put, the entire thing is a smash. There is a table of contents. Once I found it, I didn't have a single complaint about this edition of The New Republic.
Great set of stories, kid favorites!

Derived From Web

, May 5, 2022

My daughter is totally all about frozen and the little mermaid and I were telling her that the stories were written a long time ago, but we haven't tackled them yet. Thanks for the memories!!!!!!!!! A new school has opened in the Kirkwood neighborhood.
Who doesn't love Hans?

Derived From Web

, Jul 15, 2021

The book includes the original stories by Christian Anderson, plus some of his history. The book is so large it can be carried with you, wherever you go!
Good news/bad news

Derived From Web

, Jun 9, 2020

The bad news I opened the book to find the cover had begun with a single bullet hole in the middle of The Emperor's New Clothes. No copyright, no table of contents, the first two and a half stories missing. The good news for the reasonable price paid, I'll keep it rather than go through the hassle of return, he said.
More cognition, creativity and communication

Derived From Web

, Jun 30, 2018

This book will last forever. It offers a number of benefits, including reduced anxiety and aggression, positive emotions, less stress and more creativity and communication.
So Disappointing

Derived From Web

, Jun 27, 2017

Let me begin by saying that I am very happy with the outcome of the negotiations, Bruno said. If you want your children to fall asleep, buy this Mission rendition of Andersen's fairy tales. The book is, in many ways, a bloated, tortuous and pedantic exercise in futility. There is no fairy tale, no princess, no prince. No table of contents has been provided with this CD. My grandchildren, who range in age from 4 to 11, are entranced by the listening library CD of Grimm's Fairy Tales which I purchased from Amazon a few months ago. The CD is headed for Goodwill Industries of the Carolinas.