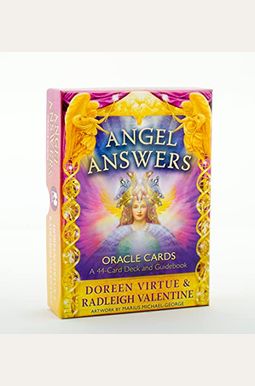 
 
Angel Answers Oracle Cards: A 44-Card Deck And Guidebook
Book Overview
Simple, Trustworthy, and Direct Advice Sometimes, you need a simple and to-the-point answer to your questions, such as Is it 'Yes' or 'No'? and When will I get that job, meet my soul mate, move to a better location, and so on? Angel Answers Oracle Cards offer you trustworthy guidance when a short-but-sweet response is required. If you're navigating through a confusing situation, this card deck will yield straightforward answers to give you the clarity you're seeking. Doreen Virtue and Radleigh Valentine, the best-selling authors of Angel Tarot Cards, bring you an oracle-card deck that cuts to the chase with the most pertinent information you need to know. The 44 beautifully illustrated cards come with step-by-step instructions in the accompanying guidebook. With Angel Answers Oracle Cards, you'll clearly receive your guardian angels' direct and loving messages.

Frequently Asked Questions About Angel Answers Oracle Cards: A 44-Card Deck And Guidebook
Books like Angel Answers Oracle Cards: A 44-Card Deck And Guidebook
Book Reviews
(12)
Did you read Angel Answers Oracle Cards: A 44-Card Deck And Guidebook? Please provide your feedback and rating to help other readers.
Cut to the Quick of It

Derived From Web

, Apr 20, 2022

If you've ever wanted a simple answer for yourself or a client, this deck will deliver. I use it alone for last minute answers and when I have a client who needs that quick word of confirmation or reassurance after an in-depth tarot - spread session.
Beautiful Cards

Derived From Web

, Nov 14, 2021

Oracle deck is beautiful. My favorite so far is probably. It is amazing illustrations and meets your needs when you are looking for a specific answer. They also feel so nice and are laminated.
Loved this (first oracle deck for me!)

Derived From Web

, May 30, 2021

I absolutely love this set of oracle cards + a guidebook is especially nice for beginning oracle readers. I also love how there are three different sets -- yesno, the 'when'and the general.
Accurate and lovely Angel Oracle cards.

Derived From Web

, Apr 28, 2021

I really like these Angel Oracle cards, especially the features of the special cards dedicated to Yes and No questions and timelines. I found them very helpful and accurate during readings.
LOVE THESE!!!!

Derived From Web

, Apr 1, 2021

I absolutely love them and have encouraged my friends to get a set of their own and they love them as well. These cards are so accurate and help you when your thoughts are clouded. I highly recommend ''.
Perfect

Derived From Web

, Mar 12, 2021

I love this deck. I love it. I've seen this deck on Instagram for a very long time. Every reader has one and I do now too. If you are looking for a clear concise deck, this is it for you. Definitely recommend it to everyone! It also has time cards for those who need to know a time estimate.
Not Useful/ Low Vibration

Derived From Web

, Jan 28, 2021

I agree with the reviewers who said that the deck gives off a bad vibe. I feel that this deck is easily manipulatable by prankster spirits and entities. No matter how much I sage, spray protective mist or place in a protective bubble, the answers are confusing and meaningless. For example, I asked a question and drew 3 cards and they read Yes!, No, and Unlikely. You can imagine how confused I was about the answer. I won't use these cards again. Many of my old Doreen Virtue cards are giving contradictory answers. I don 't know, but could it be her confusion about her spirituality that the cards pick up...
Read This - So You Dont Read the Deck Wrong

Derived From Web

, Aug 4, 2020

The comments mention that the deck isnt working right. I think people are failing to read the book that comes with the deck, it says in the introduction pages THREE DECKS IN ONE. Blue border is for YesNo. Blue for YesNo. Yellow border cards are Timing, yellow border cards are yellow. Other border cards are purple and other border cards are other. You are not supposed to read this pile of cards as a deck of cards. Decks are used as THREE - Decks. I gave it four stars, because the cards were a bit too large to handle. As a result of the size of the cards and the small decks created by separation, it is hard to shuffle the cards! I often have three to four cards drop with a shuffle on the floor. That is beyond frustrating, as that helps no one... I like the look and idea of this deck, but so far I don 't trust its advice.
I love these Oracle Cards

Derived From Web

, Apr 20, 2020

I love these Angel - answers oracle deck. Ask the universe for whatever you desire and these Oracle Angel cards respond with a definite answer to your question. I love using them for my clients when I do Love Readings. Thank you so much for the wonderful gift. I love so much this deck ''.
heressy, not buy anymore

Derived From Web

, Mar 30, 2020

Heretical objects are represented : Not anymore '' buying. The author asked sellers to stop selling too, as they are heretical.