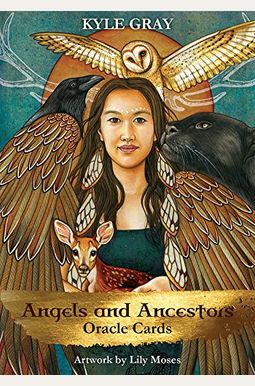 
 
Angels and Ancestors Oracle Cards: A 55-Card Deck and Guidebook
Book Overview
We have many guides who are helping us navigate through all our earthly challenges. Our strongest guides come in the form of Angels and Ancestors, and this card deck will teach you to strengethen your connection with these wise beings.

Angels are divine beings that echo the heart of love. These incredible spirits are pre-human intelligent souls and are here to monitor the wellbeing of all sentient beings. The Angels are formless, but have appeared with form through the four corners of the world with different names and different faces. However, their essence and mission remains the same: to love, help and guide.

The Ancestors are the souls of departed wisdom keepers from all parts of the world. They are the wise ones, warriors, medicine people, shamanic healers and all those who had knowledge that helped their people grow and develop. Just like Angels, the Ancestors can be called upon in prayer, meditation, and ceremony to help bring healing, change, and support from the other worlds.

Together the Angels and Ancestors bring a powerful offering of wisdom that can help us in our spiritual and physical life. The Angels offer a non-judgemental, wholly loving energy that can help us feel safe and guided. The Ancestor spirits offer us experience - they know what it's like to walk the Earth and learn about Her magic and medicine.

With Read More chevron_right
Frequently bought together
Frequently Asked Questions About Angels and Ancestors Oracle Cards: A 55-Card Deck and Guidebook
Books like Angels and Ancestors Oracle Cards: A 55-Card Deck and Guidebook
Book Reviews
(18)
Did you read Angels and Ancestors Oracle Cards: A 55-Card Deck and Guidebook? Please provide your feedback and rating to help other readers.
Love

Derived From Web

, Aug 17, 2021

I like these cards a lot. They are larger than tarot cards. I like the design of them and they have a nice weight. These were referred to me by my friend. These are for beginners.
Beautiful Art

Derived From Web

, Dec 7, 2020

Beautifully done! The art and messages are very touching. I would recommend these cards to my daily practice. The materials used for cards are high quality.
Amazing Deck Overall

Derived From Web

, Oct 4, 2020

I absolutely adore this deck. The card stock is thick, the illustrations are gorgeous, and I like the little hints on the front of the cards. This deck is very easy to work with. I highly recommend this deck. There is a lot of people and animals in the illustration. Absolutely loved it!
So Beautiful

Derived From Web

, Sep 21, 2020

BUY IT NOW. This is the most beautiful deck. I'm constantly amazed by the accuracy. Also a great gift. You won't be sorry!
Wonderful, rich, and embracing

Derived From Web

, Sep 20, 2020

The readings I do with this deck are very wise. I think the deck is more powerful because it blends traditions. I have never seen a person in an oracle card deck described as non-binary. Thank you very much! Jake's partner was Star.
Outstanding! Elegant daily guidance from Angels & Ancestors!

Derived From Web

, Aug 30, 2020

This is an amazing deck. Kyle Gray's beautifully created deck is filled with helpful, uplifting, optimistic, easy to understand messages. I immediately connected to the artwork and guidebook. The messages have Light, Love, and clarity from Father in the Sky, Mother in the Earth, Angels, and Ancestors, as well as spiritual guides. There weren't any complex card spread readings. It's a must for anyone who wants clarity in their life. It was!
The Angel realm is happy. 😇

Derived From Web

, Aug 4, 2020

The deck is beautiful. It was done well and put together. The booklet is well thought out and helpful. There is a representation through the deck. It has become one of my favorites. I think it's a great idea. Kyle Gray and Lily Moses did their own work. Excellent job.
Love love this oracle cards!! 💖

Derived From Web

, Aug 2, 2020

I love this oracle cards. They're on point and insightful. I started carrying the deck with me. It is very diverse and one of my favorites. I wasn't sure how well they would work for me so I didn't order them right away.
Beautiful Messages, Beautiful Cards

Derived From Web

, Aug 13, 2019

One of my favorites is this deck. The colors and images are very vivid. When I do use this deck, the messages are what I need. The cards in this deck are classified into four categories: Sacred Ones, Guardians and Messengers, and Warrior Symbols. This doesn't affect the reading, and only allows for better organization when reading the cards in a small booklet. The booklet gives more insight on how to use the cards to their fullest potential, and is very helpful when interpreting the cards. I highly recommend the deck for those trying to expand their oracle library.
What diversity??

Derived From Web

, Jun 1, 2019

Everyone made them out to be different. I want cards with darker faces that are representative of IDK. Throwing in a few doesn't equal inclusion. The idea that only white faces are associated with divinity continues to bother me.