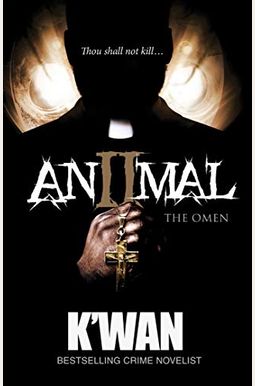 
 
Book Overview
This Description may be from another edition of this product.
Secrets are revealed, sides are chosen, and bodies are dropped--it's on After being thought dead, Animal resurfaces on the streets of New York to keep true to his promise and make it rain blood over Harlem. All those who had wronged him would feel his wrath, including Shai Clark, boss of the New York underworld. But touching a man like Shai Clark proves easier said than done. Using Animal's soul mate, Gu-cci, as bait, Shai sets a trap for the young killer. Once again Animal finds himself captured, but this time there will be no trial. He is sentenced to die at the hands of Shai's executioner, a man known only as Priest. The assassin is ordered to kill Animal, but instead of death he gives him the truth of his shadowed past and how their des-tinies are intertwined. The man ordered to take Animal from the world is also the man who brought him into it. Animal finds himself torn between his hatred for the father who had abandoned him and the man who had taken everything from him. An uneasy truce is formed between father and son to take down a common enemy and finally grant Animal his freedom from the blood debt he's carried for so many years, but when the ghosts of Animal's past catch up with him, he learns that nothing is what it seems, and everything is subject to corruption--even his love for Gucci.
Frequently bought together
Frequently Asked Questions About Animal 2: The Omen
Books like Animal 2: The Omen
Book Reviews
(16)
Did you read Animal 2: The Omen? Please provide your feedback and rating to help other readers.
He is back...again

Derived From Web

, May 26, 2022

Animal will do anything to get his revenge against Gucci for what happened to Shai. Priest does what he can to keep the peace between Animal and Shai, but no matter what he says, Shai already has made up that Animal has to pay. Animal is not the only person who has beef with the Clark family, but King James is also in war with them. Secrets are revealed, the past has been told, and like any war there will be some casualties. Who is left at the end of the war? I have loved every book in which animal appeared and this was no different. This book picked up right where Book 1 left and brought back the characters that many of us love or hate. The way in which the story was told kept my interest from beginning to end. K'wan knows how to give enough details to allow you to visualize the story and have it truly play in your head without being overwhelmed. This is a book that I would definitely recommend and I will wait for his next release.
This book is the Bizniz!

Derived From Web

, May 26, 2022

Animal is the man we love and loathe at once. His life is the one we dread hearing about, yet we become fascinated when we hear things about it. Makes me wish I lived in Tayshawn just so I could run into New York. The character is so flawed, so filled with hate, hurt and anger that we want to hate him, but he is so vulnerable, so that we can only love him. Animal makes us look into the eyes of a killer, yet we see pain, love and a need to be loved that makes the reader want to hug and kiss him so that he can learn to live a normal life. The ending we read was well thought out, but I could see it coming. Oh boy, I can 't wait to read the next installment. And I love that K'wan writes so that the reader does not have to read the previous book for us to get it. I appreciate it.
Just Speechless

Derived From Web

, May 26, 2022

This good book was so damn good until I was about to read Rambo to anyone who interrupted me while reading it! I was on an emotional roller coaster, but I couldn t put it down! I've been drawn deeper and deeper into this story until there was no turning back! I was thoroughly pleased and entertained by it. My azz is now mad that it ended! I really want to type the word DAMN over and over again, but I am trying to keep my composure. There has to be part of the three and I will knock people over to get it!
Another Decent Book From My Favorite Author But K'wan Can Do Better

Derived From Web

, May 26, 2022

Maybe it's just me, but after reading this book it left me feeling bad, but Animal 2 is a decently written book, but I could only give it a rating of 3 out of 5 stars. If you are a fan of K'wan,Animal, The Hood Rat series and you read the first book Animal, it is worth your time and money if Part 3 is released 10714, because he has to deal with not one but two baby mammas.
excellent

Derived From Web

, May 26, 2022

Kwan is truly the author to watch without giving up too much. I don 't think I ever said shit this many times while reading a book. Every main character could have their own story, that is just how well this book was put together. I give this book 10 stars deservedly.
Love love love Animal

Derived From Web

, May 26, 2022

I love the animal series, can 't wait for the third installment. Currently I am reading Ghetto Bastard's story The Beginning The Story of the Animal's beginning, how he became the animal. I love the story-telling of K'WAN, when reading his books, I feel like I know these people and am emersed in their world of friendship, heartache, love, pain, partying and murder. Animal II was an awesome read, as I expected it to be, I hope the third book takes it a step further.
Great

Derived From Web

, May 26, 2022

I am never disappointed with K'wan's books and this is no exception. Animal is my favorite bad boy and I love how loyal he is with his love. Loved how the Gucci story played out and how Fatherson showed that she could ride or die no matter what. I was a lil mad about the end with Red, but I am sure that you will more than make up for it in the next one. If you haven 't read this series, I suggest you do, it will not let you down.
OH MY YOU MUST READ

Derived From Web

, May 26, 2022

OMG He has done it again... It played so well with the priest and then TEAM ANIMAL before... Keep it up, brother! I stayed up late the last night to finish... Now im tired, but it was well worth it.
Not your average hood book

Derived From Web

, May 26, 2022

Kwan never disappoints great no awesome storyline, Animal is a beast, what is not just your average hood book so much action and I remember all the previous characters so GRAB IT!!!!!
Love, Loyalty, and a little Murder!

Derived From Web

, May 26, 2022

I have a novel that I have never read, increased blood pressure and possibly the brink of a heart attack! The omen of the animal is the truth so shamefully the devil. Love, loyalty and a little bit of murder all in one! I am always expecting the unexpected with K'wan and I am still in shock! He is an amazing author! # #TEAMANIMAL