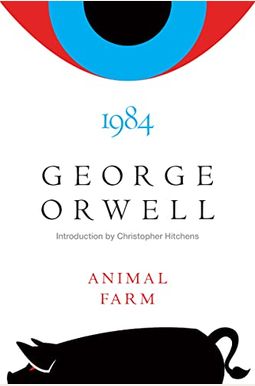 
 
Animal Farm/1984 Boxed Set
Book Overview
This Description may be from another edition of this product.
George Orwell is a writer who has been appropriated by very different political regimes and opinions, pressed into service as his various critics have seen fit. Though a polemicist and satirist at heart, his anti-totalitarian ideals are expounded with deft story-telling and a simplicity that belies the ultimately complex debates to which he gave voice. The changing responses to his two classic novels, Animal Farm (1945) and Nineteen Eighty-four (1949), provide an illuminating account of the developing preoccupations of the second half of the 20th century.

In this Readers' Guide, Daniel Lea takes a decisive path through the maze of interpretations that has accumulated around Orwell's best-known novels, examining critical reactions from the beginning of the Cold War through to the collapse of Communist Eastern Europe, and at the same time placing Orwell within a long tradition of dystopian writings. In exploringthe artistic, cultural and social contexts of Orwell's work, it is an essential resource for students and general readers alike.
Frequently Asked Questions About Animal Farm/1984 Boxed Set
Book Reviews
(18)
Did you read Animal Farm/1984 Boxed Set? Please provide your feedback and rating to help other readers.
Must Read

Derived From Web

, Apr 20, 2022

George Orwell's classic works warning against the rise of the state, as the arbiter and guardian of human well-being are more relevant now than ever. While the threat of communism is receding, there is an American intellectual love-affair with socialism that ignores the quagmire that Western Europe has become and remains well after the fall of the Soviet Union. In easy to understand, simplistic storytelling, Orwell traces the replacement of one system of dominance and exploitation with another in Animal Farm. And astute followers of current events as well as history will note more than a few startling prognostications in 1984. Relegating these books to the Cold War period does not do them justice or adequately account for the many guise that human avarice and greed for power can take. Not only in school, these stories should be mandatory reading, but throughout our lives as reminders of how quickly and easily freedom can be replaced with slavery.
2 great classics by Orwell

Derived From Web

, Apr 20, 2022

I would probably give Animal Farm quite 5 stars, but I would give 6 stars if I could. I think both of these stories were largely inspired by Orwell's experience in the Spanish civil war. I read 3 other Orwells works before these three were only somewhat good, all were double plus fictional. Take it from Big Brother : You gotta read that shit, then you gotta go to the Ministry of Love and learn to love Big Brother.
WORTH READING AGAIN - AND HAVING IN YOUR LIBRARY

Derived From Web

, Apr 20, 2022

This is a very nicely published edition of both George Orwell's landmark novels. Many of us were required to read these in school, but are all the more political in today's meaningful climate. While the left may tend to want to quote these novels the most, there is probably more ammunition for the right, particularly in today's politically correct culture. Think former N.O.W. Tammy Bruce's book The New Thought Police is a conservative and executive lesbian Tammy Bruce's book The New Thought Police. Regardless of political persuasion, a good historicalpolitical read is political.
Dystopian classics

Derived From Web

, Apr 20, 2022

Animal Farm : This story is a good example of how what appears to be a good plan can go awry. I thought that the animal roles were well chosen, coming from a farm background. Regardless of political convictions, this is a book that everyone should read. 1984 : What to say? A chilling story of power and control of freedom over power. I'm glad I finally read this after often hearing about it while growing up during the cold war. However, the world of 1984 was scarier than I had imagined.
We Need This Book

Derived From Web

, Apr 20, 2022

Every era of history has unspoken spots in the worldview, observable by those in charge. Being that each generation tends to get major in the areas their parents have mismanaged. We have therefore been given the visionary artists like George Orwell to help restore common sense. They are often able to see implications we miss in the political exchanges that go on in worldview circles and media, which often shape common opinion. Orwell's Animal Farm is one of those that we should probably have assigned every 10 years or so, even when our English teacher has not reread it. One of the best portrayals of the available government ideology and methodology, its brevity and sensibility bring us closer to the dangers lurking nearby, while '' mascot is presented as a story of animals on a farm. If you miss it in school, don 't miss it for real. You may need to read it again to help your grandson with his homework, as I did.
Genius on a Bad Day

Derived From Web

, May 14, 2021

Amazing insight into human weakness and draws a step-by-step road map to achieve ultimate power for the next ruler of Wannabe. Whether one is a personal family or a country, this is what mankind is capable of when power is the ultimate goal.
Excellent reading for today's and tomorrow's America.

Derived From Web

, May 6, 2021

The book reflects many of today's changes in America and tomorrow's reality 37 years after the year 1984. Animal Farm is a great satire on the reality of seeking and almost achieving equality. Today, both books are relevant.
Product was in perfect condition

Derived From Web

, Feb 20, 2021

I added 2 great books to my collection. I love the hardcover ''. The book arrived earlier than expected by a day. I love Amazon! I love it ''. !
1984 and animal farm by George Orwell

Derived From Web

, Sep 23, 2020

Bought this book because I tried to check it back into the library because of the high volume of people who request it in 1984, and as a bouns I get animal farm too. This book was marked for a new copy normally $25.00 wow down to only $16.00. The pages have a standard thickness and the print is not smaller than a beautiful type font. The dust cover is removable for easy dusting. I am not done reading 1984, I am at the part where the main character is talking about his wife, Katherine, but I would still recommend reading this book.
Warning!

Derived From Web

, Sep 13, 2020

It is eerily similar to what is happening in modern day America. A good warning as to what the future could hold.