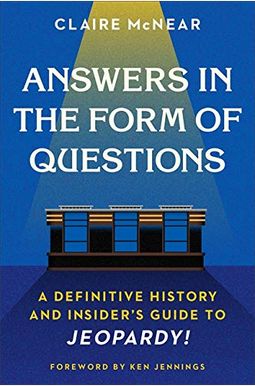  
Answers in the Form of Questions: A Definitive History and Insider's Guide to Jeopardy!
Book Overview
What is the smartest, most celebrated game show of all time? In this insider's guide, discover the rich history of Jeopardy -- the beloved game show that has shaped our culture and entertained audiences for years.
Jeopardy is a lot of things: record-setting game show, beloved family tradition, and proving ground for many of North America's best and brightest. Nearly four decades into its current edition, Jeopardy now finds itself facing unprecedented change.
This is the chronicle of how the show became a cross-generational touchstone and where it's going next. ANSWERS IN THE FORM OF QUESTIONS dives deep behind the scenes, with longtime host Alex Trebek talking about his life and legacy and the show's producers and writers explaining how they put together the nightly game. Readers will travel to bar trivia showdowns with the show's biggest winners and training sessions with trivia whizzes prepping for their shot onstage. And they'll discover new tales of the show's most notable moments-like the time the Clue Crew almost slid off a glacier-and learn how celebrity cameos and
Saturday Night Live
spoofs built a television mainstay. ANSWERS IN THE FORM OF QUESTIONS looks to the past -- and the future -- to explain what
Jeopardy
really is: a tradition unlike any other.
Frequently bought together
Frequently Asked Questions About Answers in the Form of Questions: A Definitive History and Insider's Guide to Jeopardy!
Book Reviews
(9)
Did you read Answers in the Form of Questions: A Definitive History and Insider's Guide to Jeopardy!? Please provide your feedback and rating to help other readers.
Great read for Jeopardy! fans

Derived From Web

, Dec 28, 2021

I am usually fine with short books, but I wanted more! The last chapter deals with the future and it was interesting to read this discussion with the hindsight of all that has happened. Jeopardy is a great read for any new fan. Got some great tips for when I make it on a day.. maybe not after learning how hard it really is!
We owe you a debt of gratitude!

Derived From Web

, Aug 22, 2021

I bought this book because of Claire's tremendous and brave reporting on the current situation in Jeopardy. Like many, I was seriously disappointed in the choice of the new host and incredibly disturbed by the information that Claire has collected about him. I hope they do a better job in choosing his replacement and picking someone who is actually worthy to fill Alex's shoes. I just started reading Claire's amazing book, and is so insightful for any Jeopardy fan. Claire, I wanted to say a special THANK YOU to you.
Not as easy to read as I thought it would be.

Derived From Web

, Jul 9, 2021

I love them because they show Jeopardy! And how I felt compelled to write the book, so I miss Alex tremendously. It's interesting. Not an easy flow, but I have to say that I have usually prepared good-natured summer vacation type books. Interesting information behind the season that is certainly good to know since I often try to convince my boyfriend to apply. He may read this book in his retirement, but he will first read it. Power is knowledge!
Great for the Jeopardy! Fan

Derived From Web

, May 2, 2021

Awesome research, done by : I love it, but find it slow. Since the days of Art Fleming so I appreciate all the info.
Everything you want to know about "Jeopardy!"

Derived From Web

, Feb 9, 2021

For anyone who is a fan of the show, it offers a thorough glimpse into the process, love and the enduring appeal of Jeopardy! And for those of us who have played the game, it is a fantastic nostalgia trip. Claire McNear did a thorough, reverent-realistic job of documenting these stories and perspectives, and I am grateful for her work.
Perfect Book For The Jeopardy! Buff

Derived From Web

, Jan 13, 2021

This book is mandatory reading for fans. The author's breezy style complements her attention to details behind the scenes. When you finish reading the book, there is nothing you will not know about Jeopardy!
Fun book to read!

Derived From Web

, Dec 13, 2020

This is a great book for Jeopardy! Fans '' is a tribute to the original. Lots of fun facts and a good inside view of how the program is produced.
Entertaining!

Derived From Web

, Nov 30, 2020

Have fun, Jeopardy! If you like game shows, this is for you. What a treat! But if you are just curious about how it works, the author illuminates on many levels. I have been a fan and find it all great fun, but it is written with such humor and with great anecdotes, it will appeal to everyone.
Great gift!!

Derived From Web

, Nov 10, 2020

This is the BEST gift ever given to a fan, this is the BEST. It is very well researched, funny, informative and you really get a backstage tour of the inner workings of the show. I have been a fan of Claire McNear's hilariously new columns in The Ringer and now I am a fan of her intelligent book. Trebek fans and fans.