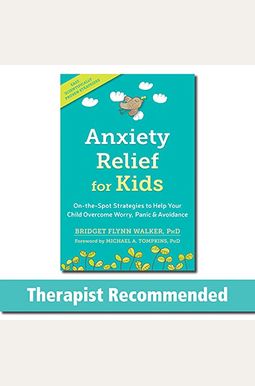 
 
Anxiety Relief For Kids: On-The-Spot Strategies To Help Your Child Overcome Worry, Panic, And Avoidance
Frequently Asked Questions About Anxiety Relief For Kids: On-The-Spot Strategies To Help Your Child Overcome Worry, Panic, And Avoidance
Books like Anxiety Relief For Kids: On-The-Spot Strategies To Help Your Child Overcome Worry, Panic, And Avoidance
Book Reviews
(10)
Did you read Anxiety Relief For Kids: On-The-Spot Strategies To Help Your Child Overcome Worry, Panic, And Avoidance? Please provide your feedback and rating to help other readers.
Tells parents to ignore their instincts & keep exposing kids to trauma until they get used to it

Derived From Web

, Jul 14, 2021

The book tells parents that 1950s white man's ideas about child therapy are better than our own instincts about what scares and traumatizes their children until it stops. The truth is, my parents repeatedly brought my childhood molester over to the house until he no longer frightened me, thereby grooming me into peaceful complacency. The book also deals with some of the thorniest issues of our time - the dangers of negativity. Such 1950s style psychology would have us programming our kids to be purely positive Stepford automatons, Mr. Dhaliwal said. This book is not for parents who feel that children should be allowed to experience the full spectrum of emotions that life has to offer and who want to help them learn how to process those emotions in healthy ways.
Not for younger children

Derived From Web

, Mar 31, 2021

The vast majority of the material is geared toward children ages 5 to 12. It almost feels like it should be titled for "teens and preteens" rather than "kids." Also, if your child is a HSC, I do not recommend this book - it works against children with sensory sensitivities.
Highly Recommended!

Derived From Web

, Jan 31, 2020

This book was recommended to me by a parent who has had a child with anxiety. It took me just three chapters to figure out how to deal with my child's anxiety.
Childhood anxiety doesn't have to be crippling!

Derived From Web

, Nov 29, 2019

Four students at I homeschool help their moms with homework every week. After 25 years in the classroom, I wish I had this book many years ago. Four of my students have severe mental disorders, ranging from generalized anxiety disorders, mood disorders, ADHD and Dyslexia. This book is full of great strategies, said Dr. Goin.
Short and clear

Derived From Web

, Oct 24, 2019

Most of the advice is for older kids with self-awareness and reasoning skills, but I picked out some useful tidbits for my anxious preschooler. Easy to use, yet powerful methods and tools. Helpful descriptions of some of the common forms of anxiety. The sample conversations you may have with your kids may give you an idea of whether you can do it or will need a professional to do it.
Highly recommended

Derived From Web

, Mar 17, 2019

I'm a school psychologist, and it helps to refresh on therapeutic models, he said. This really helps explain to parents how to support their children, Angela said. Plus my 4 year old started displaying anxiety and this was so helpful to me.
Love!

Derived From Web

, Jan 1, 2019

I have read the entire book and I must say, I love it. It's also great for parents and clinicians who work with kids who struggle with anxiety. The book is a really easy read and offers helpful tips to help get to the root of the child's anxiety. It's so helpful that you get an internet link to the worksheet pages, making photo prints!
This Works!

Derived From Web

, Mar 16, 2018

This book is a must read for all parents. It can be so overwhelming to have a child with anxiety. The book breaks it all down into manageable steps that can really make a difference in our children's lives.
A terrific book!

Derived From Web

, Oct 26, 2017

The CBT approach is very practical and works, Morgenthau said. He said Blair had a "much happier" child - and that was just the beginning of the family dynamic. Thanks for the book.
A must have resource for anyone that is touched by anxiety or has a loved one that is!

Derived From Web

, Oct 21, 2017

This book does such a great job of explaining what anxiety is, the range of ways it can show up in kids and how you can get it under control, Dr. Goin added. This book is a great resource for parents and teachers who want to help their children learn how to identify, understand and manage anxiety. The guidance laid out by Dr. Goin is priceless and will be beneficial to anyone suffering from anxiety.