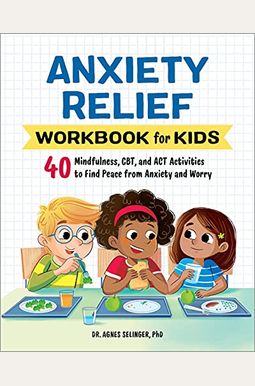 
 
Anxiety Relief Workbook For Kids: 40 Mindfulness, Cbt, And Act Activities To Find Peace From Anxiety And Worry
Book Overview
Anxiety-busting tools for kids ages 6 to 9
Being young doesn't stop kids from worrying. This anxiety workbook for kids, created by a clinical psychologist, is full of fun exercises designed to help kids learn how to work through feelings of discomfort or worry. Each of the activities features kid-friendly instructions, helping them understand both what they need to do and how it will help them feel better.
This anxiety workbook for kids features:
A variety of exercises--Kids will find new ways to soothe child anxiety as they draw, take quizzes, practice breath work, and more.
Evidence-based approaches--All of the exercises are rooted in proven anxiety treatment methods, like CBT, ACT, and mindfulness.
Fun presentation--Playful language and colorful pictures help kids engage with the material, making it easy for them to learn.
Teach kids how to deal with some of their toughest emotions using this anxiety workbook for kids.
Frequently Asked Questions About Anxiety Relief Workbook For Kids: 40 Mindfulness, Cbt, And Act Activities To Find Peace From Anxiety And Worry
Book Reviews
(7)
Did you read Anxiety Relief Workbook For Kids: 40 Mindfulness, Cbt, And Act Activities To Find Peace From Anxiety And Worry? Please provide your feedback and rating to help other readers.
Highly recommend!

Derived From Web

, Dec 9, 2021

My daughter is 10 years old. She liked it because it gave her insight into how she feels about certain things.
A wonderful delight

Derived From Web

, Dec 5, 2021

My daughter loves taking her time through this book. It has made her feel like she can approach life in a certain way. Our therapist bought the book for us.
Educational for kids AND adults!

Derived From Web

, Sep 28, 2021

This is a great tool for young children and their parents. It has been rough for my 5 year old to start kindergarten this year. I ordered this along with some cute kids books to help with anxiety, worry and separation anxiety, and it's already helping my girl and I with how to handle it all! If your little suffers from anxiety, I recommend this!
Great tools to help kids with anxiety.

Derived From Web

, Jul 30, 2021

My family has really benefited from Dr. Selinger's book. I highly recommend this for kids and their parents. Being a foreign service family, my children are having to grow up living in different countries, getting used to different cultures, and changing schools every two to three years. This lifestyle causes my kids to suffer from anxiety and have the feeling of being unstable. The activities in Dr Selinger's workbook helped my children cope with our recent transition and gave them more control over their environment. I have found the activities to be helpful, to learn how to manage my kid's nervous energy, and to provide me with tools to bring them into a calmer state of mind.
Great tool for parents and family members

Derived From Web

, Jul 13, 2021

Any parent, guardian, or family member trying to help a child with current anxieties and build life skills can use the Anxiety Relief Workbook for Kids. The book breaks down difficult times of the day for anxious kids in the morning, at school, after school, and at night, with exercises to work through challenges of the moment. The exercises are short and the book is colorful, making it easy to practice a skill for a few minutes. The style of writing helps parents with ideas for how to talk to their kids when they are upset. The material geared towards caretakers explains how best intentions can accidentally reinforce behaviors and what to do instead. I recommend anyone who can help a child cope with anxiety.
Powerful and Practical

Derived From Web

, Jul 12, 2021

Dr. Selinger's experience in anxiety relief for kids shines through. Many children and their parents could use more resources and strategies that would help them, and us, deal with anxiety, as a teacher myself, I often feel that way. It was very practical and powerful, that's what I appreciated the most about it. The way Dr. Selinger uses Four Superpowers being Brave, Changing Worries, Getting Unstuck, and Laser Focus to deal with the worries and fears that many children face but never know how to handle was my favorite part of it. I wish I'd had these tools in my vault when I was younger to make me less uneasy. I wish my parents had this knowledge, as most of my worry was about them.
Helpful strategies to to work with Anxious kids!

Derived From Web

, Jul 8, 2021

There is a need for effective treatment for anxiety. Practical exercises that a parent, teacher or therapist can use to help children who are experiencing anxiety are included in the workbook. The information is written in a way that it is easy for kids to understand. Important strategies are presented in a way that is easy to understand. Highly recommended for parents, teachers and therapists!