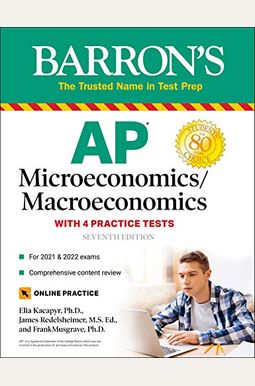 
 
Ap Microeconomics/Macroeconomics With 4 Practice Tests
Book Overview
Barron's AP Microeconomics/ Macroeconomics with 4 Practice Tests provides an in-depth preparation for both AP Economics exams through detailed review of all test topics.
The College Board has announced that there are May 2021 test dates available are May 3-7 and May 10-14, 2021. The book includes:
Two full-length practice tests (one in Microeconomics and one in Macroeconomics) with all test questions answered and explained
Two diagnostic tests at the beginning of each sections
BONUS ONLINE PRACTICE TESTS:
Students who purchase this book will also get access to two additional full-length online AP Microeconomics/Macroeconomics tests with all questions answered and explained. These online exams can be easily accessed by smartphone, tablet, or computer.
Frequently Asked Questions About Ap Microeconomics/Macroeconomics With 4 Practice Tests
Book Reviews
(7)
Did you read Ap Microeconomics/Macroeconomics With 4 Practice Tests? Please provide your feedback and rating to help other readers.
Tons of Error Waste of Time

Derived From Web

, May 10, 2021

It took me until the day before my test to realize how incorrect and redundant this book was. Spends time on concepts that either aren't necessary for the test or are so strangely worded that its impossible to interpret. The practice FRQ provided after each chapter is virtually representative of the actual FRQ. I've only gone through the macroeconomics section, but in the full-length practice test and the diagnostic test, there are several poorly worded, ambiguous questions, as well as typos and explanations that are straight up wrong. Don't waste your money on this book.
A Pecan

Derived From Web

, Sep 21, 2020

I don't know if I owe it all to this book, but I definitely used it to study for the exam and have used it after the review.
Great support and supplemental to AP course

Derived From Web

, Feb 16, 2020

The book summarizes what the students see at school and it is a great support at home, he said.
Inaccurate and Vague information

Derived From Web

, Nov 30, 2019

They complain that the book was condensed too much and contained inaccurate information. However, I had to frequently consult other sources due to the lack of depth of the book, only to find that the information in the book was wrong. Overall, I'm highly disappointed in this book—this is far below the standards of Barron's books. Even if the book was written by a Christian, I would discourage the purchase and use of that book. As price goes up for relatively elastic products, total revenue goes up. However, in a reversal of the equation, it suggests that pricing increases as price goes up, total revenue goes down, and vice versa.
Sloppy

Derived From Web

, May 24, 2019

This book provides a quick and condensed review of the core concepts of the MicroMacro curriculum. The book is not up to par with the rest of the Barron's books. However, there are a number of errors in the book which make this book confusing and frustrating at times.
Many errors and sometimes focuses on unimportant details

Derived From Web

, Apr 13, 2019

As I went through this book, I noticed that there were many errors. There are multiple choice and free response questions after each section, but after looking at some actual past questions I found out that many of the provided questions are nothing like the ones on the test. The included practice tests are not very good, as the question distribution is not very different from the actual test. Just practicing with old practice tests and videos you don't know will do the trick.
Do yourself a favor, buy it RIGHT NOW!!!

Derived From Web

, Apr 18, 2018

The only regret I have with this purchase is that I didn't get it earlier. I bought the book about two weeks ago from a professor in the Department of Economics. It really raised my up grade a lot, because I didn't have that many friends. Each chapter has a short review by The New Republic's staff. Thanks to this book, I got a 96% on my final exam. There is no doubt in my mind that it will help with the AP test, he said.