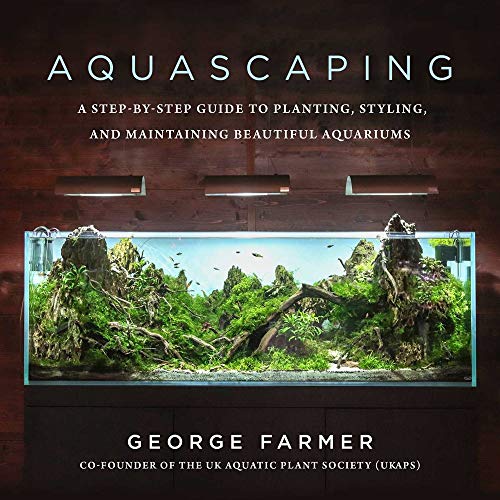  
Aquascaping: A Step-By-Step Guide to Planting, Styling, and Maintaining Beautiful Aquariums
Frequently Asked Questions About Aquascaping: A Step-By-Step Guide to Planting, Styling, and Maintaining Beautiful Aquariums
Book Reviews
(10)
Did you read Aquascaping: A Step-By-Step Guide to Planting, Styling, and Maintaining Beautiful Aquariums? Please provide your feedback and rating to help other readers.
The best MODERN book on Aquascaping !

Derived From Web

, Dec 10, 2021

Very well organized, sound advice, clear photos, step by step how to set aquariums, easy print. From basic daily algae scrubbing, plant trimming, hoarding driftwood, Life Type Advice, the book provided this lifelong aquarist much needed upgraded instruction and knowledge. The photos provide design ideas and style that is not seen in other guides. Even if you are not in the aquariums, buy this book just to experience how a hobbyist guide should be written! If not already recognized as a gold standard in the field, a gold standard should be established.
Unbelievably complete.

Derived From Web

, Dec 1, 2021

This recently published book is a complete and thoroughly informative book on aquascaping. I am glad I purchased it as step by step and the pictures are all you need to get started in this hobby.
Beautiful Basic Beginner's book to aquascaping

Derived From Web

, Aug 23, 2021

They are true, and I am sure that the disappointed people who wrote them must be quite experienced and advanced in the hobby. There are several typos in the book and yes, the layout could have been much better, but for good basic pictures on glossy paper and beautiful information the book is worth the $20-25. I write this from the perspective of someone who has been diligently pursuing the hobby for 15 months and doing so on a limited budget, learning as much as I can for the next few years, with the reward being a 150 gallon custom planted tank to set and maintain in my retirement years. It reads as if George is presenting a beginner workshop on aquascaping with the ending showing step by step setting of several.
Disappointing! What's the hype about!

Derived From Web

, Apr 17, 2021

There is a lot of wasted space : Blurry pictures of plants still in their tissue culture cups is sillyly unhelpful, I want to know how they look when grown in a tank. Writing is kind of poor, lax writing is juvenile, eg the descriptions of the plants said to go under the image in some cases on the top of the next page! Someone really killed me with the editing and layout. The rule of 3 and the golden ratio are not very apparent and certainly not well explained in his tanks. The back part showing how-tos for certain set ups was beautiful and gave me some ideas, I wish the whole book had been like that. Totally poor quality for the price and the coffee table look.
Very easy to read

Derived From Web

, Feb 19, 2021

This book was very well written, presented and easy to read. It was a great introduction to the beginner aquascaper.
Simply excellent

Derived From Web

, Jan 9, 2021

Excellent, easy to read. Beautiful pictures. Organized well. I would have liked a little more discussion on the aquascape design, but I can 't complain. Much better than another, prominent book on aquaria, we have seen all with a direct focus on aquascaping. I'll be lucky someday to get George's signature on my copy.
Great Book!

Derived From Web

, Dec 9, 2020

I really liked this book and was impressed when I received it. I am fairly new to aquascaping and found this book very helpful. The pictures are good and it contains lots of beautiful information about caring for plants.
Best Book I Have Read With Step By Step

Derived From Web

, Dec 7, 2020

Amazing book with detailed how-to! I love the details covered from the basic set up, co2 algae, even a full setup guid in the appendix with plants to use. Thank you George Farmer for putting together the best way to read for Aquascaping I have ever seen!
Complete guide

Derived From Web

, Dec 1, 2020

If you are interested in bringing your aquarium to the next level, this book will definitely be your guide.
Modern, relavent, and inspirational.

Derived From Web

, Nov 15, 2020

i ordered this at the same time that George announced its availability on YouTube, it showed up today and is the best aquascaping book i have in my library. It is narrowly focused and highly detailed, giving more than one path to almsot any answer. i wish i had this before i started my aquariums, as I would have made many different choices and eventually saved a lot of money. oh and the book is loaded with many famous color pictures of high quality from many high aquascapers.