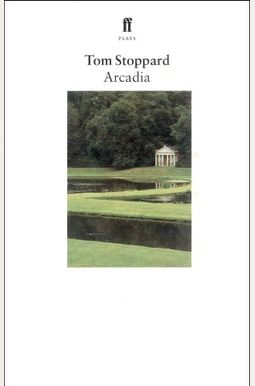 
 
Frequently Asked Questions About Arcadia: A Play
Book Reviews
(14)
Did you read Arcadia: A Play? Please provide your feedback and rating to help other readers.
Man and Superwoman

Derived From Web

, May 24, 2022

Today, it is more important that it is performed. George Bernard Shaw writes like Tom Stoppard was still alive. This came as a surprise to me. I looked into it, he wrote my favorite film Shakespeare in Love. To me, Arcadia asks the question : Can chaos theory and fractals bring back the days of reason and the greatness of the British Empire? To which I answer No ''. But that is no reason for us to believe that we can fight for a future in which we control the rabbits and not the rabbits control us. Arcadia was written while history was very much in flux. A monkey biting a man and a girl in ashes... this play should be made into a film. Its time travel sequences demand more than the stage can give.
Entertaining, Intellectual Enjoyment

Derived From Web

, May 24, 2022

The famous play Arcadia takes place in the same English country estate over two centuries the early nineteenth century and the present day. The story divides between Thomasina, the owner's young daughter and her tutor Septimus, and academics Hannah and Bernard, who are investigating a possible scandal caused by Lord Byron when he stayed there. Today - researchers discover, among other things, Thomasina's romantic gifts, the rise of the mathematical in landscaping and the romantic temperament, especially in love. This is an extremely funny play, starting with Thomasina's opening line, Septimus, what is Carnal embrace? It moves seamlessly between the two time periods and gives us all the information we need to understand the various topics in entertaining ways.
Brilliant piece of work

Derived From Web

, May 24, 2022

I truly believe that this is the best play or work of any type of fiction that I have ever read. I was so caught up in it that I couldn t put it down until I was done. And when I finished, I read it again.
stoppard is a genius

Derived From Web

, May 24, 2022

I enjoyed tom Stoppard's plays for 20+ years. It was fun to read the actual script that the playmovie was based on. On my eldest son, JJ, I wrote a full dissertation on his work in college, otherwise this playwright would probably have been taken off my radar screen. I also recommend rosary and guildenstern are dead. James C. S. Colquhoun ( 1892 -- 1939 ) Colquhoun ( 1892 ).
Stoppard is PURE BRILLIANCE

Derived From Web

, May 24, 2022

As always, Tom Stoppard has managed to weave an intricate story that leaves one not only with a collection of deep one-liners, but also with some funny questions about the ways of the world. This is definitely a must read book!
I am Septimus Hodge!

Derived From Web

, May 24, 2022

Don 't let the whole thing about thermodynamics freak you out. To read this play you don 't have to be a scholar, just a person with an interesting taste.
excellent!!!!

Derived From Web

, May 24, 2022

I have never seen or read a more wonderful play! It contains everything one could ever want - confusion, gardens, sex, love, romance. It's an intellectual party for all your senses. I highly recommend it!
Close, but no cigar

Derived From Web

, May 24, 2022

It was an interesting premise as far as weaving was concerned and out of time was concerned. What interested me most was the philosophical musings on the nature of the universe, as it related to the field of mathematics. It was a quick read, but in the end, I felt unsatisfied with plot resolution and character development.
Avoid this play.

Derived From Web

, May 24, 2022

The four actors could not understand the actors because they spoke so quickly. The write-up in the play bill was unable to be understood and I have a Ph.D. After the second act, select the third act.
Amazing quality, a must buy!

Derived From Web

, Jan 25, 2020

The book was delivered in an amazing condition on time! I bought this for my intro to the technical theatre class and can not wait to dive into this book!