Buy 3 Get 1 Free
Our Best Sale Yet! Add 4 Books Priced Under $5 To Your Cart Learn more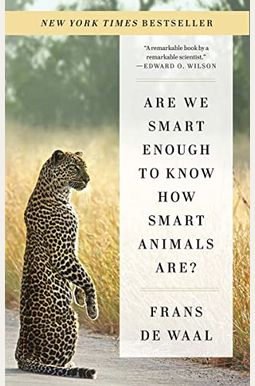 
 
Are We Smart Enough To Know How Smart Animals Are?
Book Overview
This Description may be from another edition of this product.
From world-renowned biologist and primatologist Frans de Waal comes this groundbreaking work on animal intelligence destined to become a classic.What separates your mind from an animal's? Maybe you think it's your ability to design tools, your sense of self, or your grasp of past and future―all traits that have helped us define ourselves as the planet's preeminent species. But in recent decades, these claims have been eroded--or even disproved outright--by a revolution in the study of animal cognition.Take the way octopuses use coconut shells as tools; elephants that classify humans by age, gender, and language; or Ayumu, the young male chimpanzee at Kyoto University whose flash memory puts that of humans to shame. Based on research involving crows, dolphins, parrots, sheep, wasps, bats, whales, and of course chimpanzees and bonobos, Frans de Waal explores both the scope and the depth of animal intelligence. He offers a firsthand account of how science has stood traditional behaviorism on its head by revealing how smart animals really are--and how we've underestimated their abilities for too long.People often assume a cognitive ladder, from lower to higher forms, with our own intelligence at the top. But what if it is more like a bush, with cognition taking different, often incomparable, Read More chevron_right
Frequently bought together
Frequently Asked Questions About Are We Smart Enough To Know How Smart Animals Are?
Books like Are We Smart Enough To Know How Smart Animals Are?
Book Reviews
(11)
Did you read Are We Smart Enough To Know How Smart Animals Are?? Please provide your feedback and rating to help other readers.
No, We're Not!

Derived From Web

, May 26, 2022

Now I have to read everything else that Frans de Wall has written and I'll never get the laundry done. So many fascinating stories, examples, experiments, and all written in clear, concise language that even I could follow. I remember my 8th grade science teacher, who told the class that what separated us from the animals was our ability to make and use tools. I was particularly drawn to the idea that learning depends on social connections more than incentives. Those stickers, throw away! Every time, Rapport trumps the rewards. If I were in charge of the world, I would make this required reading for every teacher. Indeed, we have a very narrow umwelt.
Still reading, but fully expect that it will continue ...

Derived From Web

, May 26, 2022

Still reading, but fully expecting that it will continue a highly interesting and articulate exploration of a very interesting question.
We should be now!

Derived From Web

, May 26, 2022

While I have had many dogs, and most of them were very smart, the portrayal of smarts in many other species was fascinating. Above all, the descriptions of the experimental tests were also much appreciated.
people look at me like I'm a lunatic

Derived From Web

, May 26, 2022

I've long believed that animals are far smarter than we give them credit. When I am in discussion about the topic, people look at me like I am a lunatic. Dogs, like Silly, have no memory. Finally, I have a book to send them to! Awesome read :
The title is perfect.

Derived From Web

, May 26, 2022

The material was presented in an entertaining way, but there are a wealth of references cited. The title is perfect :
Are We Smart Enough to Know How Smart Animals Are?

Derived From Web

, Mar 7, 2022

For the most part, I agree that animal intelligence, as well as emotion, has been misunderstood. It is how these are misunderstood that I differ a bit. I think this book makes the case for supporting animal intelligence by presenting examples. The author's speciality is the primates, the Apes. But other lifeforms have awareness, and he extends beyond that. I think that a human has to be interested in other things than themselves to be able to relate to animals, with respect to their intelligence, however different and beyond financial considerations. It is a good book to start observing and learning about the other inhabitants of Earth.
Underwhelmed

Derived From Web

, Jul 2, 2019

As an animal lover, this was my first foray into books on animal behavior. The book seemed to jump and didn't have a coherent story line. It made him a little less trustworthy to me. I also wanted to hear more about animals as a layperson! There were some interesting animal facts and anecdotes, but they were mostly about chimpanzees, and if you wanted to learn more about animal intelligence, I would go elsewhere first. Probably even to this author's previous books, since I heard them better. Just had to put my thoughts out there because I was really down about this book after reading all the glowing reviews.
Great Insights, But Polishing Needed

Derived From Web

, Apr 1, 2019

Frans De Waal makes a strong argument that we are only beginning to understand how animals think, and offers wonderful examples from his own research and that of others to back up his argument. However, this book would be so much better if he explained the structure of the book, as the chapters seem to be thrown together. He also spends too much time in the first half of the book arguing for animal cognition, when almost anyone reading the book would have already been persuaded. Probably most surprisingly, De Waal makes almost no mention of the research on gorilla cognition. These weaknesses point to the fact that one of the leading primate specialists in the world would be better served by a more competent publishereditor. The cover also features an animal that is not mentioned in the text once.
Great!

Derived From Web

, May 26, 2018

She loved it. A readable survey of major strands of animal cognition literature.
This book is 90% about monkeys

Derived From Web

, Nov 19, 2017

I thought it was a bit misleading, given that there is a Cheetah on the cover of the book and the book never mentions the animal. It refers to either monkeys or birds, so that it was not very interesting to me. It does have some good information and if you don 't mind reading about 1 animal 9 percent of the book, then go ahead. The end of the book, when the author speaks about birds and elephants, is a good turn, I would have learned more about other animals, though.