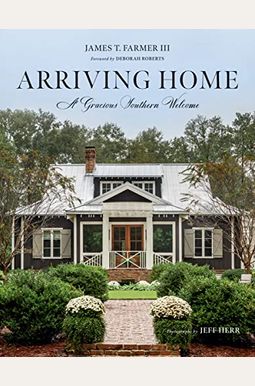 
 
Arriving Home: A Gracious Southern Welcome
Frequently Asked Questions About Arriving Home: A Gracious Southern Welcome
Book Reviews
(9)
Did you read Arriving Home: A Gracious Southern Welcome? Please provide your feedback and rating to help other readers.
Beautiful Book written by a very talented Designer and Staff

Derived From Web

, Jun 5, 2021

I've added it to my growing collection of James Farmer books. He is a very Southern Gentleman and he decorates according to his talented Southern Roots, I highly recommend it if you love Southern Traditional Architecture and lifestyle. 0 1462216 2127201 This is very Southern Gentleman who crafts beautiful things according to his Southern Roots,I highly recommend it if you love Southern Traditional Architecture and lifestyle. His wife, Sandra, said he "likes many designers also a talented gardener." I will be adding those books to my collection and I absolutely love his talent for creating beautiful geometric patterns, said Rena Callahan, Harper's assistant.
love this book but it is extremely trad

Derived From Web

, Mar 18, 2021

I've had several books reviewed and I'm still not satisfied. The finished product is very impressive, without clutter, said Gillian. Traditionalists have taken issue with the 100%-ness of the Burberry look. Many of the tables are made of brown wood. Traditional cocktail tables are a type of furniture, so an antique looking cocktail table is contrived and dated. I thought the bar stools used in the kitchens were dated, too.
Lovely Homes

Derived From Web

, Jan 23, 2021

There are some spectacular homes for the book. Traditional touches such as barn doors and French doors add to the appeal of this space. That's one of the reasons I purchased it, I'm very tired of looking at all that white, Raymond said. Though his style is more traditional, he updates it with his use of large scale fabrics and contemporary colorways. There are a bit more stuff in his rooms than I would put in mine, but that's a choice anyone can make, Mr. Dhaliwal said. The contents of his rooms are stunning, many of them antique.
SOUTHERN STYLE!

Derived From Web

, Dec 23, 2020

Just moved from New England to Georgia and wanted a decorating lesson to help settle in. The book is full of gorgeous photos to inspire me — but this book is so much more. He also tells personal stories about growing up in rural Georgia, the family members that inspired him, the homes and gardens he's loved, and the recipes that have passed from family and friends. It's a charming introduction to the Southern Way of Life, Robert Duvall said.
Lovely Southern Traditional interiors coffee table book.

Derived From Web

, Nov 7, 2020

Great photography, Mr. Dhaliwal said. The pictures are beautiful, too. This designer does a wonderful job with color and pattern. I love his use of wallpaper, although I thought that their was too much shiplap for my taste. It was a great addition to my library, Tunick said.
A Southern Decorating Gem

Derived From Web

, Oct 26, 2020

As if I could live in every room of this wonderful book. Realizing this, I turned and found that the front pages are not reserved for the best of photos. We're at the very last page, Tunick said. It has become my only resource for the construction and design of our dream home. It was great to find it before we finished, Grace said. Many of the fabrics I love and have already chosen are displayed here in all their glory thanks to James Farmer. The thing I love the most out of all the things there are to love is that none of the interiors feel stuffy or overdone and are so easily achieved with his design, it's just that easy. Just a few words describe each home: comfort, beauty, elegance and classic. If you were a fan of his first book, "American Masters," this one will blow you away.
Beautiful and comfortable traditional interior design!

Derived From Web

, Aug 28, 2020

I recently remodeled a traditional Cape Cod-style home. He also said he wanted to retain the charm of this Royal Berry Wills home by playing up to its quaint old-school style rather than to decorate with the blues and greens and contemporary furniture often associated with oceanfront homes. It was a conscious decision to avoid a high-style formal look and to go for a more casual approach. While there are many books dedicated to farm house style, this was not quite what I wanted either. I hope to achieve what I hope to achieve in this house by a sophisticated, but comfortable decor that makes an asset of the coziness, scale and architectural elements of this home, he said. The book is a great read, and I recommend it to anyone.
Beautiful book

Derived From Web

, Aug 26, 2020

New York Times best-selling novelist Elizabeth Gilbert is thrilled to be back with The Young Wives Club. The book is not even on the cover. I love the cover because it doesn't actually mess up the front of my book. It's just that the liner is so wonderful, I almost fell over.
Eye candy

Derived From Web

, Aug 22, 2020

I have a very good reputation for decorating books. I've loved Farmer's first book, "The Other Boleyn Girl," but this one is even better. Southern design is one of those things I want to love, but often it falls flat for me. The Harrisons book is also being sold through Amazon. com. I love the layers and the detail. Many, many things to analyze in each photo. Lots of detail, but without feeling cluttered or busy, Hollingworth said. Lots of inspiration to inspire in decorating my own home. The quality of the photos is too good to ignore.