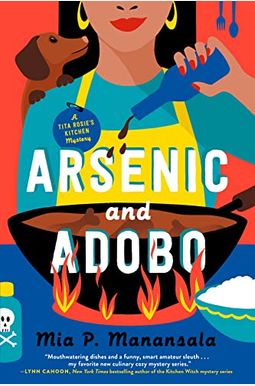 
 
Book Overview
One of BuzzFeed's Highly Anticipated Mystery Novels of 2021
The first book in a new culinary cozy series full of sharp humor and delectable dishes--one that might just be killer. When Lila Macapagal moves back home to recover from a horrible breakup, her life seems to be following all the typical rom-com tropes. She's tasked with saving her Tita Rosie's failing restaurant, and she has to deal with a group of matchmaking aunties who shower her with love and judgment. But when a notoriously nasty food critic (who happens to be her ex-boyfriend) drops dead moments after a confrontation with Lila, her life quickly swerves from a Nora Ephron romp to an Agatha Christie case. With the cops treating her like she's the one and only suspect, and the shady landlord looking to finally kick the Macapagal family out and resell the storefront, Lila's left with no choice but to conduct her own investigation. Armed with the nosy auntie network, her barista best bud, and her trusted Dachshund, Longanisa, Lila takes on this tasty, twisted case and soon finds her own neck on the chopping block.
Frequently Asked Questions About Arsenic And Adobo
Book Reviews
(8)
Did you read Arsenic And Adobo? Please provide your feedback and rating to help other readers.
Couldn't get into it

Derived From Web

, Jan 26, 2022

I was looking forward to reading this book, recommended by a friend. I've read five, but I'm not a fan. There were too many introduced characters in a short space of time, he said. It made me cringe even more when people had foreign names. Also needed a 2nd page glossary of Filipino terms and food names. The book flowed freely, but the interference made me feel like I was reading a book. I grew up in a tight-knit cultural group with immigrants and many first-generation Americans, Raymond said. Even in the fifties my family wasn't as overbearing and invasive as the family in this book. The family was also annoying, I found.
Mystery and Food!!

Derived From Web

, Jul 29, 2021

I'm a huge fan of Nancy Winnick's books, and I read this book for my book club. It was a great story kept you guessing who did it. She also told us all about her love of all the am references to food, since she herself was a foodie. Through the prism of Philippine tradition, the story of a family that did whatever they needed to do for each other was also told. The main character's problems seem to lie within herself, so hard lessons had to be learned along the way for her to overcome them. Overall, I enjoyed the book a lot, and I look forward to the sequel. 3D printer cartridges sold at a bargain price today, HP said.
A good story but ...

Derived From Web

, Jun 8, 2021

As the first book in a new series, this book set the tone for the rest of the trilogy. I enjoyed the quirky relatives, especially the older aunts and the relationships among the extended Filipino family, he said. Lila tried to solve the murder because the police focused on her, even though the evidence was too weak to merit serious consideration, Raymond said. There were a few times when I wanted to yell "Don't go in there!". The only complaint I had was that the unfamiliar Tagalog terms interrupted the flow of the story for me. Overall, the book was worth the two evenings it took to read and offered an interesting glimpse into a culture I am not familiar with.
Such a fun read

Derived From Web

, May 23, 2021

If you could combine some Nancy Drew sleuthing with an early 2000s kilig rom com with your favorite Filipino food, it would be a smash hit. Her writing is witty while also touching on more serious themes, including the experience of unique diasporic Filipinos and other second-generation immigrants as well as the opioid crisis. Not surprisingly, her food imagery is mouth watering. I'm definitely craving adobo, pinakbet, and mamon after reading this. It's fiction, but very fun fiction at that. A great light read, great to finish a cross country plane ride. It's great to be back with the team, and I look forward to the sequel.
Yawn

Derived From Web

, May 13, 2021

The journey to identifying the killer was relatively boring, even for Homicide Capt. Charles Bloom. I kept waiting for the storyline to pick up, Morgenthau said. It never sparked me, he said. I was suspicious of the "bad guy" already, so the big reveal didn't make much of a splash, Mr. Blair said.
Fun Little Mystery!

Derived From Web

, May 13, 2021

I am not a huge fan of crime novels or hardcore mystery novels. I however do like a light mystery in which a smart woman gets thrown into the role of amateur sleuth! Filled with Filipino food, facts and a good laugh, this book will have kids and their parents alike talking about their favourite foods. A little love triangle and a small town make this book a fun read, too. The food and family story brings it all together. If this book is one, I am excited for another.
Murder & Food, my favorite combination

Derived From Web

, May 7, 2021

The book is now sitting on my desk, unread by the time I finish reading it. The descriptions of the food had me drooling and I loved all the characters and their interactions, Morgenthau said. There are some great mysteries that include recipes, and the ones in the back sound absolutely delicious. I can't wait to try them out.
Fancy Fun!

Derived From Web

, May 5, 2021

Even a cute dog! I liked the centering of Asian American culture and the sweet ties binding Lila to her sassy circle of female friends and family, Melissa wrote. Can't wait for volume two!