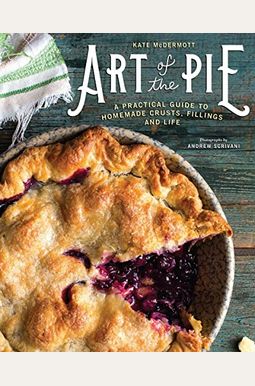 
 
Art Of The Pie: A Practical Guide To Homemade Crusts, Fillings, And Life
Book Overview
A new baking bible. --Wall Street Journal
If there's such a thing as a pie guru, it's Kate McDermott. --Sunset Magazine
Pie making should be simple and fun. Kate McDermott, who learned to make pie from her Iowa grandmother, has taught the time-honored craft of pie-making to thousands of people. In Art of the Pie she shares her secrets to great crusts (including gluten-free options) with instructions for making, rolling, and baking them, as well as detailed descriptions for ingredients, methods, and tricks for making fillings. Organized by type of fruit, style of pie, and sweet versus savory, recipes range from apple to banana rum caramel coconut, raspberry rhubarb to chicken potpie. Along with luscious photography, McDermott makes it very easy to become an accomplished pie maker. This is the only PIE cookbook you need.
Frequently Asked Questions About Art Of The Pie: A Practical Guide To Homemade Crusts, Fillings, And Life
Books like Art Of The Pie: A Practical Guide To Homemade Crusts, Fillings, And Life
Book Reviews
(16)
Did you read Art Of The Pie: A Practical Guide To Homemade Crusts, Fillings, And Life? Please provide your feedback and rating to help other readers.
So great I bought Kindle version and hard copy!

Derived From Web

, Jun 2, 2022

I love this book so much that I bought it in Kindle first, then knew I needed the hard copy. It is great, easy to understand and comprehensive for all levels of experience.
I love making pies!

Derived From Web

, Sep 1, 2021

I already have a great dough recipe that I use, so I will look for dough options in the future for this book. I tried some of the berry pie fillings in the book and came out delicious! I did make some raspberry jam hand pies from the book with the left over dough and were the most buttery fresh pop tarts you ever have. I put two deep dish blackberry pies in the freezer for future baking. The ones I fried barely lasted for a while 3 days. Now that I have picked apples from my fruit trees, I plan on trying one of the double-crust apple pie recipes in the book. I am so happy with this book. The recipes are great, the instructions are clear and the photos show some delectable pies. It is a very good book for someone serious about sweet and savory pie!
Beautiful book. Pies are Devine

Derived From Web

, Apr 24, 2021

This book is loved. Thanks to this book, I have become a frequent pie maker ''. I enjoyed it very much ''. It proudly sits among my favorite cookbook collection.
The first chapter was all about the authors personal life, I thought this was a recipe book.

Derived From Web

, Feb 28, 2021

I thought this was a recipe book, but this was all about the authors'personal life and how she relates it with pies. Hate a bore. I want to improve my Pie - Making skills, not read about how a stranger relates to her emotions by making pies. I am not against the author, but I was looking for a recipe book, not this.
Overall fantastic. Sour cherry pie needs work :)

Derived From Web

, Jul 30, 2020

I really like this book and have definitely increased my pie-baking capabilities. I have tried a number of the recipes. The apple pie is the best I ever had, but the sour cherry pie needs work. The first time I made it, the filling never set properly. Hmmm maybe I should lightly par-cook the cherries to rid it of excess juice and have the cherries warmed at room temperature or slightly warmed before mixing the filling and popping it into the oven. Still didn 't set up. It tastes beautiful and looks heavenly, but is a liquidy mess. I use Kate's leaf lard and butter - pie - recipe 99% of the time and that alone is worth the price of the book.
Worth the price

Derived From Web

, Dec 24, 2019

Too many recipes are very good!
The Pie Master

Derived From Web

, Dec 31, 2018

I am a very good bread maker and can bake a decent cake, but I was not able to master pies, in particular the crust. Charlie gives better than a tutorial on making the crust and fillings. For Christmas I made the cherry, apple, pecan, and pumpkin pies and my family went crazy. They also looked good ( . It was hard to pin a favorite, but apple and Pecan Pie were a close tie. Pumpkin Pie was the best I ever made. I have three wonderful pie lovers in the family and said it was wonderful. '' My stepson, whose mother is the pie maker in the family, said that the cake was really good. As I mentioned previously, I highly recommend this cookbook. I also appreciated Kate s story of how she came to open her own pie cottage. I am truly grateful that she shared their expertise and she is a cake master.
Great for new and old pie makers

Derived From Web

, Nov 11, 2018

Loved this book, more philosophy than pie making. She is also a local resident.
Wonderful book.

Derived From Web

, Oct 21, 2018

Three weeks into my pie-making career and I am already getting good results. The butter and leaf lard - crust recipe is fantastic.
Attention serious pie makers - your cookbook collection needs this

Derived From Web

, Jul 9, 2018

It feels like I am learning from a friend or a neighbor. All the tricks are helpful in improving my pie results. I have not yet made any of the recipes, but will make them very soon.