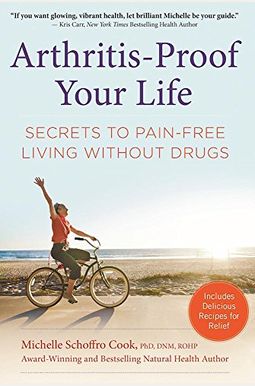  
Arthritis-Proof Your Life: Secrets To Pain-Free Living Without Drugs
Book Overview
REDUCE YOUR PAIN -- HEAL YOUR JOINTS -- LIVE THE LIFE YOU DESERVE
Are you one of the 350 million people worldwide who has been diagnosed with osteoarthritis, rheumatoid arthritis, gout, lupus, or fibromyalgia? In Arthritis-Proof Your Life, discover the bodily imbalances and lifestyle choices that are causing the inflammation and get rid of it.
DR. MICHELE SCHOFRO COK SHOWS YOU:
How to Eat to Beat Inflammation, Stiffness, and Discomfort
Dangers and Limitations of Common Arthritis Medications
New & Cutting-Edge Natural Treatments for Joint Disorders
Top Anti-Inflammatory and Anti-Pain Foods and Spices
Pain Reduction at Your Fingertips With Acupressure
Using Medical Aromatherapy to Feel Better Fast
How to Safely Boost Your Body's Innate Healing Capacity
Delicious Recipes to Relieve Pain and Heal Joints
And Much More
Dr. Cook's work is unique, empowering, informative, and guides us toward a healthy future.
--MALIKA CHOPRA, Founder of Intent.com
Frequently bought together
Frequently Asked Questions About Arthritis-Proof Your Life: Secrets To Pain-Free Living Without Drugs
Books like Arthritis-Proof Your Life: Secrets To Pain-Free Living Without Drugs
Book Reviews
(5)
Did you read Arthritis-Proof Your Life: Secrets To Pain-Free Living Without Drugs? Please provide your feedback and rating to help other readers.
A wonderful place to start

Derived From Web

, Feb 5, 2020

The book gives you ideas on where to start to help prevent, minimize, correct, and reverse inflammation. It helped me come up with the right questions to ask my doctor.
save your money

Derived From Web

, Dec 16, 2019

The author didn't do her homework, but it was not the worst book available. The recommendations would have made things worse. I'm not saying that all sizes fit. Many people with RA have a very restrictive diet as they can't digest the food. She would have a bloody mess in the bathroom after eating many of her healthy foods.
Great information!

Derived From Web

, Sep 26, 2017

This is a great book. My husband had a third knee replacement yesterday. I was asked to read it by him so I could help him with the recommendations. I agree with most of the information about the foods that are good for you, and the ones that cause inflammation.
If I had read this book 10 years ago, I would still be working and dancing!

Derived From Web

, Sep 18, 2017

I was diagnosed with the disease eleven years ago. I thought I had researched my arthritis remedies thoroughly. The only book you need to change is this one. Doctors and Rheumys won't tell you anything in this book. We feel crappy because the drugs deplete vitamins in us. I did not test positive for gluten problems, but I ordered all the flours, crackers and pasta recommended, and I am back to my old self. I used to wake up with pain, but now it's not my wake up alarm. I get up to start my day. This diet change is affordable because of the low cost of viti cost. It was honest!
... HAVE read for anyone who has or has a loved one who has arthritis

Derived From Web

, Aug 19, 2017

This is a must read for anyone with a loved one who has arthritis. It is easy to read, offers not just anti- inflammatory and pain help foods, but also addresses what may be causing the auto- immune problem that translated into arthritis. Alternative techniques of accupressure and aroma therapy have worked wonders on my joints. After 3 weeks of applying what I learned in this book, I don't need pain meds at all.