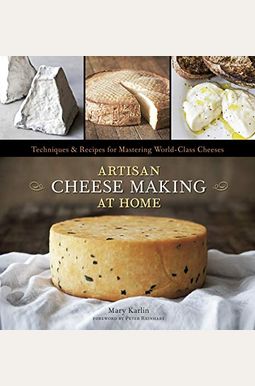 
 
Artisan Cheese Making At Home: Techniques & Recipes For Mastering World-Class Cheeses
Book Overview
Just a century ago, cheese was still a relatively regional and European phenomenon, and cheese making techniques were limited by climate, geography, and equipment. But modern technology along with the recent artisanal renaissance has opened up the diverse, time-honored, and dynamic world of cheese to enthusiasts willing to take its humble fundamentals--milk, starters, coagulants, and salt--and transform them into complex edibles.
Artisan Cheese Making at Home
is the most ambitious and comprehensive guide to home cheese making, filled with easy-to-follow instructions for making mouthwatering cheese and dairy items. Renowned cooking instructor Mary Karlin has spent years working alongside the country's most passionate artisan cheese producers--cooking, creating, and learning the nuances of their trade. She presents her findings in this lavishly illustrated guide, which features more than eighty recipes for a diverse range of cheeses: from quick and satisfying Mascarpone and Queso Blanco to cultured products like Cr me Fra che and Yogurt to flavorful selections like Saffron-Infused Manchego, Irish-Style Cheddar, and Bloomy Blue Log Ch vre.
Artisan Cheese Making at Home
begins with a primer covering milks, starters, cultures, natural coagulants, and bacteria--everything the beginner needs to get started. The heart of the book is a master class in home
Read More chevron_right
Frequently Asked Questions About Artisan Cheese Making At Home: Techniques & Recipes For Mastering World-Class Cheeses
Books like Artisan Cheese Making At Home: Techniques & Recipes For Mastering World-Class Cheeses
Book Reviews
(13)
Did you read Artisan Cheese Making At Home: Techniques & Recipes For Mastering World-Class Cheeses? Please provide your feedback and rating to help other readers.
Informative.

Derived From Web

, Jun 2, 2022

It has easy to follow the instructions. Can 't wait to try some!
awesome

Derived From Web

, Jun 2, 2022

Fantastic Book! '' Everything you need to know about artisan cheese. I would highly recommend ''.
Excellent book for cheese making!!!

Derived From Web

, Jun 2, 2022

I highly recommend this book for cheese, making it the best I have found. It has all the instructions to make any cheese.
Artisan everything

Derived From Web

, Jun 2, 2022

I think that slapping the name artisan is at the moment just the $20 word for proclaimed foodies. Regardless, the book has wonderful original cheese recipes with which I have had great success! Not recommended for beginners, but is a great book to build on a solid foundation.
Perfect gift for the Man who has it all and LOVES cheese.

Derived From Web

, Jun 2, 2022

My husband is 45 years old and has about everything that a grown man could want. Recently discovering a love for different tastes of cheese, I thought it was a great idea to bring him this book together with the necessaties needed to make cheese. This book has all the information needed to help you get started on the most extreme levels of cheesemaking. He spent the whole Christmas day reading and trying to decide where to start.
The Next Step to Making Great Cheese

Derived From Web

, Mar 16, 2022

This book has helpful information for the intermediate home cheese maker a brine chart with water to salt percentages, difficulty shooting, a culture chart, information about coagulants, calcium chloride, lipase powder, anase powder, recipes for cheese, recipes for using cheese and other useful bits. The book does have many nice pictures, but there isn 't a picture for each recipe or technique. This book helped me take my advanced cheesemaking skills to the next level. Asiago Pepato '' is finished and ready for a saturated salt brine.
Homemade cheese

William White

, Oct 14, 2021

Nice book and easy to understand.
With the help of this book....

Derived From Web

, Jan 31, 2021

I might actually make some cheese... I blew through so many gallons of milk, albeit foolishly. This book is a refreshing, non-critical step by step and screw up approach to making cheese at home... maybe even some that will look and taste like something else than the _________I made in the past. I'll keep you posted-am excited about the possibilities!
The best cheese making book I've found

Derived From Web

, Jan 7, 2021

This book has time lines for making and aging, many photos and understandable directions. If you buy only one cheese making book, this is the one to buy.
Critical typo

Derived From Web

, Nov 5, 2020

Probably the most important recipe in any home cheesemaking book is mozzarella. Milk is a sweetener. As many similar recipes do, so do many others. That is 1x Rennet btw. Using 34 makes cheese pellets that will not melt under any amount of heat, including a broiler.