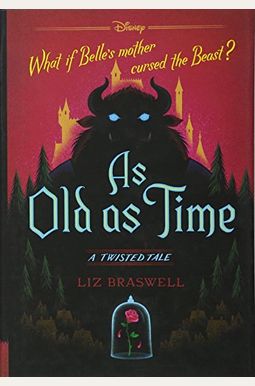 
 
As Old As Time: A Twisted Tale
Product is currently Out of Stock.
You can add it to your wishlist and you will be notified once we receive a copy.
Book Overview
The 3rd installment in the New York Times best-selling A TWISTED TALE series asks: What if Belle's mother cursed the Beast?
When Belle touches the Beast's enchanted rose, memories flood through Belle's mind--memories of a mother she thought she would never see again. And, stranger still, she sees that her mother is none other than the beautiful enchantress who cursed the castle and all its inhabitants. Shocked and confused, Belle and the Beast will have to unravel a dark mystery about their families that is 21 years in the making.

For more twisted adventures, try the other books in the A TWISTED TALE series:
A Whole New World by Liz Braswell
Once Upon a Dream by Liz Braswell
Reflection by Elizabeth Lim
Part of Your World by Liz Braswell
Mirror, Mirror by Jen Calonita
Conceal, Don't Feel by Jen Calonita
Straight On Till Morning by Liz Braswell
So This is Love by Elizabeth Lim
Unbirthday by Liz Braswell
Go the Distance by Jen Calonita (on sale 4/06/2021)
What Once Was Mine by Liz Braswell (on sale 9/07/2021)
Frequently Asked Questions About As Old As Time: A Twisted Tale
Books like As Old As Time: A Twisted Tale
Book Reviews
(7)
Did you read As Old As Time: A Twisted Tale? Please provide your feedback and rating to help other readers.
It's all about the Beast's library...

Derived From Web

, Jan 8, 2022

I enjoy the twists that this series gives to familiar tales, while retaining some familiarity like the library. This one is phenomenal as Belle tells the beast. That is like saying that Alexandria is just a library, she ran to the closest shelf and leaned her head reading titles. You don 't understand ''. I don 't understand how you don 't understand. Look — there is an old Greek text about astronomy... and next to it is everything Galileo Galilei ever wrote!!! This whole section is about the stars and planets and the entire universe! The author weaves in the usual suspects while adding more for a unique flavor to the story.
Excellent retelling of Beauty and the Beast

Derived From Web

, Mar 27, 2020

I loved getting to know the characters I thought I knew. It was interesting to see Belle's mother as the one to curse the prince and everyone in the castle. I couldn 't wait to see how it ended and yet sad that it is over. I have so many questions that I want to ask, but won 't answer here because I don 't want to spoil this incredible story! Do the right thing and click this book right now! You will not be sorry that you did, unless you were hoping to sleep.
Interesting, but the ending was not great

Derived From Web

, Sep 19, 2019

I am a fan of Beauty and the Beast, so that this interesting take on the story of Belle and her parents was different. I understand the desire to have an original take, but the beginning had the same lines as the movie. The background story was fine, but it should end the way it was originally written in my opinion. I 'd give the first 2 parts 3-4 stars and the ending 2. I'll average it up to 35 stars total.
Loved it

Derived From Web

, Aug 20, 2019

Loved this book, the skipping around me for a few, but once I got used to it, I had no problem. Now we need to know if he ever gets the others to come to his castle and become a human prince.
Beautifully done

Derived From Web

, Aug 7, 2018

This is honestly one of my favorite retellings of beauty and the beast mythos. It feels natural, character development and has a wonderfully detailed when it takes its twist ''. In new situations, beloved characters are seen to give them more depth. As the plot grows, each page that you turn will be expelled and filled with wonder. I highly recommend this book and this author and her series!
I love how we get to see who belle's mother is

Derived From Web

, Jun 24, 2017

When reading this fun take on the Disney classic from 1991, I found it to be quite a bit disconcerting. I love how we get to see who is Belle's mother. Both as the Enchantress who cursed the Beast and as Maurice first met her. What was going on with the beast really set that he has a heart and it made it even more sympathetic when the story was told. Belle was as level headed and proactive as she should be. Even though I don 't get much time devoted to them, I still like the enchanting objects, but really wish they had more of a role in this story. Honestly, I'm just nitpicking. Love the portrayal of Maurice's past and the current change in status quo. Loved how everyone is in character, especially that one deeper look into a certain character later on. In total, a pretty good read.
ended differently than expected but an awesome read especially if you like Beauty and the Beast ...

Derived From Web

, Apr 28, 2017

Full of surprises, ended differently than expected, but an awesome read, especially if you like beauty and the beast stories.