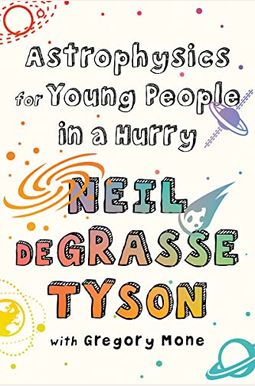 
 
Astrophysics For Young People In A Hurry
Book Overview
Praise for Neil deGrasse Tyson's #1 New York Times best-selling guide to the cosmos, Astrophysics for People in a Hurry
Grappling with the scope of the universe.is no simple endeavor, but in this tidy overview, Tyson succeeds with seeming effortlessness.
-San Francisco Chronicle
With wry humor, keen vision, and abundant humanity, Neil deGrasse Tyson distills the big questions of space, time, and reality into short, insightful chapters.
-Discover
A winner that every astronomy enthusiast should have on the bookshelf!
-David J. Eicher, Astronomy
Lovely book. Last chapter worthy of Carl Sagan himself.
-Richard Dawkins
Tyson breaks these big ideas into digestible lessons with the humor and charisma he's known and loved for.
-Popular Mechanics
Tyson's insights are valuable for any leader, teacher, scientist, or educator.
-Forbes
A great gift for the scientifically inclined (but busy).
-Chicago Tribune
Vintage Tyson--engaging, chatty, and littered with historical and linguistic anecdotes.
-Times Higher Education
Frequently Asked Questions About Astrophysics For Young People In A Hurry
Books like Astrophysics For Young People In A Hurry
Book Reviews
(15)
Did you read Astrophysics For Young People In A Hurry? Please provide your feedback and rating to help other readers.
Astrophysicist Educator's Review

Derived From Web

, Apr 23, 2021

Currently, I am an astrophysicist who teaches special education at school. One of my students loves science, so I picked up the book. It does a great job of explaining complex concepts in a way that kids can understand, he said. The writer's style also includes humor.
Birthday Gift

Derived From Web

, Jan 30, 2021

It was a birthday present for a 9-year-old boy, and he was glued to it as soon as it was out of the shipping envelope.
perfect book for kids interested in science

Derived From Web

, Jan 28, 2021

I picked up this book though I was a little worried it would be too young for her, but she loved it. She first read the entire thing in a couple of days after the holidays. Definitely recommend.
Sharing physics across generations

Derived From Web

, Oct 21, 2020

Retired physicist, Joan Hughes, said: "This book was the culmination of many years of research. Lots of interesting discussions were had, he said. I think he found it fascinating and I also learned a few things, he said.
Perfect companion book to go with a telescope! Brilliant!

Derived From Web

, Oct 19, 2020

I have to say this book covers a lot of ground and presents it in a way that is engaging to young minds, he said. It was only too happy to buy my inquisitive, intelligent, sweet little nephew a telescope for his birthday when he asked for one! And this book plus, a few others, are the perfect companions to keep the fires of his imagination burning! A great book. A+, 5's!
Pages are boring

Derived From Web

, Mar 20, 2020

My 8 year old who LOVES STEM and asked for books about physics and chemistry so naturally! He liked the book and still reads it, thumbs through it time to time, but in my opinion it's boring for a kid. It's a good companion book for something more illustrated, Hachette said. It was probably meant for a kid that young, Mr. Rule told the judge. My son is just a little ahead of him, so it worked out okay, Morgenthau said.
Watch out Bill Nye...here come NDgT!!

Derived From Web

, Aug 1, 2019

Witty, relatable, well-written, and perfect for curious adolescents and teens just getting wet feet. I purchased for my son last year, but bought a second copy to use as a read-aloud during our 5th grade solar system unit. I wish he'd turn it into a TV series for kids. Even if it was just a matter of time, I think kids would dig it. Everything about NDT was great, said Dr. Aronov.
Excellent book for child who likes space, facts and information.

Derived From Web

, Jul 4, 2019

There are words that could be frustrating to a good, interested reader if the child was not a good writer. I've enjoyed reading the book, said Paul LiCalsi, "Many of the photos are excellent." Even if just glancing at the book, the photos would encourage interest in science. It would be a wonderful book for a parent to read with a child, especially if their child found the book to be difficult, Mrs. Rule told the judge.
An easy read

Derived From Web

, Jun 18, 2019

It took me about a week to read this book. I found this book very interesting and fun to read, said Dr. Julie Gerberding, director of the federal Centers for Disease Control and Prevention. Overall, I thought this was very easy to digest, perfect for someone wanting to get started or back into learning about the universe.
Great Book for Young Scientists

Derived From Web

, May 11, 2019

Bought this as a present for my son, who absolutely loves it! He is an advanced reader, and I was very glad that it is not too easy for him, Mrs. Goin said. The information is presented in a clear and concise manner that is not at all condescending or oversimplified, Hubach said. It's one of those books that you can keep coming back and re-reading. I found myself hooked after a few pages and read the entire thing to cover. I love that this book encourages kids to be curious, ask questions, and crave knowledge, Mrs. Rule told us. If you're serious about it, I would definitely recommend it to any kid who is interested in the universe.