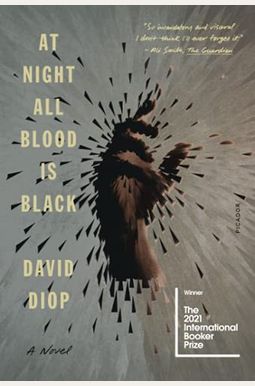 
 
At Night All Blood Is Black
Book Overview
*WINER OF THE 2021 INTERNATIONAL BOKER PRIZE*
*A BARACK OBAMA SUMER READING LIST SELECTION*

Winner of the Los Angeles Times Book Prize for fiction

Astonishingly good. --Lily Meyer, NPR
So incantatory and visceral I don't think I'll ever forget it. --Ali Smith, The Guardian Best Books of 2020
One of The
Wall Street Journal
's 11 best books of the fall One of The A.V. Club's fifteen best books of 2020 A Sunday Times best book of the year
Selected by students across France to win the Prix Goncourt des Lyc ens, David Diop's English-language, historical fiction debut At Night All Blood is Black is a powerful, hypnotic, and dark novel (Livres Hebdo) of terror and transformation in the trenches of the First World War.
Alfa Ndiaye is a Senegalese man who, never before having left his village, finds himself fighting as a so-called
Chocolat
soldier with the French army during World War I. When his friend Mademba Diop, in the same regiment, is seriously injured in battle, Diop begs Alfa to kill him and spare him the pain of a long and agonizing death in No Man's Land. Unable to commit this mercy killing, madness creeps into Alfa's mind as he comes to see this refusal as a cruel moment of
Read More chevron_right
Frequently Asked Questions About At Night All Blood Is Black
Book Reviews
(9)
Did you read At Night All Blood Is Black? Please provide your feedback and rating to help other readers.
A visceral experience with very effective use of first-person narrative

Derived From Web

, Oct 12, 2021

This is such a powerful novella with powerful introspective writing. Pains to the fore the horrors of war and paints the continual descent into madness with vivid strokes that leave you terrified and breathless. The predicative story of the rich and affecting is background. It's a primal experience, to be placed in the shoes of this protagonist-only before have I enjoyed the first person narrative quite as much! The writing has its mesmerizing rhythms marked by recurring phrases. In a nutshell, I admire this the most for its mesmerizing use of the first person narrative, strong duality theme of duality the double and a strong quality of writing with phrases recurring like in a religious litany. It is a book to read.
A war horror story ??

Derived From Web

, Sep 9, 2021

Yes, trench warfare is a very bad business, but this book bounced from France to Senegal without providing the reader with some knowledge of who and what was going on. Bizarre is also a subject matter. I guess I just didn 't like the writing style of the authors. I was intrigued by the reviews before, but was very disappointed. I rarely read a book and I finish books constantly.
Don't waste your money on this piece of crap.

Derived From Web

, Aug 27, 2021

I can honestly say that this is the worst book I have ever read in my 60 years of reading, wasting my time on reading. I don 't know if the translator writes like a 12 year old or if the original author did. Each of the two sentences started with God's truth. Sometimes 10 is put on a page. The price was high for this book, which is not even full size and is more of a novel than a novel. Do yourself a favor, don't buy that thing. The agent who pawned this book as a book needs a prize for convincing any publisher to put it out. I am not even going to donate this... it hits the round file.
Reads like poetry

Derived From Web

, Jul 16, 2021

The writing is rude and the reader goes right along on the journey, with a few seductive awakenings.
Did I Read the Same Book as Everyone Else?

Derived From Web

, Jul 14, 2021

This book won the International Booker Prize? It is repetitive -- the protagonist says 151 times in a 145-page novel -- and poorly written. Almost any novel is better than this.
Compelling Tale of What Happens When War, Forced Assimilation and Humanity Collide

Derived From Web

, Jul 11, 2021

Wow, what a surprise! This was a distinctive, deranged narrative told in the brilliant, compelling and disturbing voice of our antihero. His story is the result of a perfect storm that brews when cultures collide, boys are forced into men and those men are forced into a war that is not theirs.
It has a feel of Camus

Derived From Web

, Jun 15, 2021

The words are horrible, beautiful, stark, and oily. They fall into and over each other. One should probably read it and then reread it. Haunting is a mystical experience.
Can't say it was beautiful - It was horrifying - But elegantly written

Derived From Web

, May 24, 2021

I am afraid to recommend this book to any war veterans, because it is too graphic FELT. But so... Once a man is driven to extremes, the possible is possible. DEFINITELY A RECOMMENDED READ AND ONE OF the BEST BOOKS OF 2021 for which it is on their Shortlist is Man Booker International's Best.
Quick read

Derived From Web

, Jan 15, 2021

Interesting background of France during WW I for a novel about the clash of two cultures, which you can read easily in one sitting.