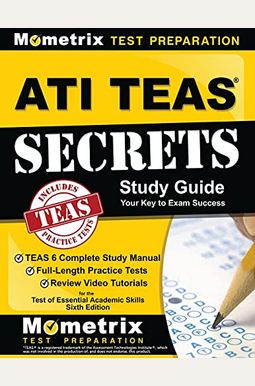 
 
Ati Teas Secrets Study Guide: Teas 6 Complete Study Manual, Full-Length Practice Tests, Review Video Tutorials For The Test Of Essential Academic Sk
Frequently Asked Questions About Ati Teas Secrets Study Guide: Teas 6 Complete Study Manual, Full-Length Practice Tests, Review Video Tutorials For The Test Of Essential Academic Sk
Books like Ati Teas Secrets Study Guide: Teas 6 Complete Study Manual, Full-Length Practice Tests, Review Video Tutorials For The Test Of Essential Academic Sk
Book Reviews
(16)
Did you read Ati Teas Secrets Study Guide: Teas 6 Complete Study Manual, Full-Length Practice Tests, Review Video Tutorials For The Test Of Essential Academic Sk? Please provide your feedback and rating to help other readers.
Great, affordable study guide!

Derived From Web

, Apr 20, 2022

This is the only study guide I used, and I received a 92. I recommend using the first practice test as a starting point to determine what you need to study, then spend some time studying before taking the second and third practice tests. I really liked that there were explanations for the correct answers. It worked really well for me and I have already recommended it to several others.
Highly Recommended

Derived From Web

, Oct 13, 2021

I set this book two weeks before the test and amusing it. Recently I was accepted into the Nursing Program. Definitely recommend! Hey! ''
Don't buy

Derived From Web

, Aug 16, 2021

This book doesn't teach you anything at all. A video explaining the information has to go on their website and type in a code to watch a video explains the information. After reviewing the sextons, Doesn 't give practice problems after reviewing the Sextons. They have a full test that comes along with the book, which was ok, but the informational part was lacking. I learned nothing from this book. This book will definitely be returning Will. I would rather study from the book Ati Teas or another book than this.
Great book!

Derived From Web

, Apr 5, 2021

I skimmed the English and science part, only took the math and reading portion and skimmed the math and reading portion. I only reviewed one of the practice tests for the science part, received a 86% total score on my first try. It is a great book to review and refresh some of the topics that should have been learned throughout your pre-requisite courses. If you forget completely most of the materials you learned, this book does a good job of reteaching you the basics of what you need to know. I believe that if I had read the whole book and taken all the practice tests, I would have had an even better score. The English part saved me really, and the English part really saved me. The prefix and suffix charts were pretty spot-on with some of my questions from the test. I actually bought another teas study text before this one, but ditched it for this one, because this book seemed a bit more engaging. Good luck on the test! Good luck with the test! ''
Used This for the Kaplan Exam.

Derived From Web

, Oct 8, 2020

I have used this study guide for the Kaplan Nursing Entrance exam because it was recommended to me by a nursing major. I also had the Kaplan Nursing Entrance Study Guide, both of which have the same general structure. The major difference for me was in math and science. This study guide is much more similar to the actual test. Overall, I studied for a month and got an 87%!
THERE IS BONUS A&P MATERIAL IN THE BACK

Derived From Web

, Apr 11, 2020

I've read a few reviews that mention how the science section of this book does not fully cover the spectrum of the AandP knowledge needed for the test. I was pleasantly surprised when I found a bonus material link in the back of the book. I almost cried when I saw this. When I visited the site, there was a 119 pg Anatomy and Physiology Supplementary pdf, which covers EVERYTHING in DEPTH with LABELED, COLORED, and DETAILED DIAGRAMS. There is even a CPR guideline, a link to Flashcards and more. This book really offers EVERYTHING and has a WEALTH of information for an amazing price. I'm just letting you know that I feel like some may have overlooked that additional resource accidentally. English, math, and reading sections are great. EVERYONE HAPPY STUDYING EVERYONE.
Reliable, very similar questions as the real deal, great study tool

Derived From Web

, Feb 29, 2020

This day I studied this every day, every day for 7 days before my exam. I tabbed it with the Post - It divider tabs, highlighted the hell out of it, did the practice tests, looked up the video codes in the book or others - help on YouTube when I didn 't get absolutely nothing for myself.
Great detail and 3 practice tests!

Derived From Web

, Feb 1, 2020

Great! Full of detailed content, full of detailed content. I have not taken a science class in over 7 years, so that I had to brush up a lot and this book was very helpful. I studied for 3 days and got an 86% with just this guide. Loved the practice tests and the detailed explanations for the answers.
FIRM STUDY PLAN

Derived From Web

, Nov 6, 2019

I had no idea where to start or where to do with my studies for the TEASE test. With this book i feel like i have a good firm plan and all the good resources i need in one place. No roaming numerous books or internet pages finding information that could not be true or could not be. This book gave me confidence and structure in going into this exam, and for that i am very grateful.
IF YOU ARE TAKING THE TEAS AS OF JUNE - AND BEYOND 2019 READ THIS!!

Derived From Web

, Jun 12, 2019

Today he failed the test and took the test again. This book is great for reading and math, but not science ABSOLUTELY NOT!!!!!! I studied the science part SO HARD that I knew the definitions WORD FOR WORD!! Guess what??? I still failed my test! '' Everything in this book, in terms of science, does not correspond to what is on the actual test!! This book does not go into detail and focuses on definitions only. The tests are USELESS! The tests are USELESS! I took all three practice tests in this book for the science portions and NONE of them came close to what was actually on the test except for literally like 3 questions. I wanted to love this book so badly due to how organized it is. But it is useless. You're better off buying the Ati Teas book from the website itself.