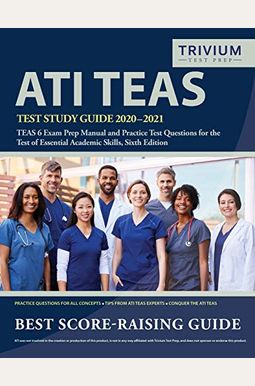 
 
ATI TEAS Test Study Guide 2020-2021: TEAS 6 Exam Prep Manual and Practice Test Questions for the Test of Essential Academic Skills, Sixth Edition
Frequently Asked Questions About ATI TEAS Test Study Guide 2020-2021: TEAS 6 Exam Prep Manual and Practice Test Questions for the Test of Essential Academic Skills, Sixth Edition
Book Reviews
(15)
Did you read ATI TEAS Test Study Guide 2020-2021: TEAS 6 Exam Prep Manual and Practice Test Questions for the Test of Essential Academic Skills, Sixth Edition? Please provide your feedback and rating to help other readers.
Poorly edited book

Derived From Web

, Feb 3, 2021

This book gives a good quick go over of the subjects needed to study for the teas test. It needs to be re-read by the editor, as many math problems are incorrect. Not like the type 5x7 40, which is wrong. But more like 5mm+7mm 12MetersIt does make me a little concerned that the information contained in the book may not be accurate also.
Great for boosting your score

Derived From Web

, Dec 28, 2020

Product is a great studying tool, the practice test allows me to see where I am and what I need to improve on. The only thing on which you need to work is adding a more practice test.
Hopefully it helps!

Derived From Web

, Dec 18, 2020

This was a helpful review for me, as I have not studied for a test like this since my ACTs 20 years ago!
Do Not Buy This Book!!

Derived From Web

, Dec 14, 2020

I was extremely upset that this product did not help me at all. Everyone in the comment says it helped them get high scores, but I got a 70%, which isn 't competitive at all. I bought the practice test form ATI, which is the people who make the actual TEAS and the questions were so much more in depth than covered this book. For example, you have to know the body's immunoglobulins and their functions. This book did not even talk about it, so I was not prepared for a question like that. I would not buy this book! It is better to purchase the study manual from ATI for $27, but even their study guide did not go into depth when comparing the questions on their practice test with the study manual information.
Great studying concepts

Derived From Web

, May 16, 2020

First, I learn better with repetition and the book is perfect for this particular learning style. I also like how it has the explanation for the answer in the book. This way I can better understand my steps and backtrack the concepts.
Great book

Derived From Web

, Apr 29, 2020

i found this book to be very effective in helping me in my studies. There is only the right amount of information, and it is very thorough. I loved the practice test very much and found them very useful.
A must have study guide

Derived From Web

, Apr 2, 2020

( ) '' ). I found this book helpful and i love how it breaks things down to better understand the subjects, and the printable cheat sheets are helpful for reviewing last minute or before taking the online test for the TEAS, and I definitely recommend this book for anyone who is going to take the Teas exam, to help you.
Worth the buy

Derived From Web

, Mar 20, 2020

Didn 't pass as much as I should have, but I think that anyone who goes through this book at least once or twice should definitely study the teas. I read once and took the test and received a 72% this and YouTubeing anatomy is all you really need.
Very Helpful

Derived From Web

, Jan 22, 2020

This book is the real deal for ATI Teas, it's really helpful, everything I need for the ATI Teas is found in this book.
Great Study Tool

Derived From Web

, Jan 20, 2020

I purchased the 2020-2021 ATI TEAS test study guide. I finished reading through the materials for each section and I am quite impressed with how informative and easy it was to understand. One thing I would recommend to help improve this study guide is to test more practice questions to better understand the customers'knowledge for each subject. I feel like it wasn 't enough ''. I take my TEAS in a month, so that this was really a great use for last minute studying.