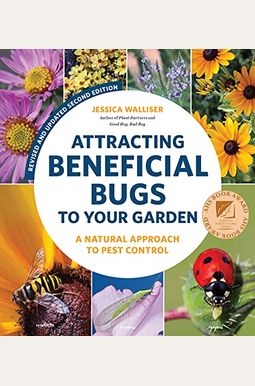 
 
Attracting Beneficial Bugs To Your Garden, Revised And Updated Second Edition: A Natural Approach To Pest Control
Book Overview
This revised and updated edition of Jessica Walliser's award-winning Attracting Beneficial Bugs to Your Garden offers a valuable and science-backed plan for bringing balance back to the garden.
With this indispensable gardening reference--now updated with new research, insights, and voices--learn how to
create a healthy, balanced, and diverse garden capable of supporting a hard-working crew of beneficial pest-eating insects
, and
eliminate the need for synthetic chemical pesticides
. After a fascinating introduction to the predator and prey cycle and its importance to both wild ecosystems and home gardens, you'll
meet dozens of pest-munching beneficial insects
(the predators) that feast on garden pests (their prey). From ladybugs and lacewings to parasitic wasps and syrphid flies, these
good guys of the bug world
keep the natural system of checks and balances in prime working order. They help
limit pest damage
and also serve a valuable role in the garden's food web. But, they won't call your garden home if you don't have
the resources they need to survive
. With a hearty population of beneficial insects present in your garden, you'll
say goodbye to common garden pests like aphids, cabbage worms, bean beetles, leafhoppers, and hornworms
, without reaching for a spray can. To encourage these good guys to
Read More chevron_right
Frequently Asked Questions About Attracting Beneficial Bugs To Your Garden, Revised And Updated Second Edition: A Natural Approach To Pest Control
Book Reviews
(6)
Did you read Attracting Beneficial Bugs To Your Garden, Revised And Updated Second Edition: A Natural Approach To Pest Control? Please provide your feedback and rating to help other readers.
not my favorite

Derived From Web

, Mar 27, 2022

What a great deal it took me weeks to pick up the whole thing, Mr. Brunner said. It didn't call me back. 0 3171616 It was a telemarketer, I'm told. She said her family has a 650 square foot organic garden so she understands the need for diversity, but she also loves to garden and be outside. I picked it over the other books because I thought I could learn something new. They cover a lot of ground, ranging from why or why not to feel bugs are interesting. It just wasn't that interesting, and it would not hold my attention. Then it gets in to all the individual beneficial bugs. The writer's fiction has returned to back to the original form -- in back and dense. Both are beautiful pictures, said Dr. Cara Cooper, director of the Royal Holloway clinic in London. He has a small section of it dedicated to companion planting. The very back has 4 pages of a chart that is very helpful. For me, it was just not that helpful. The Pentagon did not go above and beyond, he said. Though I enjoyed the writing, the fact is, it was very densely packed. It was easy to put it down, Taylor said. I'm not coming back, Mr. Rule told the judge.
Packed with valuable information

Derived From Web

, Mar 13, 2022

This book would be a great present for any gardener. Pruning and Gardening magazine has been revised and updated to include more attractive groundcovers. The second edition is also available in hardback. The new book lists dozens of them. Plants and bugs communicate via the web, helping them grow and cooperate.
Terrific book for moving away from chemical based gardening

Derived From Web

, Mar 11, 2022

The book is a great example of how to properly format a book. We are enjoying reading it first, and then looking forward to putting these ideas into practice at home.
Helpful!

Derived From Web

, Mar 7, 2022

I just bought a house and am looking forward to having a garden this summer, he said. This book is written in the first person, which isn't my favorite writing style for informational books, but it worked in this case in making me feel more comfortable, McBride said.
Well organized and well written, great resourse

Derived From Web

, Mar 6, 2022

Review for Attracting Beneficial Bugs to Your Garden, Revised and Updated Second Edition by Robert B. Rowell and Paul S. Kelly, is a wealth of knowledge and is an excellent resource for gardeners. Pauley, Jr., said the book was "well written and edited." It is well organized, making it easy to find what I need, Mr. Hubach said. For those of us that are attempting to garden in ways that improve nature, these type of books are a wonderful asset.
Bugs!

Derived From Web

, Feb 20, 2022

Anyone who has a lovehate relationship with bugs will find this book extremely useful. Filled with gorgeous, high resolution pictures, this book explains exactly why you should let nature take its course and not to overreact and just spray everything with pesticides. Also, I appreciated that there was a guide on optimizing positioning of each plant, which is something I really hadn't thought about. Thank you to Jessica Walliser, Quarto and Edelweiss for free access to this e-arc in exchange for an honest review.