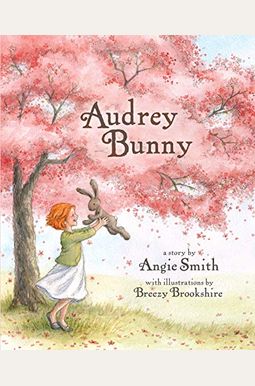 
 
Book Overview
From best-selling women's author Angie Smith (I Will Carry You, Mended) comes this sweet children's book about a stuffed animal named Audrey Bunny who fears her imperfections make her unworthy of a little girl's love. She'll learn the truth soon enough, and young readers will learn that everyone is special and wonderfully made by God.

Frequently Asked Questions About Audrey Bunny
Book Reviews
(9)
Did you read Audrey Bunny? Please provide your feedback and rating to help other readers.
Preciously delightful

Derived From Web

, May 31, 2022

As a school counselor, this book is extremely helpful in showing children how wonderful they are, flaws and all. I read it aloud to my 14 yr old home, and we both had tears in our eyes at the end. The message of the book touches us both and transcends age and experience. We all feel like our flaws make us less than '', but this book so perfectly reminds us that we are all made by the powerful mighty hands of God and never makes mistakes. I could have had excuses to buy this book for my students, but I bought it just for me! Angie Smith is an author and an inspiring person to love.
Beautiful Timeless Story

Derived From Web

, May 31, 2022

A few years ago, I bought it for my daughter's birthday. We enjoyed it so much! From the charming story line to the beautiful pictures, this book is a must for all personal libraries of children. For Christmas this year, we bought all our nieces a copy.
A sweet book for girls with the most precious illustrations!

Derived From Web

, May 31, 2022

As soon as this book was available to buy, I bought a copy, the main reason for it being that I love everything that Breezy Brookshire illustrates! She has a true gift from God, and I was excited to see a book for children available to read to my daughters. This book was a gift for our 5 year old daughter for Christmas. She loves reading it and because my name is Caroline, it makes it extra special. ) Overall, I think the story is really sweet and the illustrations are the best ever!
Fabulous sweet story and beautifully illustrated book.

Derived From Web

, Dec 26, 2021

I loved this book ''. It is a beautiful book with a sweet story about being different. I bought a bunny for my 6 yr old great granddaughter with a bunny, I assume will be named Audrey.
Audrey Bunny

Derived From Web

, Dec 1, 2021

An adorable five gold star item and thank you! I wish it came with or offered separately a matching Audrey Bunny plush exactly to the one in the book. If anyone knows of an Audrey Bunny plush exactly to the one in the book, please post and thank you!
Sweet story

Derived From Web

, Apr 27, 2020

The bunny worries the whole time about her imperfection and thinks that the little girl will not love her when she discovers it. But the girl knew it was there the whole time and loved the bunny so big because of it.
I LOVE this book!!!

Derived From Web

, Sep 9, 2019

If you are looking for wholesomeness for your children to grow up and read on their own as they get older, THIS illustrator Breezy Brookshire. She did the pictures for Audrey Bunny and is fabulous! I remember wanting to buy this book when it first came out, but life got busy and I lost track of what book it was until this last week.
Wonderful!

Derived From Web

, Nov 9, 2017

We love this book. In hardcover, it is gorgeous.
Audrey Bunny

Derived From Web

, Jan 19, 2017

Audrey Bunny is a sweetly written story with beautifully crafted illustrations. I personally enjoyed the book, though I admit that the overall theme of the story was a bit overdone, the way Audrey is constantly trying to shield her imperfection '' from the kind of girl who purchased her at various points throughout the book. There is a confusing element near the end that I also found certain. At one point, the little girl whispers to Audrey that she loves her "more than she ever knows " and tears a little. It is never explained. Overall, I like that its message is backed by faith-based values, and I believe that it is a good read regardless.