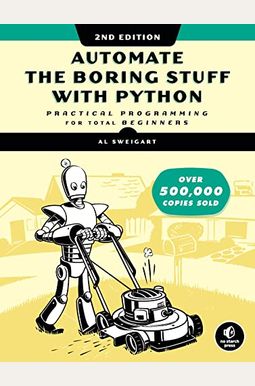  
Automate The Boring Stuff With Python, 2nd Edition: Practical Programming For Total Beginners
Book Overview
The second edition of this best-selling Python book (100,000+ copies sold in print alone) uses Python 3 to teach even the technically uninclined how to write programs that do in minutes what would take hours to do by hand. There is no prior programming experience required and the book is loved by liberal arts majors and geeks alike.
If you've ever spent hours renaming files or updating hundreds of spreadsheet cells, you know how tedious tasks like these can be. But what if you could have your computer do them for you? In this fully revised second edition of the best-selling classic
Automate the Boring Stuff with Python
, you'll learn how to use Python to write programs that do in minutes what would take you hours to do by hand--no prior programming experience required. You'll learn the basics of Python and explore Python's rich library of modules for performing specific tasks, like scraping data off websites, reading PDF and Word documents, and automating clicking and typing tasks. The second edition of this international fan favorite includes a brand-new chapter on input validation, as well as tutorials on automating Gmail and Google Sheets, plus tips on automatically updating CSV files. You'll learn how to create programs that effortlessly perform useful feats of automation to:
-
Search for text in a file or across multiple files
Read More chevron_right
Frequently Asked Questions About Automate The Boring Stuff With Python, 2nd Edition: Practical Programming For Total Beginners
Book Reviews
(14)
Did you read Automate The Boring Stuff With Python, 2nd Edition: Practical Programming For Total Beginners? Please provide your feedback and rating to help other readers.
Good tutorial, but stay away from Kindle...

Derived From Web

, Mar 22, 2022

I was a non-programmer who played with BASIC. I found Python easy to learn because of my limited knowledge of computer logic. To see if I wanted to go all-in, I downloaded a sample from the Amazon store. The first few days were crazy because the program layout on the Kindle was not as clear as the author's website. There were a lot of programming errors that I was receiving. I found the code on the author's website easy to read. I decided to buy the paper version of the book instead of the electronic version. That's not a criticism of the author or his book, it's the quirks of the format. Non-programmers get a content A+. The layout of the e-book leaves some clarity to be desired.
Waste of time and money.

Derived From Web

, Jan 8, 2022

Before I started this book, I had a couple of linkedIn learning classes. It was supposed to be full of good projects to help me practice my code. It goes off the rails quickly and is very frustrating to work with. I'll stick to the two.
Easy to read and understand

Derived From Web

, Feb 13, 2021

I bought this to teach my son how to program. He completed his first program in the book and was very excited about it. I give him a deadline when to finish each chapter. It's a good time to teach my son something and bond with him.
Unbelievably good

Derived From Web

, Dec 25, 2020

In 45 minutes, I learned more about programmingpython than I have learned in the entire semester.
most essential to get going in python!

Derived From Web

, Nov 10, 2020

Do everything through this book. It really pays off. The way it's written feels good because I learned so much from this book alone. I really got going with python. Thanks so much, al! !
great python book for everyone

Derived From Web

, Nov 9, 2020

There are many tips and tricks in this book for everyone, no matter how much programming experience you have. There are many screen shots for explanations. You can get daily tedious tasks done if you pick up many clues from this book.
Stand out in the sea of python books

Derived From Web

, Nov 9, 2020

It is great for people with coding experience. The authors Udemy course is based on the same book.
Missing basic setup and proper organization steps

Derived From Web

, Sep 8, 2020

The setup and organization is important for those who have been coding. The book doesn't have a lot of setup steps to get someone up and running. Demands you download files for use with the book but doesn't tell you where to find them or how to navigate them. This is going to be a waste of time if the rest of the book is like the first chapter. Readers don't know basics so it should be a basic book. If it improves, I may change my rating up.
Decent book, but the online examples don't seem to work

Derived From Web

, Jun 19, 2020

The links to the examples at authorcom seem to be dead, at least as of the last time I looked. A lot of typing is required for entering the code. If the web site was not DOA, it would be great to be able to download some of those files. It is okay so far, but there are issues with the execution.
Overall great book but not so great for actual programming beginners

Derived From Web

, May 24, 2020

This is a great book to get started with python projects, but not a great book for beginners. The author often uses coding concepts at the beginning of the book that are not explained until a later chapter leaves some beginners feeling overwhelmed with his programming methods. Understanding the basics was easy for me because I am not a beginner. The projects are good for beginners. I would recommend starting with the second edition of the course, which goes through the basics in more detail and is more organized in its teaching approach. The book was good, but it could have been better organized for the beginner.