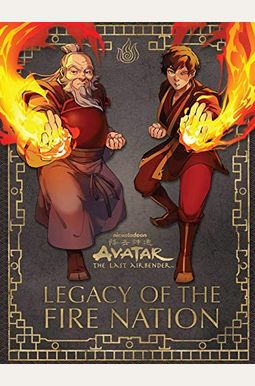 
 
Avatar: The Last Airbender: Legacy Of The Fire Nation
Frequently Asked Questions About Avatar: The Last Airbender: Legacy Of The Fire Nation
Books like Avatar: The Last Airbender: Legacy Of The Fire Nation
Book Reviews
(9)
Did you read Avatar: The Last Airbender: Legacy Of The Fire Nation? Please provide your feedback and rating to help other readers.
Great condition for price!

Derived From Web

, Apr 29, 2021

And still look great on a shelf, the wear I saw was not very noticeable, so I would still recommend these new books for collectors. I also love how many little inserts, notes, etc. came in this book, it really did feel like a scrapbook!
The Best One of all Three

Derived From Web

, Nov 24, 2020

This is by far the best book of the three Avatar Insight editions in terms of writing and additional information apart from the show and the comics. Still, whoever thought it was a good idea to stick postcards like collectibles into the actual book pages with glue... I say that he or she is not that smart. This bolsie move comes with sticky spots on some pages and sometimes even worse ruining the interior pages of the book. In terms of shipping the book, it arrived in perfect condition and was well packed.
Beautiful Art Work and Story (MINOR SPOILER ALERTS)

Derived From Web

, Oct 28, 2020

If you love and appreciate the series, like I do, you'll love the feelings that this book brings out. His relationship with Ozai and his own father, his actions as a father and then discusses the relationship he and Zuko had later in their lives. No mention of Zuko being married or his children. There is this touching letter from Zuko, at an old age. It writes Iroh at the end that makes me cry like it was APPA's LOST DAYS episode. I just wanted to know more about Zuko's personal life. His relationship with his children has been conditioned by his not-so-good relationship with his father. That is my only complaint. Otherwise, it is worth the money if you are a big fan.
Good book, quick read

Derived From Web

, Jul 9, 2020

The fans of the show would appreciate it. I am not sure if it was just my copy, but there were like the extra grease stains where the little stuff was attached too. Bummer was good, but I still recommend the book, because the content was still good.
Wonderful Book

Derived From Web

, Jun 28, 2020

ATLA is my favorite show of all time. The characters are well developed and it is filled with action, comedy and romance. I had already purchased Legacy, so this had to be my next purchase. It is a wonderful retelling of Uncle Iroh to his wonderful nephew Zuko. The pages are beautifully illustrated and there is deep emotion from Iroh. I hope that something will be made for Toph.
Love it!!

Derived From Web

, May 25, 2020

My favorite characters are Iroh and Zuko, and I absolutely loved this book! The view of Iroh from perspective was great, informative, and heartfelt! I love the letters, map, and menu added to the journal, giving it that realistic touch. I also cried a few times while reading. Would recommend Avatar fan to any.
Great extra book for avatar fans

Derived From Web

, May 20, 2020

This one was written by Iroh to Zuko and I was impressed with how well the author Iroh's voice captured. The book is chock-full of both wisdom and humor. It was very interesting to see more of Iroh's back story, too!
Loved it!

Derived From Web

, Feb 24, 2020

I received this book for my younger sisters'15th birthday and is obsessed with it. I am not sure if it would be good because of some reviews saying that it did not add much to the story, but I have no regrets.
A MUST-HAVE For Any fan of the Series!

Derived From Web

, Feb 6, 2020

Without getting into spoilers, it ties BOTH the original series and the legend of Korra.