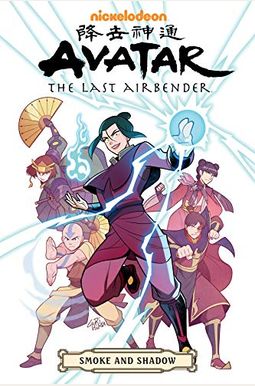 
 
Avatar: The Last Airbender--Smoke and Shadow Omnibus
Book Overview
The Fire Nation is threatened by a prophecy told by the Kemurikage, mysterious figures thought only to exist in legend: remove Zuko from the throne, or the country will perish
Avatar Aang and his friends escort Zuko and his family back to the capital, completely unaware of the looming threat growing in the city. Unrest is brewing as the New Ozai Society prepares to make its move against the crown, and children begin to go missing from their homes under mysterious circumstances.
Revisit the adventure of
Avatar: The Last Airbender--Smoke and Shadow
with this all-new omnibus edition, collecting all three original parts for the first time in paperback
Collects
Avatar: The Last Airbender - Smoke and Shadow
parts 1-3.
Frequently Asked Questions About Avatar: The Last Airbender--Smoke and Shadow Omnibus
Book Reviews
(8)
Did you read Avatar: The Last Airbender--Smoke and Shadow Omnibus? Please provide your feedback and rating to help other readers.
Great

Derived From Web

, Feb 9, 2022

I love it, though I personally wish Mai and Zuko would have just finished filming. He said Taylor and Mosley did not seem to have a good relationship.
Wish this was a TV Show instead of a comic

Derived From Web

, Jan 17, 2022

While the illustrations are pleasing and the action scenes are great, I wish it was a TV Show. It would have been better described as a "black widow", Melissa said. The book sours the love triangle between Maiko Kei and Lo, but the rest of it is amazing. However, I'm not happy that Azula doesn't get a redemption arc compared to the Legend of Korra villain.
Dissapoiting

Derived From Web

, Jan 10, 2022

The alignment is still off. I noticed months ago that people were having this issue, so I waited to buy it for a couple more months. I hope the issue is fixed soon. Clearly, it's not an official endorsement.
2 copies both damaged

Derived From Web

, Oct 15, 2021

But like everyone else, I had to send this book back twice because the spines don't align and several pages were not cut properly and stuck together. I'm not happy with Dark Horse's quality control, even though I had been told about the alignment issue before I received the book.
Amazing book, sad product.

Derived From Web

, Oct 12, 2021

It's a book that stands in a class by itself. It's just a matter of time, said Dr. Steve Dixon, inventor of the product. For some wild reason, I haven't received any of these books in pristine condition. But he also points out that the spines don't match.
Wish I didn't waste my money.

Derived From Web

, Oct 11, 2021

I'm an avid collector and was so excited for these new editions, but the first delivery I got the book was damaged and neither book nor the cover line fit with the rest of the books. That was a huge waste of money and time, Lord Rayleigh said. The Harrisons are notorious for saying things like, "How do you miss something like that?"
The spine not lining up really ruins the aesthetic of spine picture

Derived From Web

, Oct 6, 2021

Haven't read the entire thing, but I'm sure it's great.
Completely misaligned spine.

Derived From Web

, Oct 6, 2021

One reviewer of the book said the spine did not line up with the previous volumes. It looks horrible and ridiculous on the shelf with sokka holding two heads. It should be recalled and reprinted. What a nasty surprise is going on at dark horse, Mr. Rule told the judge.