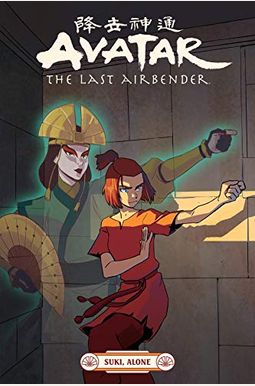 
 
Avatar: The Last Airbender--Suki, Alone
Product is currently Out of Stock.
You can add it to your wishlist and you will be notified once we receive a copy.
Frequently Asked Questions About Avatar: The Last Airbender--Suki, Alone
Book Reviews
(8)
Did you read Avatar: The Last Airbender--Suki, Alone? Please provide your feedback and rating to help other readers.
Suki is Captured by the Fire Nation

Derived From Web

, Mar 22, 2022

Takes place during Book 3 of the show, which gives a little more background to what Suki was up to in the Fire Nation prison before Sokka shows up to rescue her. There are some flashbacks to some girl Suki not getting along with as a child because she wants to be an isolationist like avatar Kyoshi designed by splitting their island off from the mainland, but this girl thinks Kyoshi should open up to the rest of the world so they can prosper from trade, especially when the island is suffering from a famine. It also shows that Suki eventually wants to leave the island and help others in the world, and she ends up at half-moon bay as security.
Short and sweet

Derived From Web

, Mar 8, 2022

It was packaged in a thin plastic bag inside a cardboard box that was soaked with rain. There was a sticky sort of residue on the back which I managed to get off, but it won't go away. It's as if someone read the book, treated it poorly, then returned it. The frustration was compounded when the Macmillan representative told us we couldn't afford to pay for a new book. I'd prefer it over compilations of short stories, but I feel like you get more information by reading the whole thing. The artist is very good, and I really enjoyed it. It's great to be back home, said Blair.
Great story, never give Amazon a red dime, though

Derived From Web

, Dec 15, 2021

An awesome story, said Blair. It's a real shame the money I spent on it didn't go to making sure warehouse workers got paid time off during a natural disaster, and now several families are going to be celebrating Christmas with one more empty chair than usual. Bah humbug! The book deserves five stars, but I'm taking one off because it came from an evil company. Seriously, seek this story out of you're an Avatar fan, but buy it from Barns n Noble or somewhere.
A waste of story opportunity

Derived From Web

, Aug 4, 2021

It just. didn't do it for me." Many of the details that felt like building towards a payoff had nothing to resolve at the end, nor did any of them end up being important, he said. The books answers a larger question, why did Suki leave Kyoshi Island? So, I'm not sure what the point of this book is, Mr. Rule told the judge.
More Avatar girl power

Derived From Web

, Aug 3, 2021

To anyone who has been a fan of this franchise since it first aired, it's always been interesting wanting to know the pasts of certain characters, in the case of Suki, set before the events of the 2-parter The Boiling Rock.
"Suki, Alone" is absolute necessary read if you're an Avatar fan.

Derived From Web

, Aug 3, 2021

This comic is easily one of my all-time favorites from the Avatar Collection. The writers stayed true to the title _ Suki, Alone _ in this awesome comic following Suki being imprisoned at The Boiling Rock by Azula. It was very necessary for Suki's character to have this kind of makeup, Mr Hughes said. In her cell, she has flashbacks to her childhood on Kyoshi Island, her beliefs and how they changed. She stays true to herself and tries to help others leading to consequences, she said. In fact, Suki's connection to Avatar Kyoshi is also shown in the book. Overall, I'd say this book is great. A great many thanks goes to Dr. Steve Peters for all his help with this terrible storm.
Amazon ruined the collectability

Derived From Web

, Jul 29, 2021

Great addition to my collection, I love avatar and this is a fun and entertaining addition to the series, said Mr. Booher. In fact, I had no issue with the book at all because I got a damaged book. Amazon put it in an envelope and the book was damaged. I would return it, but it would be so cumbersome. Amazon ruined the collectability by not shipping it in a more protective box. I am disappointed in Amazon. com.
Great Story. Please Make More.

Derived From Web

, Jul 29, 2021

Quality Print is an Only Fine Art Reproduction Company. Like all Avatar movies, this one is set in the Year of the Rat. suffering drama, tests of character, belief, courage, teamwork, friendship and most of all, hope when things are at their darkest. Good story, pacing and contrast of past decisions leading to future understanding, he said. Thanks for your interest in buying the book.