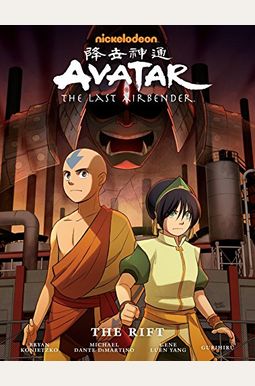 
 
Avatar: The Last Airbender - The Rift Library Edition
Book Overview
Avatar Aang and friends honor an Air Nomad holiday that hasn't been celebrated in over one hundred years, but when cryptic visits from the spirit of Avatar Yangchen lead Aang to a refinery operating on land sacred to the Airbenders--they soon find themselves in peril as a dangerously powerful ancient spirit awakens with vengeance and destruction on its mind
This collection of
The Rift Parts 1-3
features annotations by Eisner Award-winning writer Gene Luen Yang (
American Born Chinese
) and artists Gurihiru (
Thor and the Warriors Four
), with a brand-new sketchbook section
Frequently bought together
Frequently Asked Questions About Avatar: The Last Airbender - The Rift Library Edition
Books like Avatar: The Last Airbender - The Rift Library Edition
Book Reviews
(10)
Did you read Avatar: The Last Airbender - The Rift Library Edition? Please provide your feedback and rating to help other readers.
Fan Favorite

Derived From Web

, May 15, 2022

I am an enormous fan and I was so excited to see more of Toph being awesome. The art is great and even more detailed than the show. I am a fan of Gene Yang's other comics works like American Chinese and Boxers 'Saints and the best reason MORE TOPH. Not only is this method cheaper than buying the parts individually, but it is also hardcover, making it more durable and has special features like notes by the creators and concept art for the characters.
Cant wait for more

Derived From Web

, May 15, 2022

I cried when I reached the end of this book, because I know that I will have to write a new one until they write a new one. Must read and I love buying the big book, looks so awesome in my library next to my other. Keep it up, please! I do not want these series to ever end.
Fantastic end to the series

Derived From Web

, May 15, 2022

I can 't praise this series enough. As the final chapter between The Last Airbender and The Legend of Korra, it really brings a lot of story and some closure. The art is fantastic, the story is fantastic and the 3 in 1 large book style fits me perfectly. If you're a fan of the series, you need to pick it up!
Eager to read, less eager to display

Derived From Web

, Feb 25, 2021

I look forward to reading this book, but I ordered this book in, New, condition and the back cover and spine of the book are all scratched and dented. Luckily the pages seem fine, but I bought the hardcover for my collection and I hope the flaws aren 't super obvious on the shelf.
Continuations of one of the top animated series of all time

Derived From Web

, Oct 29, 2020

I fell in love with the series when I first watched Nickelodeon 15 years ago and I have watched the series at least once a year since its completion. The comics are a wonderful continuation of that amazing childhood memory that answers all the questions left open at the end. Zuko's mother is? The library editions of the comics are very beautiful books with nice, heavy images, author notes and concept sketches. I recommend them to any fan of the new or old series!
Book was big, otherwise just what I was expecting

Derived From Web

, Aug 29, 2020

Not that it is a problem, but the hardcover of this is huge, like a coffee table book. Otherwise, if you like Avatar the last airbender, then this is a must have to get a look at the developing universe and is a key insight into Toph's post-show life.
Eh story line

Derived From Web

, Jul 13, 2020

Eh... The show is definitely miles and leagues ahead of the comics, but to be honest, this felt a little weak. I guess nothing can live up to the standards of the TV show, but the story ever since The Promise and Search gets a little flimsy and idealistic. Probably would recommend Hardcore fans only to moderate hardcore fans.
If You Love Toph, You'll Love The Rift

Derived From Web

, Mar 1, 2020

Avatar is so memorable because the characters are so relatable, real and well written and this graphic novel series not only captures these properties beautifully ; it expands in engaging, organic ways. That said, Toph shines in the series like no other point. You get to learn about her family and history, you get to see the development of her metalbending school, and you get to see her show why she is the greatest Earth-bender of all-time! The other characters are also quite interesting, but this is the Toph show and it's fantastic.
It's okay. Good story just not the same strength as the show.

Derived From Web

, Dec 20, 2019

I think the book, illustrations and storylines are good, but I feel that some of the personalities are not consistent with that of the show. Like at a point, Aang calls Toph a dunderhead... I thought that was very out of his character. In every book, Tooth's eyes are green... Also, Aang and Katara speak each other sweetie every time they call to each other. It is strange and I'm sure that would be cringeworthy if this show was still on television. And one of the spirits in the book is called General Old Iron ''... Like... it's just not the same aesthetic or thought that goes into the writing and atmosphere of the book. But I am still very intrigued by it and besides all that, the story line is almost finished.
Love the hardback best!!!!!

Derived From Web

, Jul 26, 2018

I am selling all my daughters'hardcovers because the hybrids are larger, nicer and stronger. Holds up to more abuse from kids who throw it down and around.