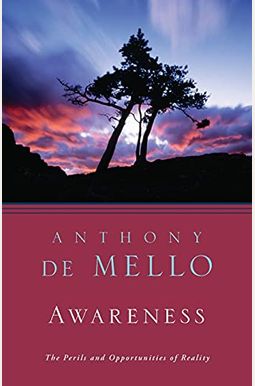 
 
Awareness: Conversations With The Masters
Book Overview
Wisdom from one of the greatest spiritual masters of our time.--James Martin, SJ, author of Jesus: A Pilgrimage
The heart of Anthony de Mello's bestselling spiritual message is awareness. Mixing Christian spirituality, Buddhist parables, Hindu breathing exercises, and psychological insight, de Mello's words of hope come together in
Awareness
in a grand synthesis. In short chapters for reading in quiet moments at home or at the office, he cajoles and challenges: We must leave this go-go-go world of illusion and become aware. And this only happens, he insists, by becoming alive to the needs and potential of others, whether at home or in the workplace. Here, then, is a masterful book of the spirit, challenging us to wake up in every aspect of our lives.
Frequently bought together
Frequently Asked Questions About Awareness: Conversations With The Masters
Book Reviews
(18)
Did you read Awareness: Conversations With The Masters? Please provide your feedback and rating to help other readers.
One of the Most Influential Books in my Life

Derived From Web

, Apr 20, 2022

Anthony de Mello is a master of ceremonies. He advances solid truths and practices in a clear and light manner. I recommend this book, the posthumous scribing of de Mello lectures by a close associate, to all who seek to broaden and improve the experience of life, he said. A much read and annotated copy of Awareness Lives with Me all the time. For me, a manual of being is a Buddhist.
Lectio Divina: Readable meditation.

Derived From Web

, Apr 20, 2022

The book is a meditation. I wish I had read it 15 years ago. Though it's a book, it's more of a conversation, said Dr. Goin. I had to buy this for a class and I admit I was quite skeptical of it, assuming it would be some new age-styled dilution of commonsense wisdom. It's just common sense, Mulvey said. Even for a long time meditator, The Age of Enlightenment is a gentle reminder. It's just that the book doesn't have any tips or tricks. No special methods were used to carry out the surgery. What it does have is De Mello's gift of turning our minds back to face the unknown. Over and over again, the Beatles would play over and over again. All I'm trying to do is raise awareness, Mr. Goin said. Awareness Week is May 23-26. He added that if anyone wanted to buy a house, "nothing else would be needed." Even with time, awareness goes nicely with anything. In a generous gesture of uncharacteristic compassion, my significant other said that he felt depressed and alone working in a foreign country. The Harrisons' lawyer Paul LiCalsi said: "We think this is very serious." Within a half hour her spirits had lifted. The writer of the book says she finished the book and plans to read it again. Anyone who reads this will find great value in the book.
... am so grateful to my friend and mentor who recommended this book

Derived From Web

, Apr 20, 2022

Thanks to my friend and mentor, I was able to put this book down. It is like receiving the gift of a new set of eyes with which to see the world. I found myself experiencing effortless, yet profound shifts in my view of life, he said. It helps realign and what I held as true while expanding upon these, allowing me to realize even more relationships I had not considered.
1st read it over 15 years ago. Re-read it many many times since.

Derived From Web

, Apr 20, 2022

However, the effect of Linalool on different people has not been fully studied. It was a huge hit, and I purchased 10 copies to give to all my family members. The bottom line is that it profoundly affects some and annoys others. Even if Blair had not objected, it would be hard not to have a reaction. I feel renewed and I think I have found the right balance. After the passage of time, I feel bogged down. Cycles continue for another cycle. It has an effect on 10% of my life.
May be the best book on spirituality ever

Derived From Web

, Apr 20, 2022

This is my favorite book of spirituality, even if it is not by Te Ching. Simple, concise, easy to understand, much more difficult to practice, at least for me. This may be its last book on the subject. Some of the concepts are so simple but powerful that it is hard to accept. There is no denying that resistance will set in if we are to go forward.
The Book Everyone Should Read

Derived From Web

, Apr 20, 2022

Simply put, this book changed my life and continues to because it is truth and it is all about what every human needs to recognize and practice and develop Awareness. I gave my other copy away to someone who is now also equally amazed by this book. I cannot think of another book which has led me to be more enlightened than this one and has helped me to work on my defects of character and weaknesses. It illuminates the primary reason for our suffering. Order your copy of The Age of Innocence today!
Delightfully simple and profound.

Derived From Web

, Apr 20, 2022

I use his stories as reference points for my daily meditation and path to insight. I have always believed that stories are simple and special ways to teach and convey truth about reality. As a time-long Buddhist study and meditation, and many decades of teaching and psychotherapy, his writing resonated with me. After several readings, I now flip thru page randomly, savor his stories with deeper appreciation.
Waking Up 101

Derived From Web

, Apr 20, 2022

I am an avid reader, and it takes a lot for me to be wowed by a book. I have taken a lot of courses on self-development and moving forward, he said. If you can clearly see that the world is operating from the space of the status quo and people hold onto the dogmatic ways of their ancestors then you will find this book far more valuable. If you are ready to take your waking up more than a notch and come from observation, then this book is for you. It is worth buying several for your friends who are not afraid to step out of the box and live life out of the box.
Fantastic

Derived From Web

, Aug 6, 2021

Great nuggets of wisdom for life, Michael. Great book, great teachers, and great people. This is a great book, fully recommend.
So much wisdom

Derived From Web

, Aug 21, 2020

Loved the non-sugar coated bites of wisdom, illustrated with great stories. If you are looking for clarity in life, this book is for you. It helped me a lot, he said.