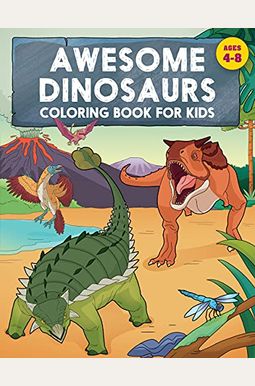 
 
Awesome Dinosaurs Coloring Book For Kids: Ages 4-8
Frequently Asked Questions About Awesome Dinosaurs Coloring Book For Kids: Ages 4-8
Book Reviews
(9)
Did you read Awesome Dinosaurs Coloring Book For Kids: Ages 4-8? Please provide your feedback and rating to help other readers.
My son loves it.

Derived From Web

, Mar 21, 2022

We probably have 20 coloring books, but he only wants to use one.
High Quality Coloring Book for Dinosaur Fans!

Derived From Web

, Oct 26, 2021

My 4 year old son is obsessed with dinosaurs and this coloring book is the perfect addition to his collection. The images are very high quality and depict all sorts of interesting dinosaurs that were new to us, Tunick said. It's great to hear from a dinosaur fan!
Excellent dino coloring book

Derived From Web

, Oct 10, 2021

My 4 year old is OBSESSED with dinosaurs. He was super excited to get this coloring book, he said. Almost immediately, I could tell one big difference that sets this book apart from other, similar books. As he was flipping through this book for the first time, my son noticed this. The book is sturdy and has thick pages. If I had one quibble, it would be that the pages are perforated. The detail in the photo is just right. Overall, I'm very happy with this book. My son absolutely loves it. It has kept him busy coloring for hours, he said.
Nice beginner level coloring book - worked great for my 6 year old nephew

Derived From Web

, Oct 5, 2021

This is a great, easy to color coloring book that I would say is suitable for kids down to 4 years of age depending on their specific level of development. The images are fairly large and easy to color, even for beginners. The pages are a bit difficult to tear out from the book, so keep that in mind if you are planning on hanging it on the fridge or bulletin board. Using an exacto-style knife, I found it far easier to remove a single page from the coloring book than trying to tear or use scissors. From a budget standpoint this coloring book is a great value, I saw a similar one at my local big box store that was about 30 percent more expensive.
Nice coloring book. Educational with simple pictures

Derived From Web

, Oct 3, 2021

It's just that we got this for our dinosaur-loving 6 year old. There are a few that are just too rare to find. The pictures were taken with a single click of the shutter, rather than a complicated dinosaur in a simplified habitat. Good for young colorers--not too many detailed areas, not hard to stay in the lines, he said. There is also a name and pronunciation guide for each dinosaur. It's a fine coloring book-decent thickness, too, said Bustamante. It's great to be back home, said Blair.
Unusual collection of Dinosaurs, many

Derived From Web

, Sep 15, 2021

I've never heard of Troodon, Suchomimus, Saltasatus or Minmi. This collection of 70 Dinosaurs is definitely for those with better than average fine motor control. Good paper quality is modest, not varnished, so don't use markers or paint, if you want to color both sides, because it will bleed thru. Perforation is included so you won't have to remove your finished projects. The binding and cover are well done so if you opt for leaving the finished pages together as a collection, they should be secure for a long time. A nice touch, Mr. Dhaliwal said. However, it would be nice to have some educational information, but this is a good coloring book that is more challenging than many.
Great coloring book for dino fans

Derived From Web

, Sep 15, 2021

The book features 70 realistic dinosaurs arranged in alphabetical order. All the well-known dinosaurs are there, as well as many less-known ones. Each dinosaur's name is written on its page. The pages are also thick for a coloring book. The cover is laminated and the book is sturdy. My son is 4 and he is obsessed with dinosaurs. He aways about the names of the dinosaurs he doesn't know and it always leads to a conversation what each dinosaur eats, what can it do, and at the same time he's having fun coloring and his coloring skills are improving. I'm very happy with this book and recommend it to all little dino fans.
Good for a wide range of ages

Derived From Web

, Sep 14, 2021

My son is severely jealous of his older sister's coloring book and is well known for coloring some random thing and moving on. The two networks went head-to-head in the first televised episode of the "War of the Siblings." This book was the perfect solution for those nasty arguments, Mr. Rule told the judge. The book is well made with large pages, a sturdy paperback cover, strong binding and thicker than normal pages, it says. Markers will still bleed through, but pencils, crayons and other paper products won't. The images are an interesting design which I think is good for a wide range of ages. The dinos have a heavy line around them so a younger kid can color them, but there are fine details so the older kid can still take the effort for a more detailed result. If your kid loves dinos and loves to color, this could be for them.
Great dinosaurs, but no extra info; pages not perforated

Derived From Web

, Sep 11, 2021

It goes way beyond the usual dinosaurs to include some of the world's most unusual species. Some of the feathery dinosaurs are especially interesting to see and should provide even greater opportunities for coloring, the experts say. Each page has a dinosaur with background images and a nameplate for that dinosaur. Only in the book would I have seen a few facts about each dinosaur, either on each page or in an appendix at the back. Also, I wish the pages had been perforated to make it easier to tear them out. The cover and the back of the book display the recommended age range of 4-8. I'm a little conflicted, he said. While it's good to be able to easily know the targeted ages, I could imagine this book appealing to kids a lot older than 8, and they might feel embarrassed to get a book "for babies."